Recycling at home
We inherited several sheds when we moved here four years ago together with sand pits, play equipment & other stuff we didn't need so we had a big clear out to create the garden I wanted. Friends were delighted to receive various sheds, trellis & a greenhouse (providing they helped to dismantle & collect – we weren't that generous!) but we did keep one large & very practical shed. Here it is in its original position looking very sad & very brown – yuk! sorry folks but I really can't stand brown wood stain. I've been desperate to move it all this time but other things have always taken priority. I was determined this year was the year the shed was moved & improved!
As you can see it's quite large, a bit dilapidated & very much in the way of this parterre we'd planned & just marked out at this stage.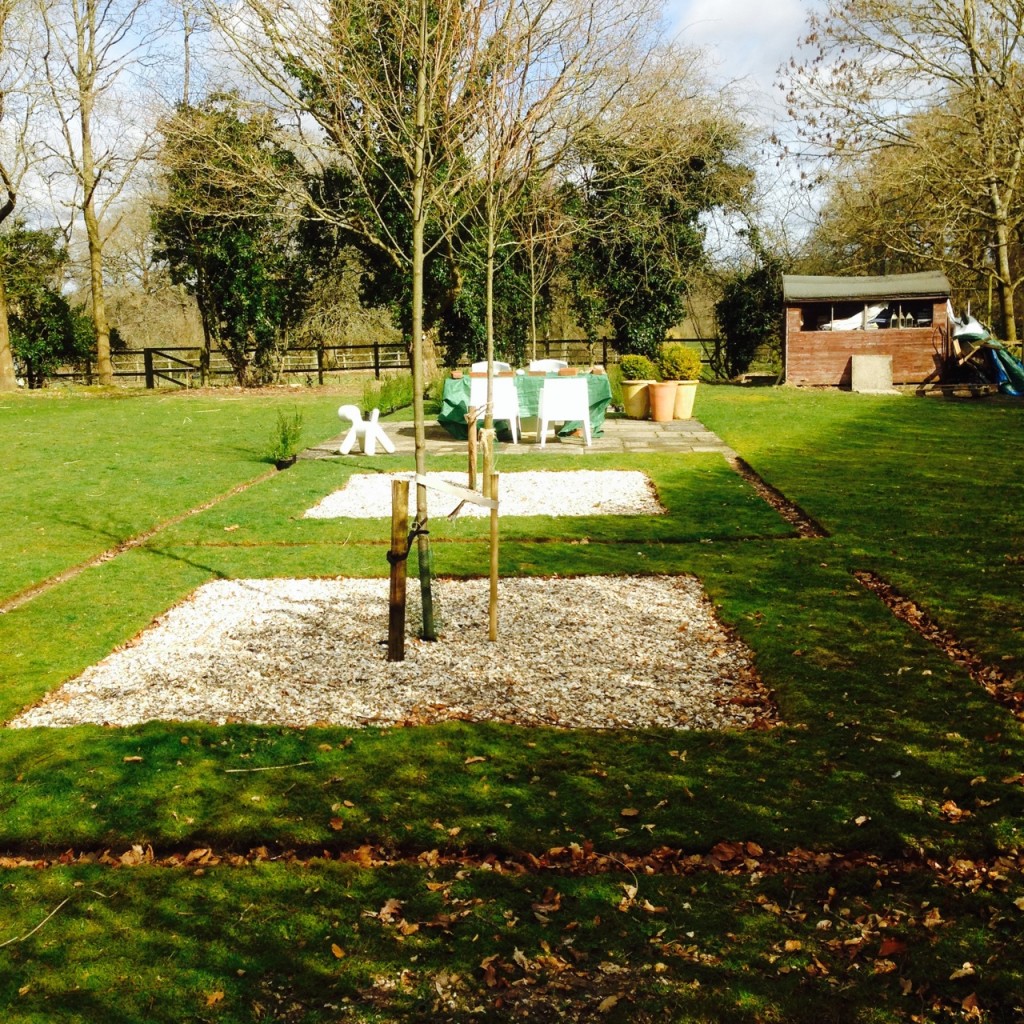 I designed a hornbeam hedge as a backdrop for this portion of the garden to show off the pretty stone bench we'd found under a hedge here but it also does a brilliant job of screening the junk our unkind neighbours leave in their paddock & provides a discreet home & working area for the shed.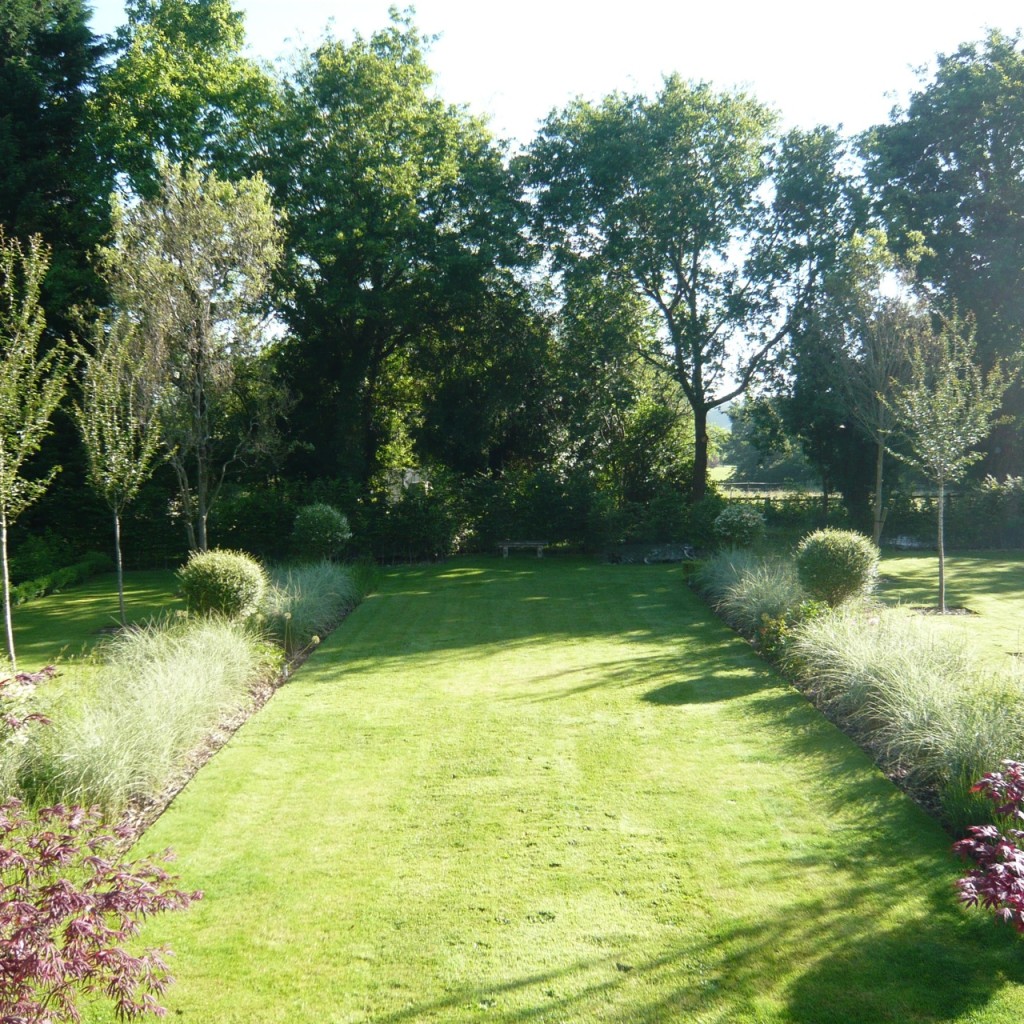 Everyone talks of recycling – such a good idea & such a saving! Here are a few progress pics…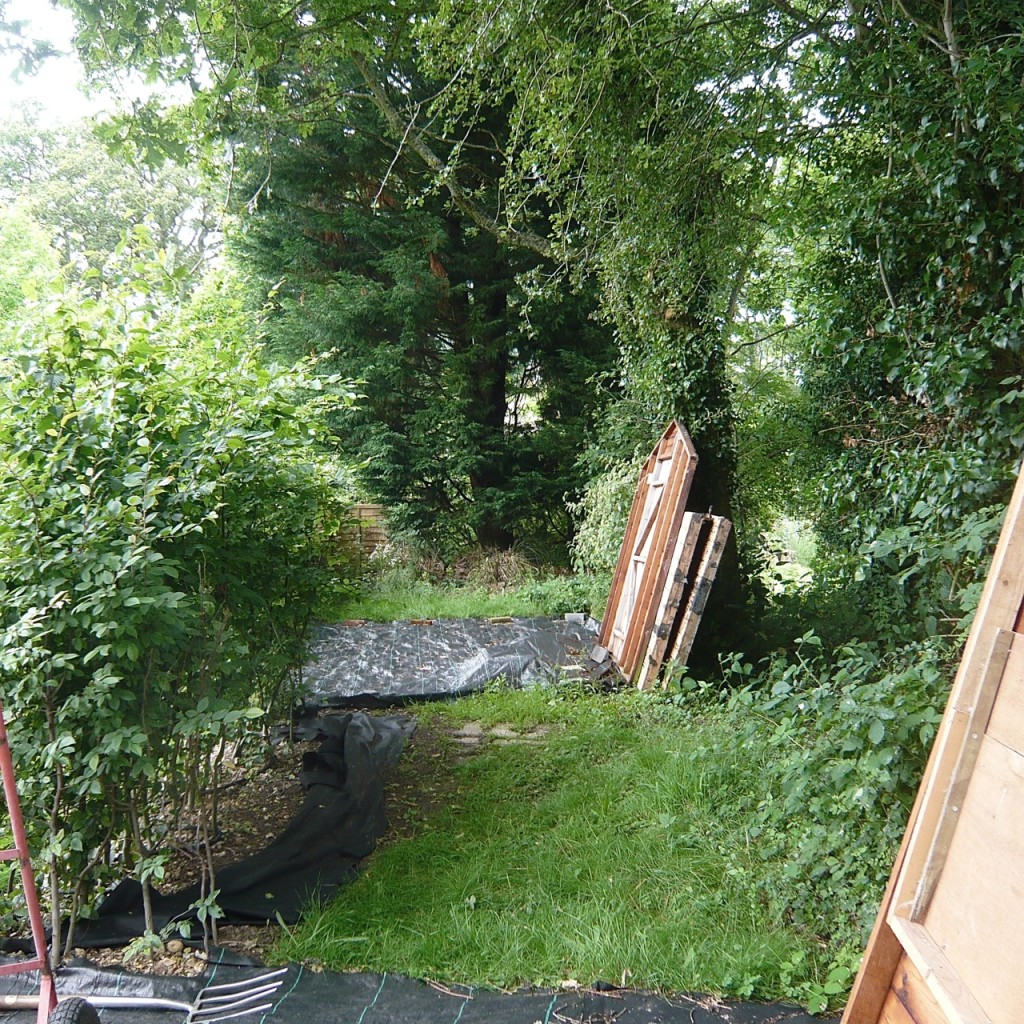 no mans land between the hedge & our neighbour's paddock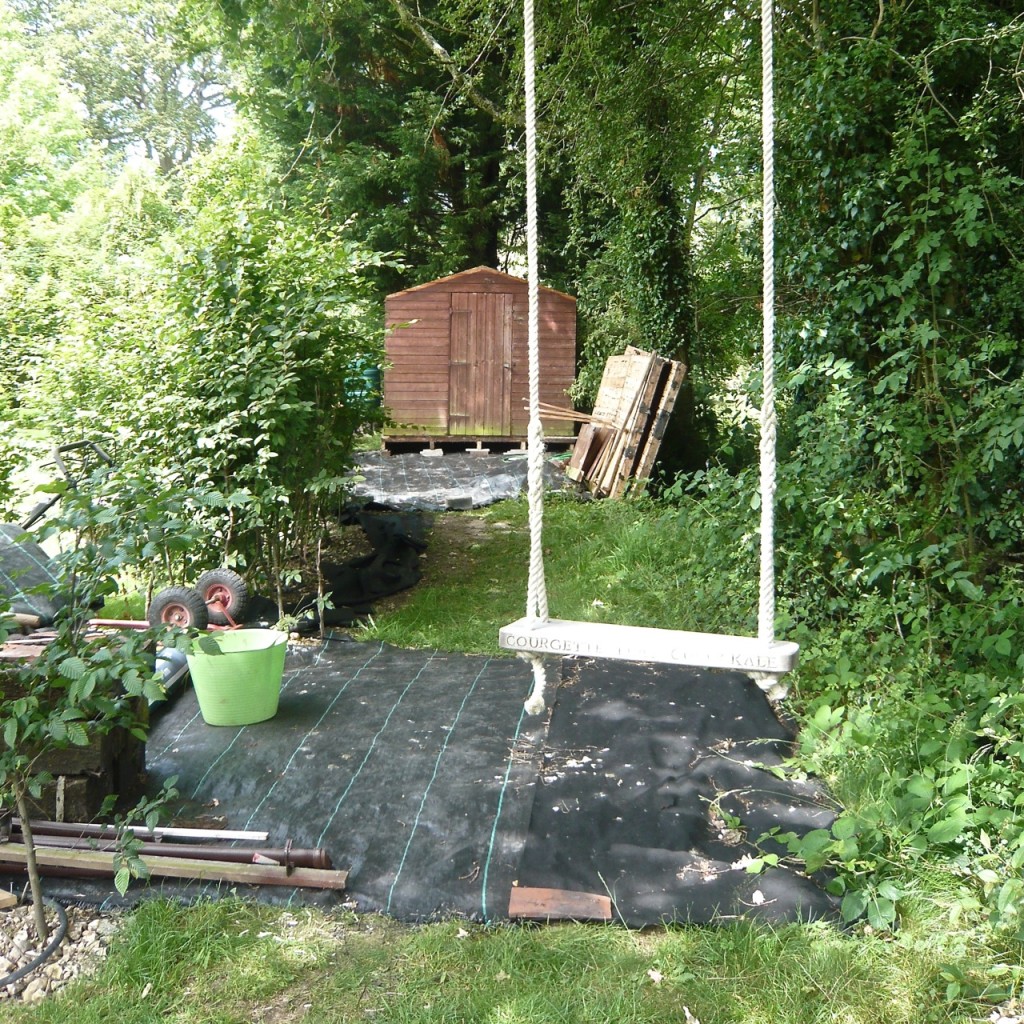 Shed in place awaiting its new deck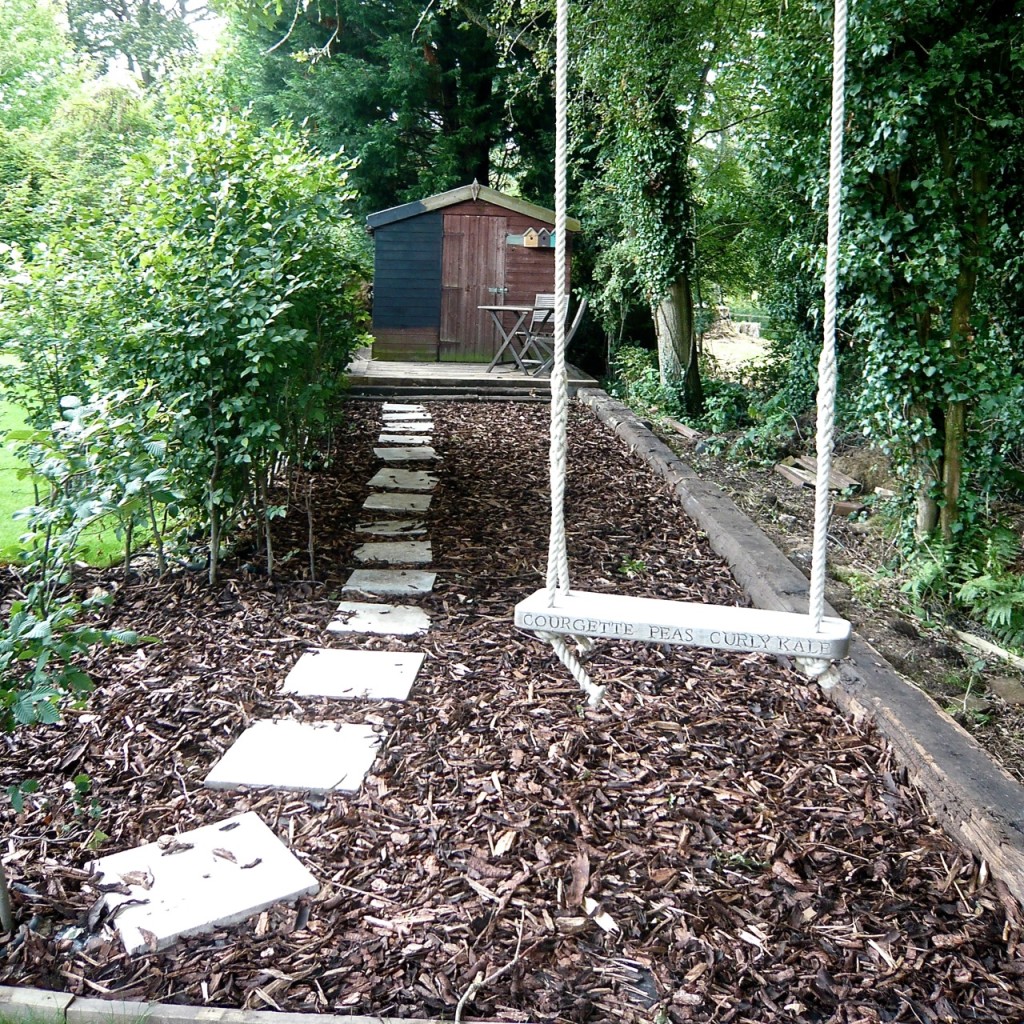 Almost done – except completing the new grey paint job
I am so delighted! I've talked before about a local chap called Oneil who does all the heavy work for us that we're too feeble to manage. He did this in two days & I know we'd have never done it on our own – not without serious injury & a likely visit to the divorce courts!. He works in a boat yard so has lots of very useful skills & boy are we delighted we met him!! He strengthened the whole structure & stopped the roof sagging. It will almost look new soon! He put new shelves & hooks inside so now we daredn't mess it up!
I've put a strong membrane down to prevent weeds & used play bark to cover the lot which is pretty cheap & creates a very simple smart & rustic finish. The membrane is held down with reclaimed sleepers I bought for £12 each from a local salvage yard. The shady deck it sits on also provides somewhere to sit on a hot day & is totally recycled from what we had before. Oneil sent me to the DIY store with instructions to buy certain screws, roofing felt & grip fix. Total cost so far £350 including the paint which was leftover Farrow & Ball 'downpipe' from another project. I know I haven't finished painting yet but I will & will post another photo to show it off when I have. The terraced bird box is just for fun. I bought it for my husband last valentines day as he loves the birds so much. I'm not sure they'll want to move in but I can think of far worse places…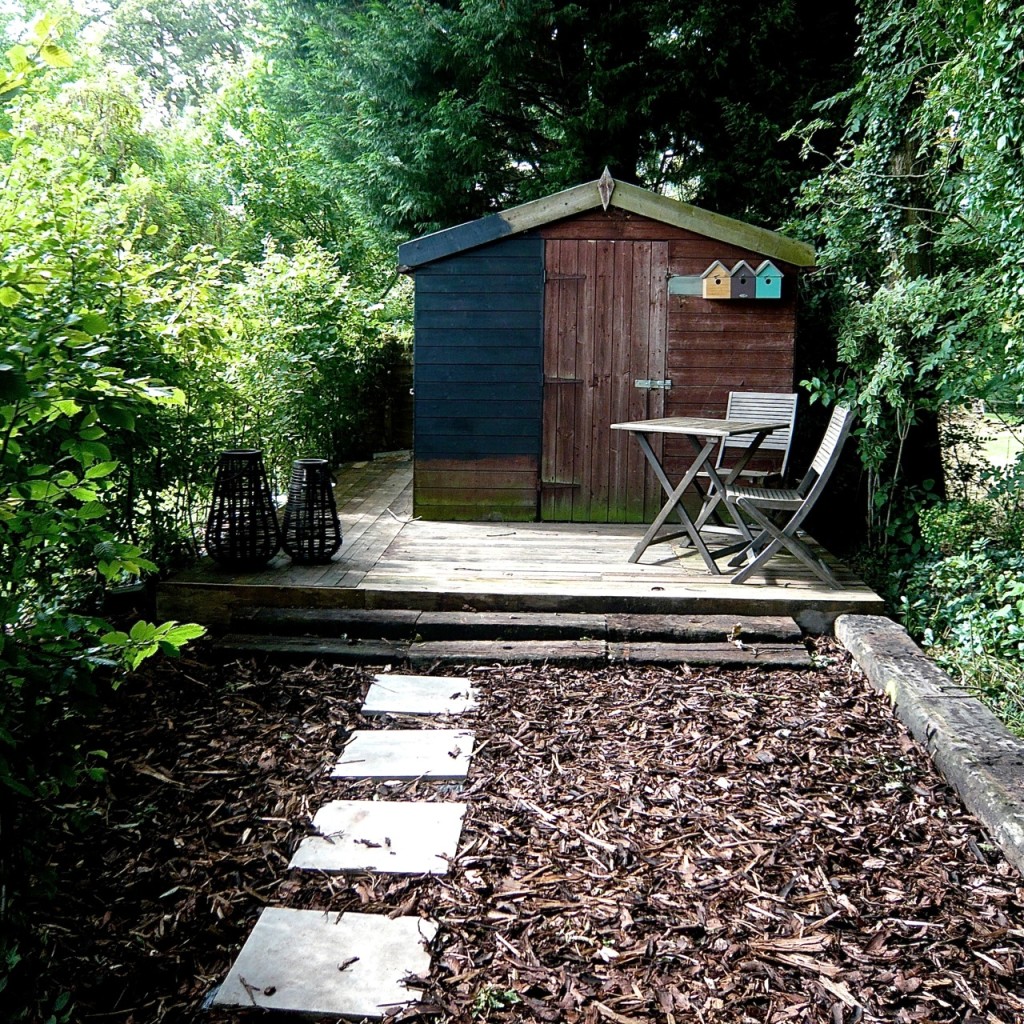 I love my swing too – it's actually quite famous & has featured in various magazine photo shoots. It's by my friend Marnie Moyle who makes bespoke green oak furniture with no nails or screws. A very clever lady! We did a swap – a swing for some topiary which makes it even nicer! I'll tell you about her another time but her work has featured in several gardens I've designed.
Next time I'll tell you about the parterre we've finally got around to. All for now