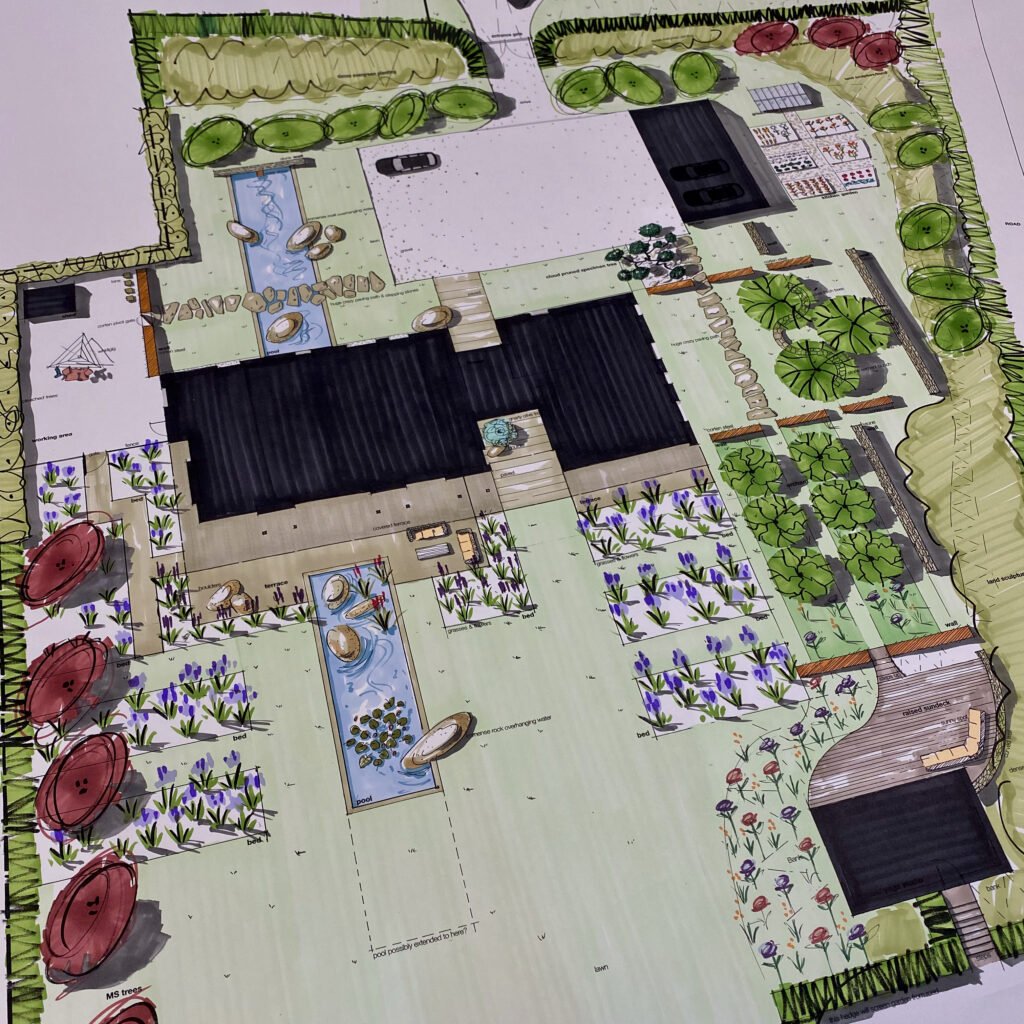 Multi award winning garden designer Jo Alderson Phillips

What do you need? My aim is to create gardens that are bespoke & personal to my clients. I listen to what you don't want in addition to what you do want. My garden & landscape designs are created to suit the client, the plot and the budget. All my schemes are well structured and work through the seasons – winter is a long time so a good structure is vital! I don't have a studio full of designers or an admin team; It's just me as I would hate another designer putting my name to their work. I give clear advice & you get proper personal service.
Process …
To take a brief for the garden design from the client (ideally with their partner too as it should suit both parties) and assess the plot together to discuss possibilities and budget.

I then write to the client outlining design costs, based on the clients' requirements, which are fixed providing the brief remains the same. I request a deposit of 30% as a gesture of commitment together with a completed acceptance form with any relevant information I might need such as tree preservation orders, listed property status , conservation area etc.

Once the acceptance form and deposit are received I endeavour to start work as soon as possible – I will give you a time frame as I can be booked up for months. 1st step is to revisit the site to take photo's and firm up the brief. If the brief is vague I may bring images for clients to look at and comment on in order to assess a favoured style. It is very much a collaborative process with input from both sides; each client is different & each scheme unique. Building gardens is an expensive process so clients need to feel reassured they are getting exactly what they want. At this stage I require a site survey – some people already have one which may have been commissioned by an architect but if not I can recommend very good surveyors I work with regularly.

I then go away & draw. This involves research & lots of time considering your ideal solution. I sketch, draw & assemble a collection of images that will become elements in your new garden.

Next I present the design. This can be altered at this stage at no extra charge providing the brief has not changed. Please see my drawings on this site of what you will likely receive – I hand draw my work to scale which clients seems to love & often frame. As a garden designer this is my favourite part of the job!

I then complete your bespoke design and produce a full set of notes incorporating a planting plan, types, quantities, lighting plan, supplier details & lots of reference imagery for my brilliant team of professional landscape contractors to work from. OR – you may have your own contractor which is fine with me too.
Reviews…
"We just didn't know what to do with the small, neglected garden of our new house. But Jo did. She listened attentively to our ideas, then made exciting and quite daring suggestions that really stretched our imaginations, and encouraged us to be brave enough to go beyond the ordinary. The result is a stunning riverside garden that regularly stops passers-by in their tracks. Jo's detailed and professional illustrations enabled us to visualise the new garden. Her knowledge of plants has given us a garden full of interest which, with the clever use of different levels and textures, looks much bigger then it is. And she really cares about the gardens she creates. Nine months after the garden was finished, when Jo heard that the Thames had flooded, she contacted us and generously offered her help with any repairs and replanting needed. But inspite of two weeks under water, we didn't lose any plants or suffer any damage. Jo's clever design and planting (flood resilience was part of the brief) gave us a garden that withstood the floods and came back looking even better in it's second year. Jo was an absolute pleasure to work with.
"We have been really lucky in dealing with a great creative talent, who also has the rare skill of listening to, and caring about, her clients."
"I really do believe that when you're doing the work you love, it shows in the quality of the work you produce – that obviously applies to you!"
"…it looks as though it belongs to this house – it's really really lovely. Thank you."
"We moved to a new house which was surrounded by 1/3 acre of rough meadow. We had clear ideas about what we wanted of our new garden, but no clue how to integrate or execute them. Jo provided the perfect solution, within budget, using an excellent team who worked hard to complete the job on time.
Twelve years later we have a mature garden of 'rooms' that surround the house harmoniously. The beauty of the garden lies in the strong garden design structure that Jo gave to the initial plan and in her visionary planting that has provided us daily pleasure.
I cannot recommend Jo highly enough."