A few questions & answers…click the + sign to read answers
How much experience do you have?
I have been working as a designer for thirty years now so I like to think I've learned a great deal over that time & can work with any brief.
Yes when I first graduated as a garden designer I won a silver medal for my one & only entry at Chelsea Flower Show, together with the BBC peoples choice award. A couple of my gardens have been shortlisted for The Society of Garden Designers annual awards (despite not being a member) & I have won the Best Of Houzz design award many times which is extremely flattering. I don't generally enter competitions as I am always so busy with a long queue of work.
Do you only design big gardens?
No, providing there is the budget I design small gardens & courtyards too. They are great to do & can be quite a challenge as every tiny detail matters even more.
If I commissioned you would it be you or one of a team that designed it?
You would only be working with me. I do not have a team of designers as I am probably too much of a control freak! Anything that has my name on it has been designed by me. I answer the phone, answer emails, draw schemes & meet with clients so it is very much a bespoke & personal service.
Yes I do do providing one of my preferred contractors is building your scheme. I always try to be available. I took this first photo during a pretty exciting phase of a project. The other photo shows the fabulous trees happy in their new home…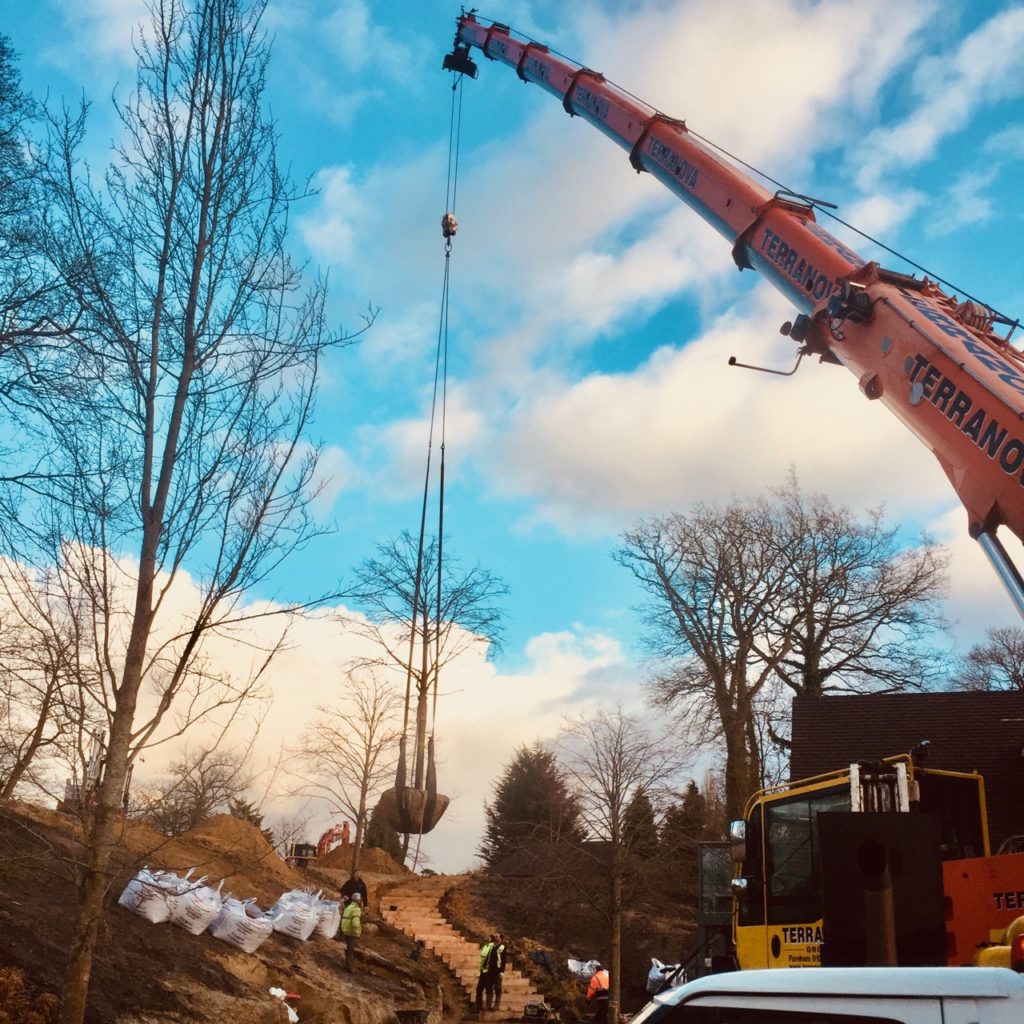 What time scale do you work to?
I am usually booked up for several months but will always try & visit new clients as soon as possible & then add new schemes to my queue. I try to be as flexible as possible to suit clients needs. I have become an exceedingly good juggler & have never let anyone down
Are you easy to work with?
I truly hope so! I enjoy my job & like people. Clients often become friends as we usually spend a lot of time together. I try & design schemes to suit my clients & their lifestyle – I do not dictate which is why I am often recommended by my clients to their friends & then friends of friends. I've also worked with the same teams of contractors for well over a decade which clients like. They recommend us together.
How can I make my garden look bigger?
There are tricks we use as designers & keeping things simple is key. I use layering, mirrors, sight-lines, closed doorways to give an illusion of more to come & of course we can borrow landscape beyond if that's an option. Here are a few before & afters to give you an idea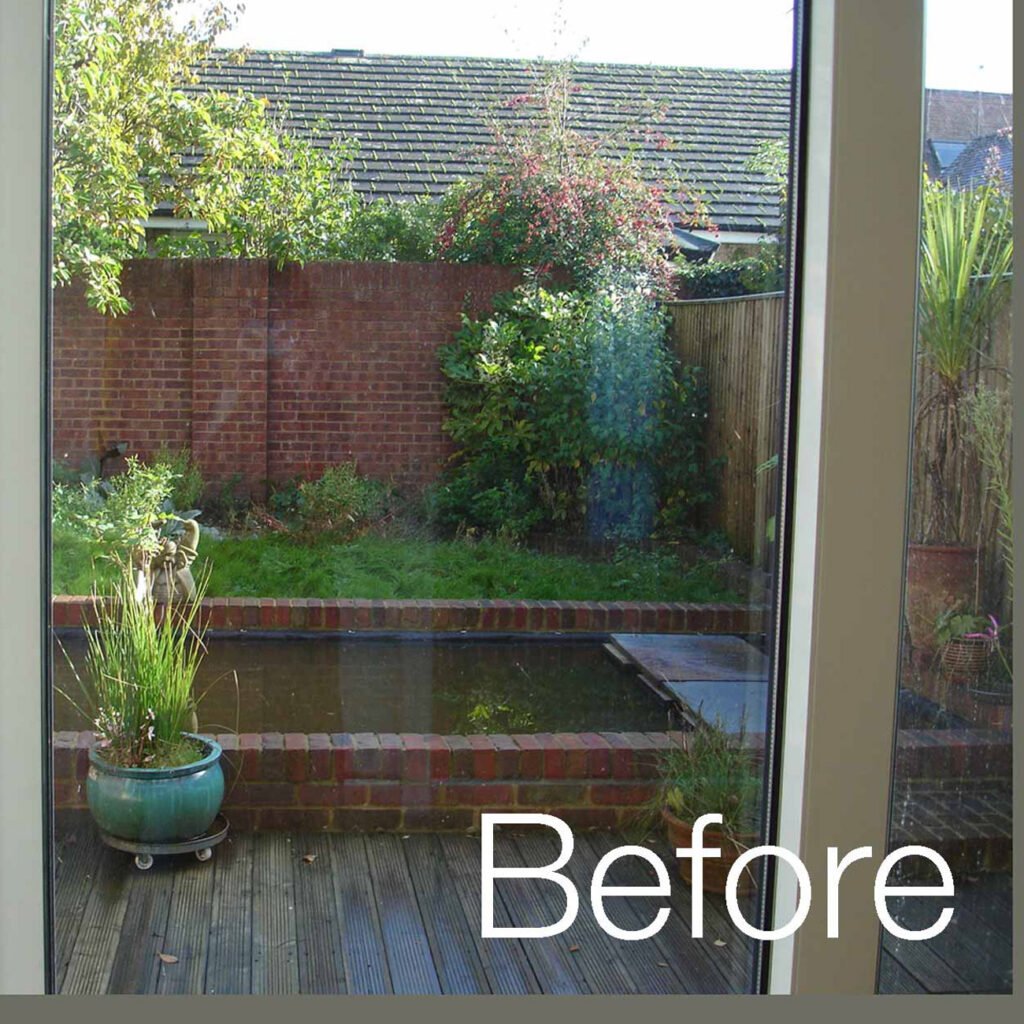 I have a very large garden that overwhelms me, what should I do?
It's important you feel comfortable in your garden & very large open spaces can feel uncomfortable so including smaller 'rooms' is a great way to resolve this dilemma. Here is an example. It's the same garden but the new design has created a beautiful courtyard beside the house that has far reaching views across the Chilterns below.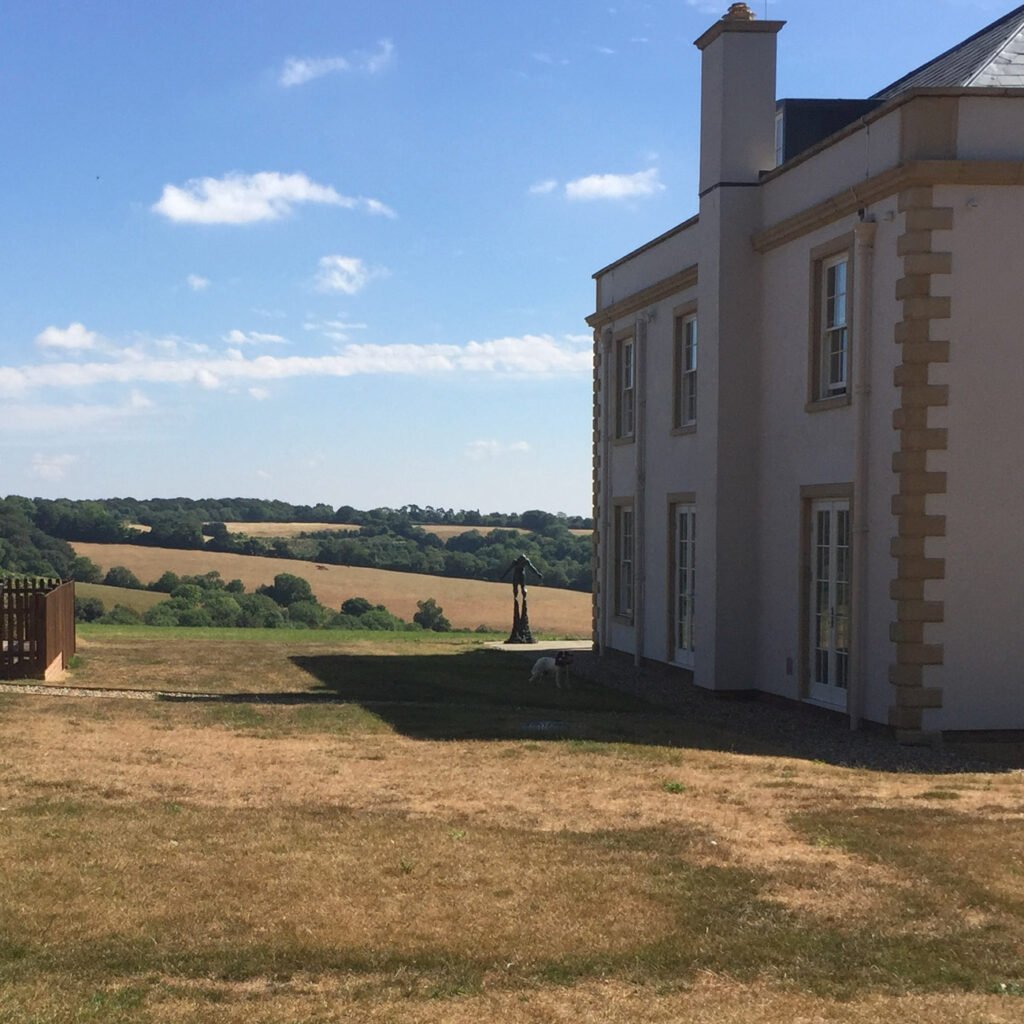 It is a way of drawing your eye to a great view or point of interest. This can be a grand vista of the type you might see in a grand country house such as Chatsworth or a small sculpture within a courtyard garden. With consideration any garden can include beautiful & or interesting sight-lines. Below is a classic example in this garden in the Chilterns. The lovely clipped hornbeam becomes the focal point.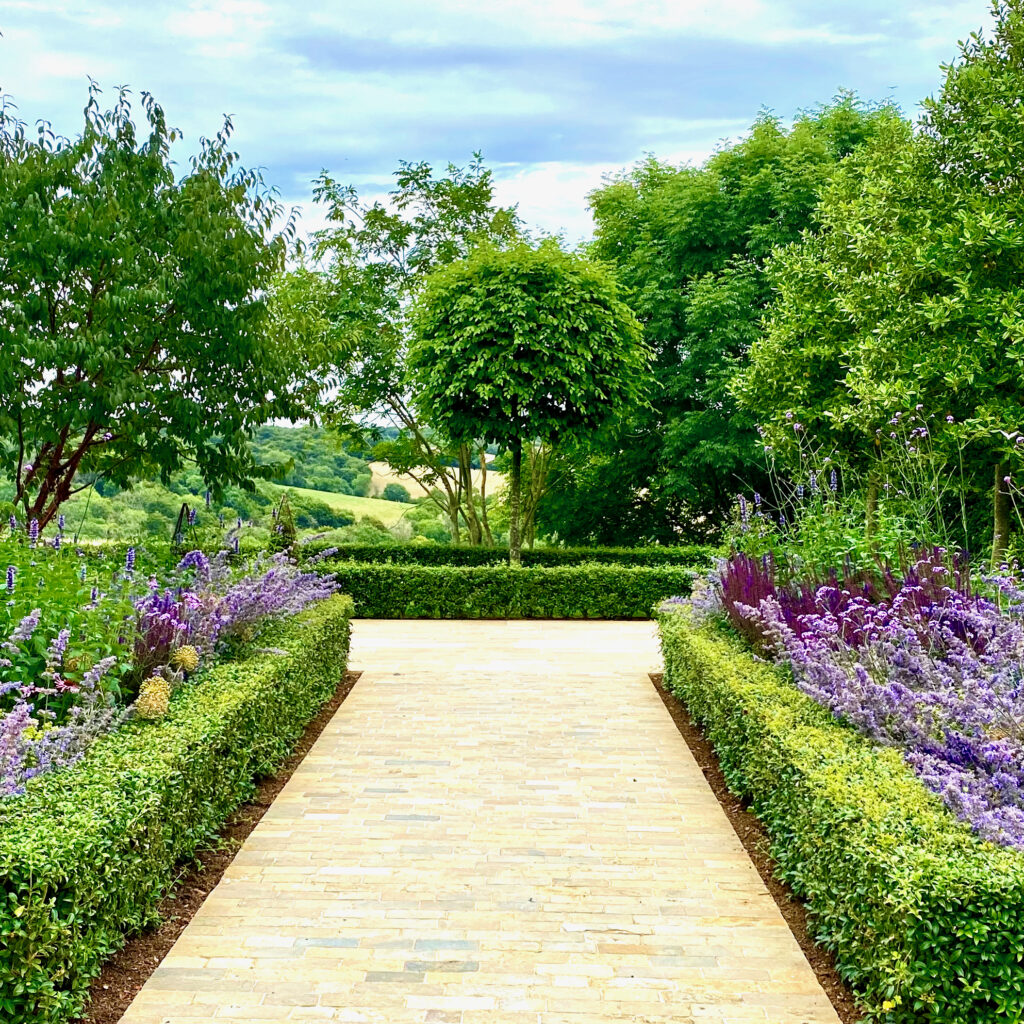 I live by a busy road, how can I reduce the traffic noise?
This is always a tricky one but there are ways of dealing with it. There are acoustic fences that can reduce noise together with dense boundary planting but having another sound within the
garden can help to deflect the noise too. Our Cotswold courtyard garden sits beside a country lane but unfortunately we do hear the sound of traffic. My solution was to include a noisy water feature. These 3 spouts pour water into the reflection pool below & magically take your attention away from the road. It looks fabulous too!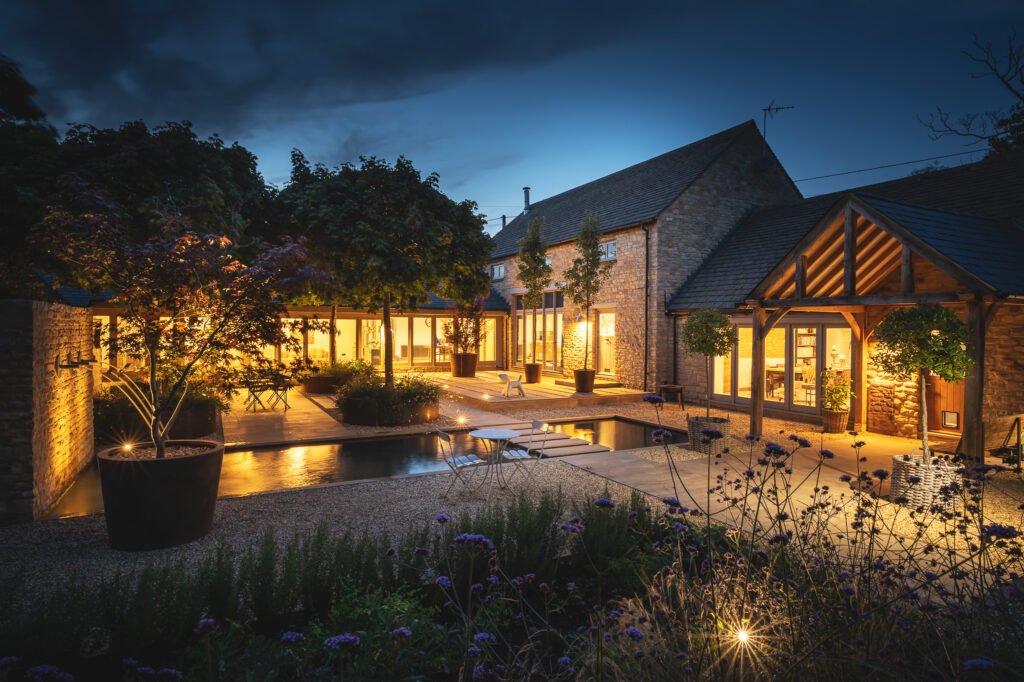 I have a telegraph pole in my garden what can I do to hide it?
Removing them/burying the wires can be prohibitively expensive. Often people plant up or around a telegraph pole but sadly this often it makes it more of a focal point. I have found that by creating a beautiful garden around it, it becomes far far less noticeable. Here's one I did earlier… the pole is beside the road so could not be moved. You can still clearly see it but you look at the garden in front of you now.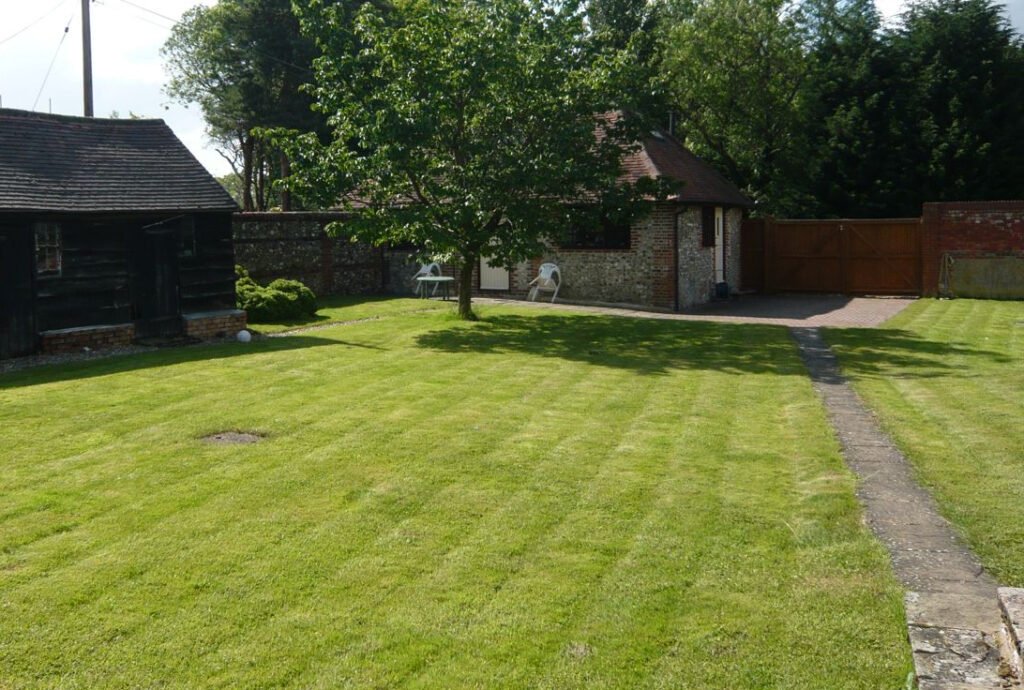 How can I make my garden more interesting in Winter?
All my gardens have a strong structure with evergreen planting to ensure Winter interest. I also tend to include scented plants too which add another dimension. These two images are of the same garden I designed for a shoe designer. One pic in Summer & the other mid Winter…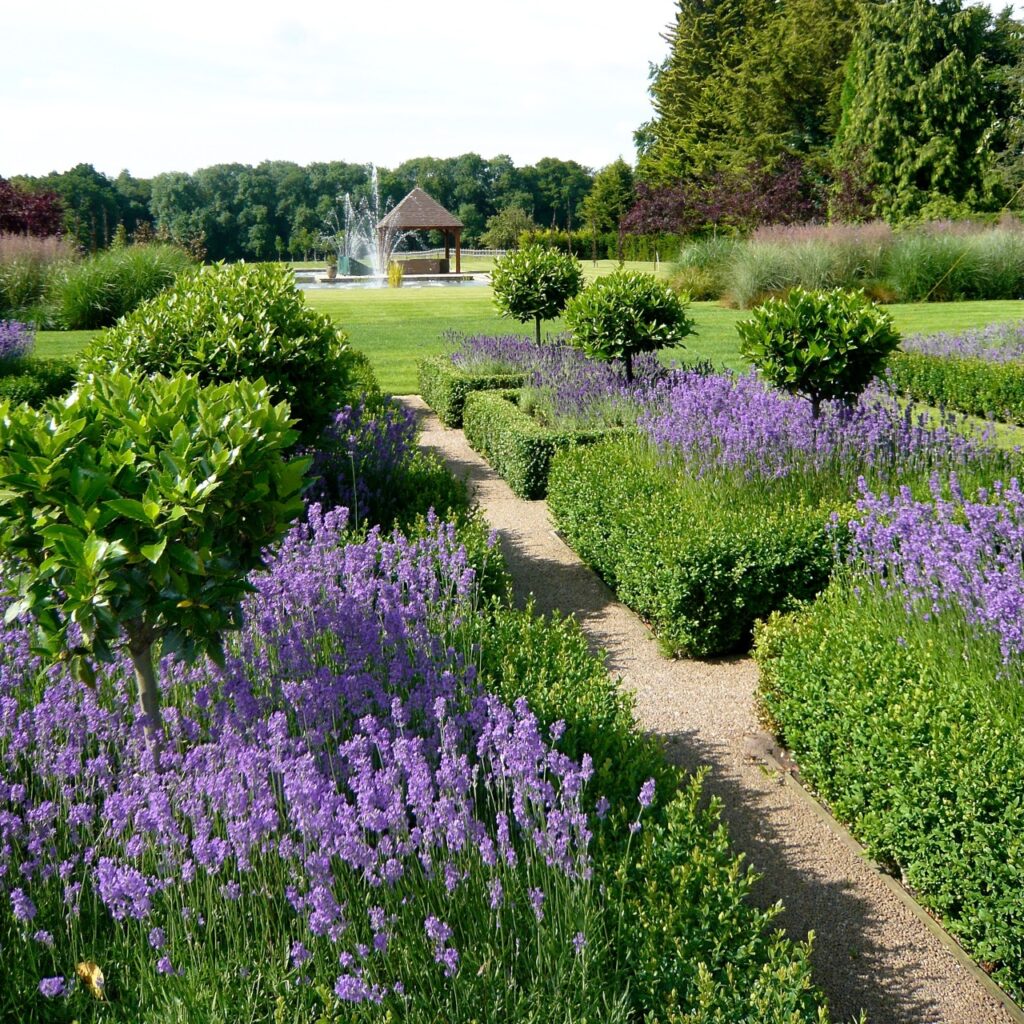 Do you include a lighting design in your projects?
Yes I do. I always include a lighting scheme for all the gardens I design. It is important the garden works throughout the year & in the evenings too. Uplighting trees & cross-lighting pathways
for example add a fabulous dimension to a garden. Don't forget here in England it gets dark at 4pm in Winter so I feel it's really important to light the garden & enjoy the view.