I have been working at least 6 days a week lately to try & keep up with an amazing workload – I'm not complaining – truly! Just apologising for not writing a blog for yonks & explaining what a nightmare it is when I lose a day to 'unforeseen circumstances'…
In case you hadn't guessed, my car died in London in the middle lane of the A40 just by Madame Tussauds on my way to see a client. I had a full day planned with several meetings but alarmingly spent a great deal of it directing traffic away from my cherished Jag to prevent an accident- Yikes!!
Moving on – all is well & I am almost back on track. The rest of my week was excellent & my clients very forgiving for my missing their appointments…
I am awaiting a site survey for a large 6+ acre project near Wokingham, so queue jumped another scheme to be getting on with. It's a cottage garden in Hampshire with a stream that is "gin clear" to quote my client flowing across the bottom boundary. It's an idyllic setting & I am really enjoying putting the scheme together. My client wants a formal garden with topiary, a smart avenue of cherry trees, a kitchen garden & a new parking bay. She liked what I've been doing with my own garden & wanted something similar – how flattering! I'll post drawings once I've presented it but I have to say I'm really looking forward to seeing it built.
I've a very large scheme being created in the Cotswolds by Tom of TS Landscapes & he & his team are doing a great job. So far we've put in around 130 trees – a mass of Prunus Mount Fuji will create a cloud-like appearance when looking down across the valley from the front of the house; they have a very broad canopy of white flowers & the house is on higher ground. There are 40 Acer campestre multistems at 5M+ high & a new birch wood for structure & height in what was a barren landscape. I'll post pics when I get over there again now my car is OK.
In addition to this there will be about 100 more & four of these will be very large 'heritage trees' which will form a statement near a cluster of buildings. I went to Hilliers again (in my husband's motor) to select these & tag them for my client. This is what we found – aren't they beautiful?
The choice is oak or wing nut – I love both so will be happy with whichever my client chooses. Just so you can see the scale, here are Tom & Jim Hillier measuring a rootball to decide on the size of crane needed – quite impressive…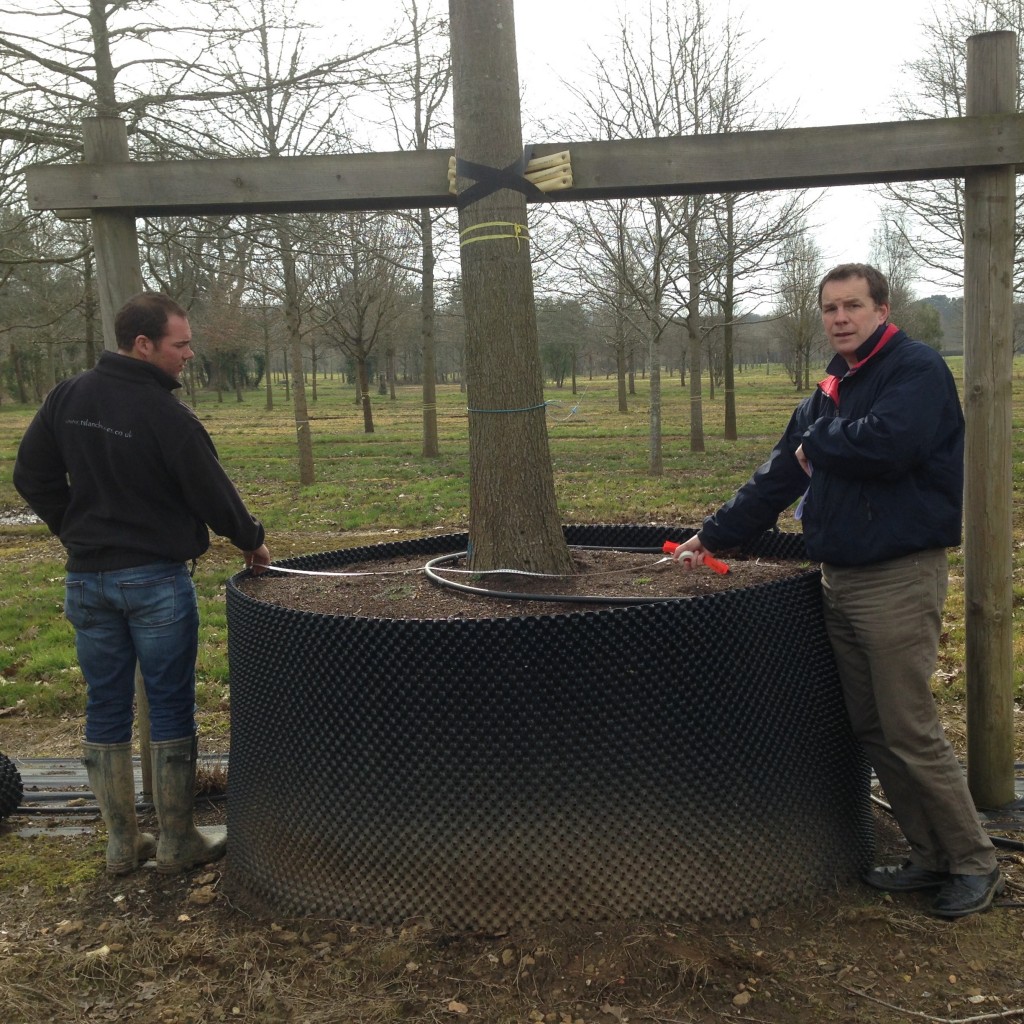 I've been to see artist Alison Crowther too as I've been researching furniture & ideas for my client's Norfolk garden. It transpires we know the same people from 20 years back & got on very well. Alison has a splendid ancient barn to work in & creates fantastic pieces on a very large scale to commission for clients all around the world. The one below is in Hong Kong.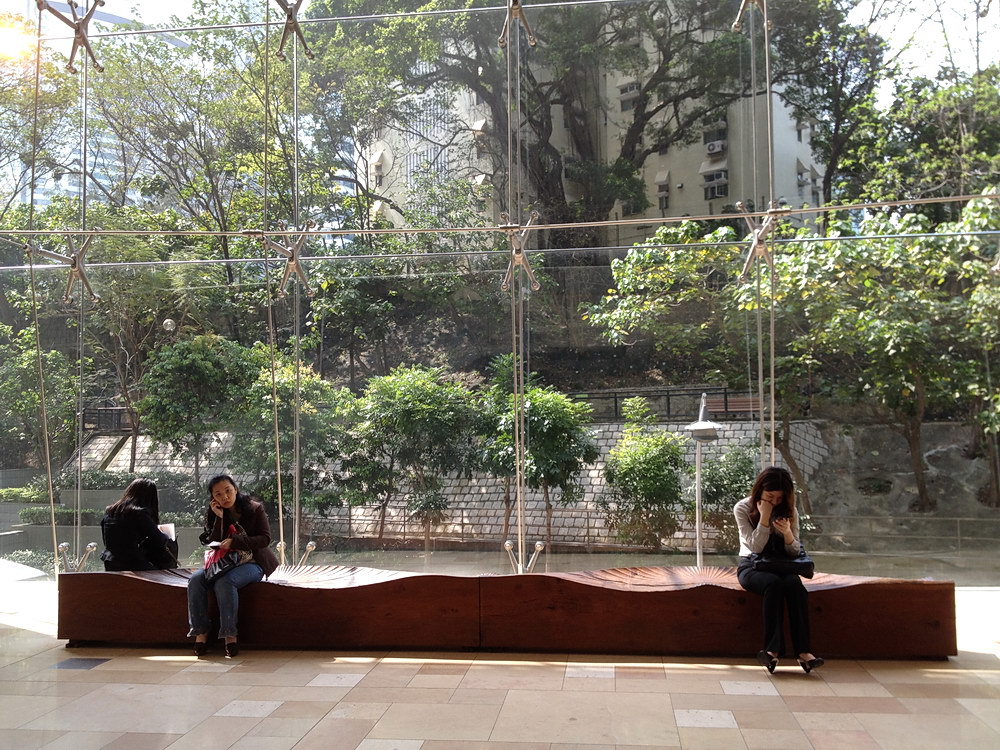 Here's a detail photo I took which looks even better in the flesh…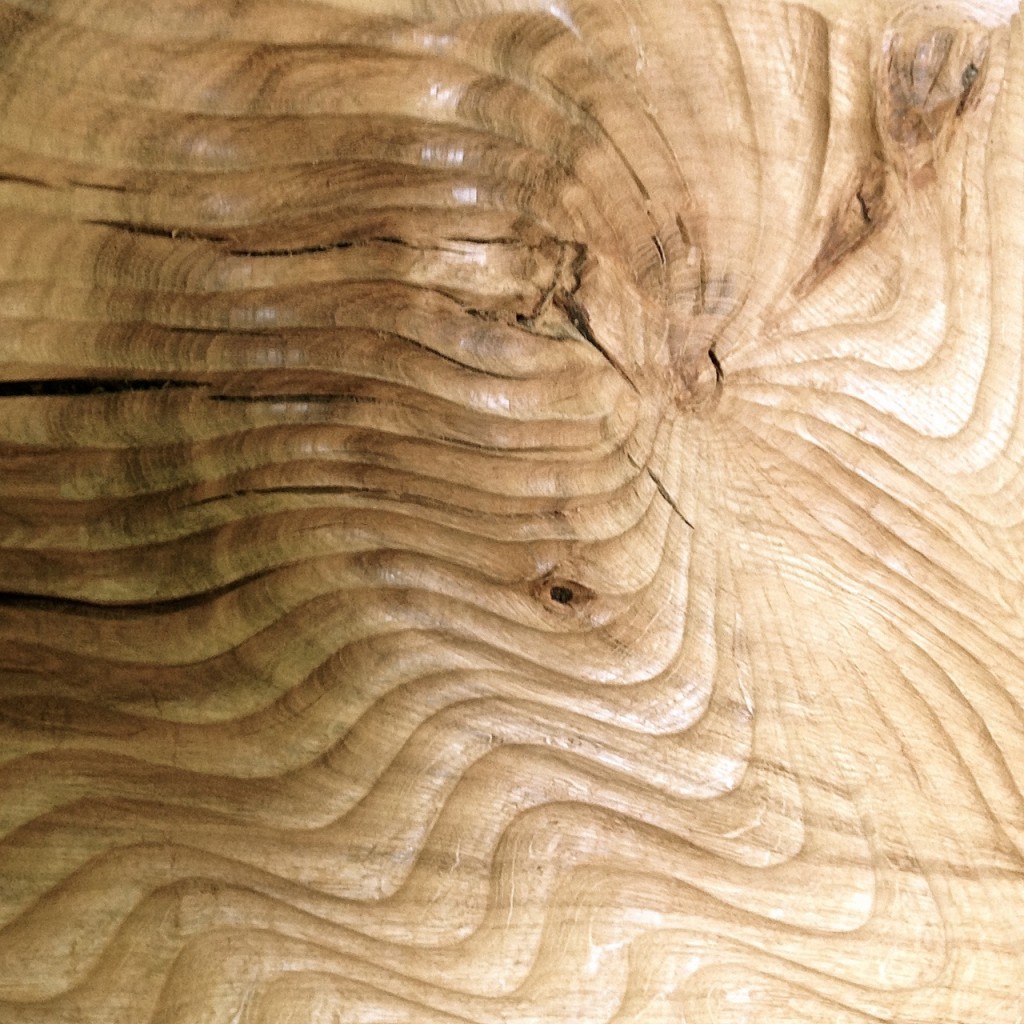 I had a deadline last week to complete my drawings for this Norfolk garden as Rob my contractor needs them to work from & work is due to start very shortly. It's a long story but my client had wanted some changes making to my original design & I've been trying to find the time to make them. One of the changes was to be boundary treatment – fence or walls? There's a lovely view which we didn't want to lose, so whatever we did had to maintain the view but also give privacy where needed.
I drew up options for both but had to do a bit of research first. My client's property is a collection of beautiful brick & flint barns so a brick & flint wall was an option. I took this photo whilst driving around Hampshire as I thought it perfect. I'd already done the sketch beside it so if this choice was selected, the stonework was to match the photo. In the end my client opted for a fence which will be a contemporary one to match the minimal scheme I've created. Pics when it's done…
Next, my clients in Wokingham are having a very contemporary scheme with swimming pool, jacuzzi, entertaining area with integral sound & fabulous pleached trees. There have been lots & lots of discussions but it's all now going ahead except – they want me to produce a drawing for the front garden this week too. That means I really need to get on & stop writing.
Next time I'll tell you about a client who calls me Prada Jo.