I know I've been extremely quiet of late so apologies to those who follow my blogs – I can't always find the time to write about what I'm up to aswell as getting on with what I'm paid to do!
I am having the best year ever as I'm so inundated with fantastic work.Thank you so much to all my super clients old & new for trusting me with your gardens. How I love my job – I am one lucky designer. I'm juggling quite a few different schemes at present & have some lined up too. Here's what I'm doing –
A contemporary rear garden with swimming pool & hot tub in Wokingham, not forgetting sunken trampoline & play area for their daughter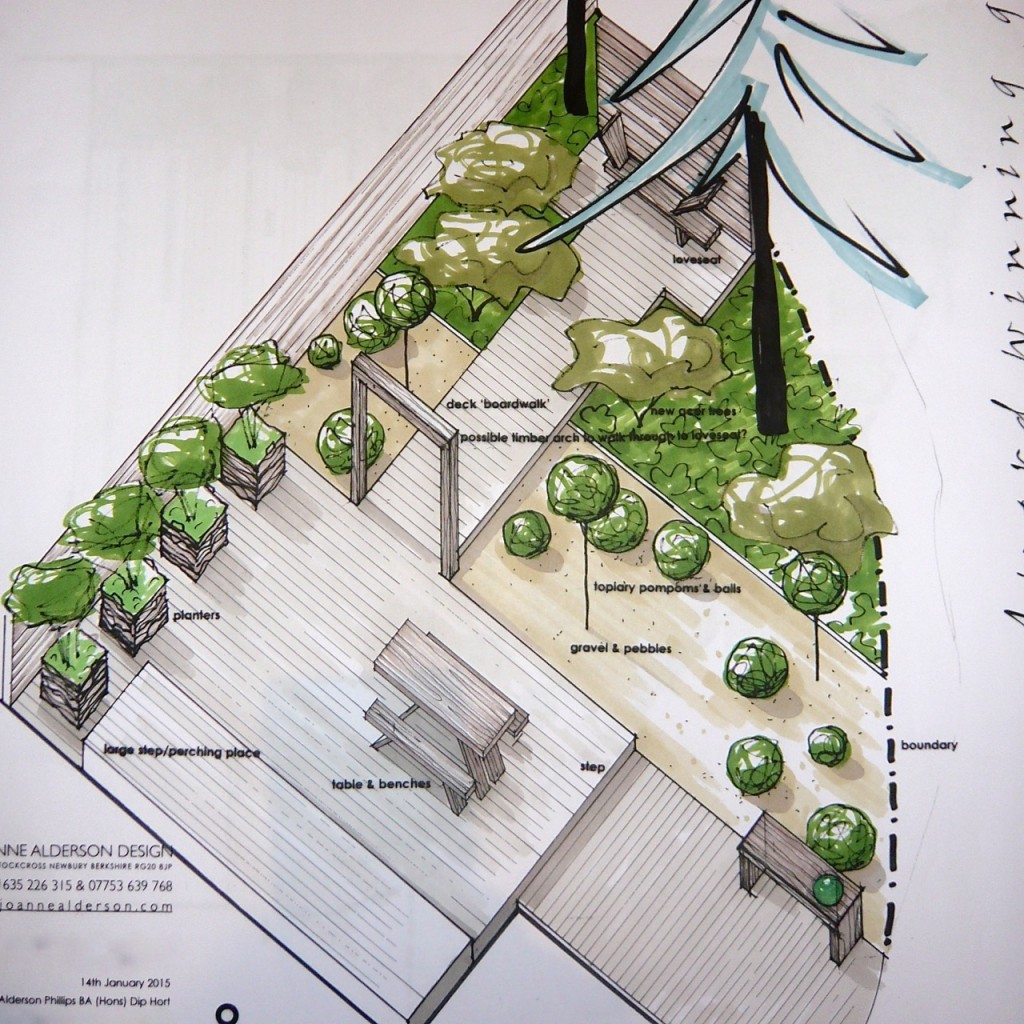 A small very low maintenance garden attached to a beautiful barn in Berkshire. I'm using a new (to me) product recommended by another designer which is faux decking by Millboard. It's amazing stuff as it shrugs off algae, is non slip, maintenance free & looks the real deal. Will post pics when done. My clients John & Ally are friends of Marnie Moyle whom I've worked with for years. She makes gorgeous green oak furniture & some will be featuring here.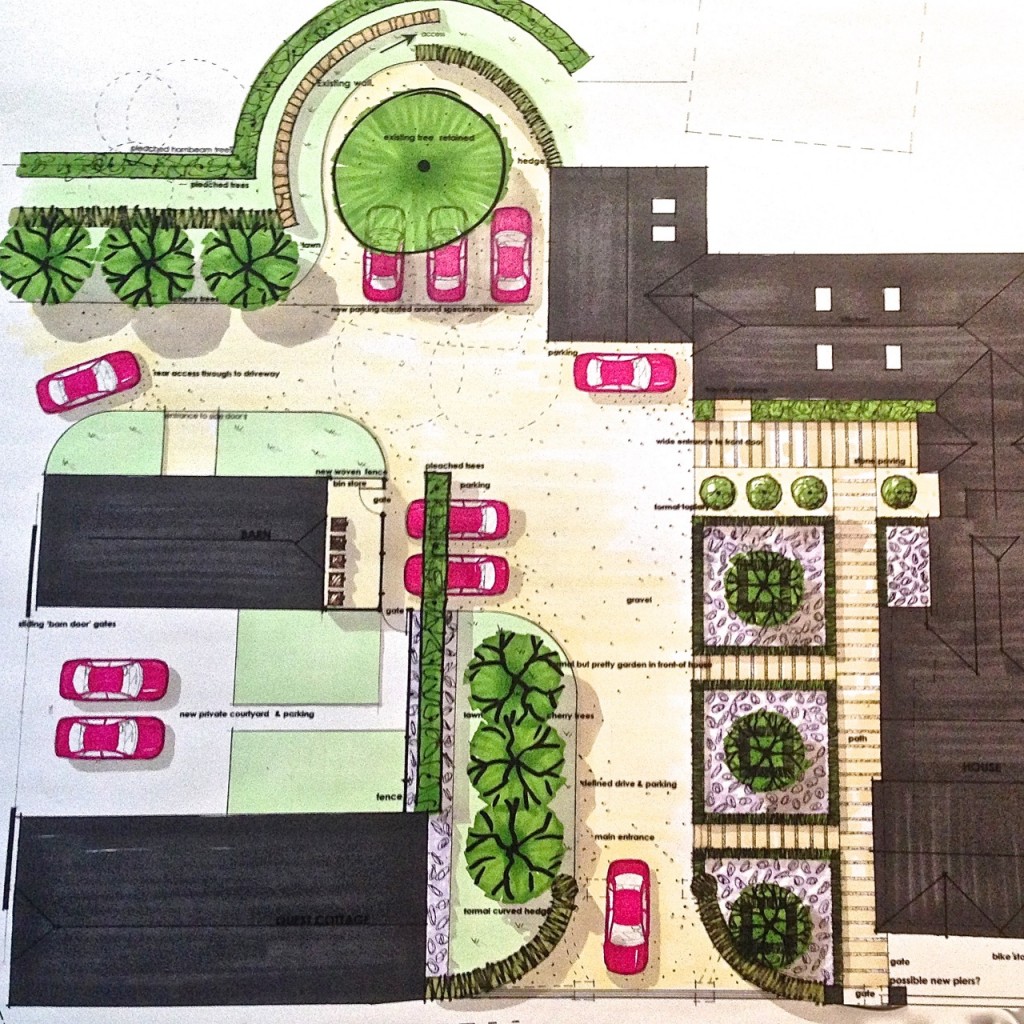 A large country garden front & back in Berkshire – here's the drive. The brief was plentiful parking but within a garden setting. I've proposed an evergreen parterre, pleached trees for structure & privacy, Cherry trees as that's the name of the house & I'm utilising a pretty Mulberry tree & curved wall they've got. It's currently in the back garden but by switching boundaries, it becomes a feature & added discreet parking for the front garden/drive. This one is a large scheme & the rest is scheduled for February due to my workload. I've prioritised this portion now as they're currently putting up with a quagmire after the builders have made a mess.
The large estate in the Cotswolds I've been working on a while is ongoing. Here are a couple of drawings of the proposed sunken tennis court. I'm nearly done designing this one with a few tweaks needed here & there. It's all happening though as we've just ordered approximately 150 trees which will be going in in the next few weeks so it's all really exciting.
In addition to these, I've ongoing work at the very large garden near Amersham (Estate in my folio), Jane & Doug who own it are opening it up to the public this year & it will be in The Yellow Book. Quite exciting to say the least! Jane wants to extend her wild flower meadow with a contemporary version so I'm drawing that up this weekend so planting can happen in time for a good show when the time comes. I'm redesigning parts of the grounds of a lovely Manor house near Denham, Have just been commissioned to design 6+ acres of garden for a brand new house currently being built near Wokingham which is very exciting indeed & I'm doing a new garden front & back in Norfolk for Jane & Doug with a glass box extension. I need to make some amendments to this scheme to accommodate tiny grandchildren. Work has started though & Paul of Igloo will be installing two beautiful glass boxes in the next few weeks – more to follow as & when I can.
I've also been to see a pretty garden in Hampshire too & a lovely garden overlooking some gallops – currently pending!
The chapel I designed in Hampshire is now complete thanks to Tom of TS Landscapes & his very capable team. I'll take some pics in Spring when it really comes to life & post those for you but for now I must get on…
Happy New Year everyone & happy gardening
'til next time!