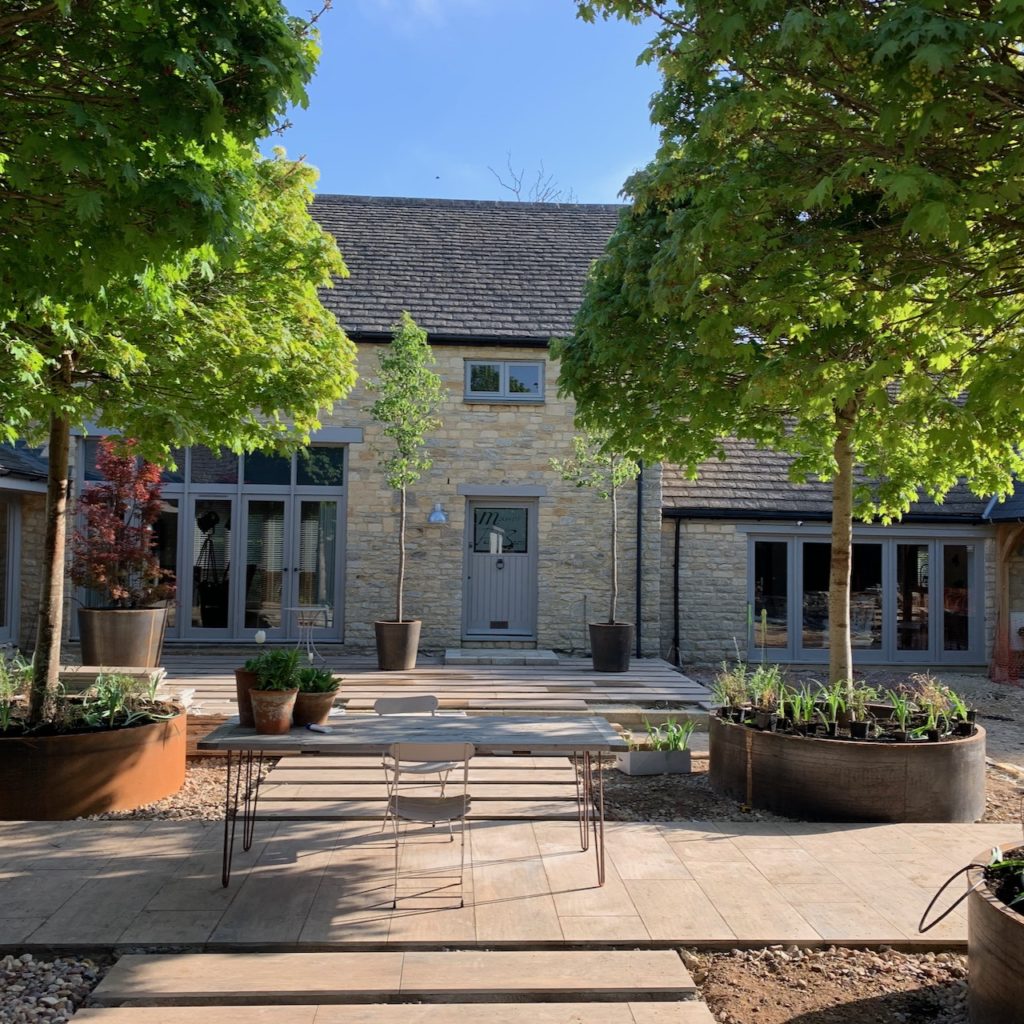 This is a quick progress blog on our burgeoning new garden. I am so pleased with it & truly delighted it is still happening through this wretched coronavirus pandemic. It's been a brilliant distraction & something that truly brings me joy! David of DS Landscapes is coming on his own & ploughing on with it – all safe & at a distance from us who are mostly working indoors. What a difference now the trees have come into leaf & the planters are planted up too…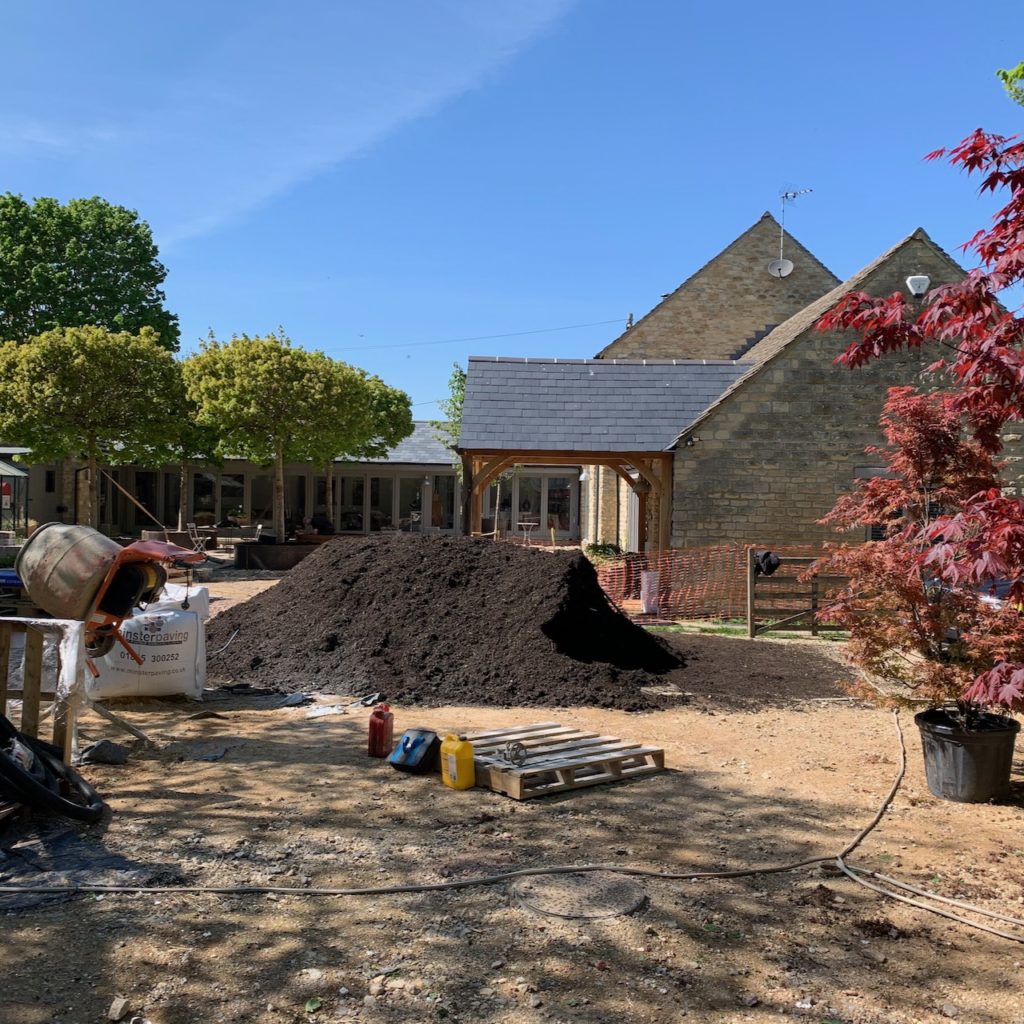 Look at the size of this heap of compost! This is after most of the planters have been filled!! It's great stuff from our local farmer who kindly dropped it off last week – the trees & plants should shoot up as it's such good quality. The surplus has been barrowed away for later use but not before my husband bagged a load; He has decided that since we are stuck in for the foreseeable future, he is going to use the (up to now redundant) greenhouse & grow salad, veg & some herbs. Last weekend he set to & is now awaiting seedlings from our local garden centre to start planting. Bampton garden centre will deliver within a 10 mile radius so we are very lucky indeed.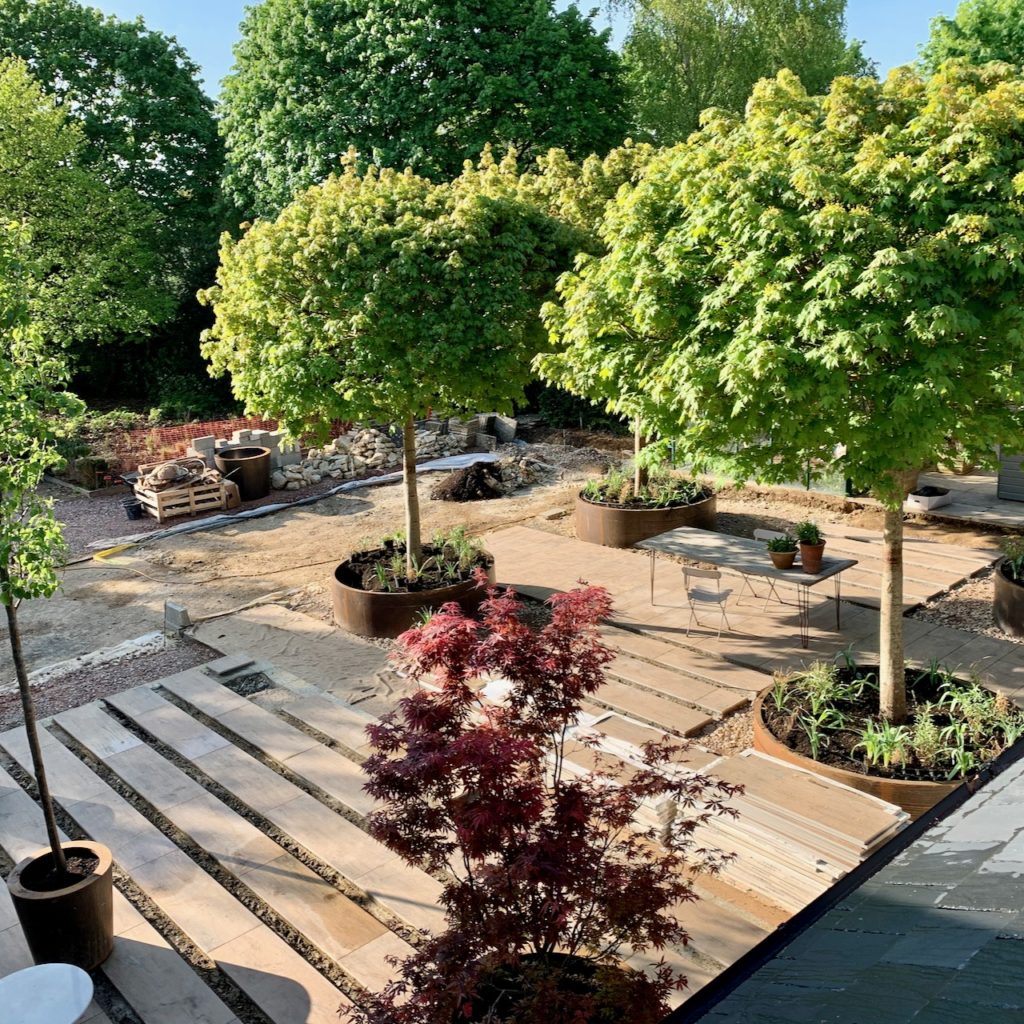 This is the current view from our bedroom window. Aren't these Acers spectacular? The birds love them too & so far we have a resident robin, goldfinches, blue tits, blackbirds & a family of magpies visiting regularly.
As I type, David is starting on the paving beneath the porch as the rain has returned. He is very good at keeping going no matter what the weather or circumstances. He's a great landscape contractor & his attention to detail is exceptional – just what I look for.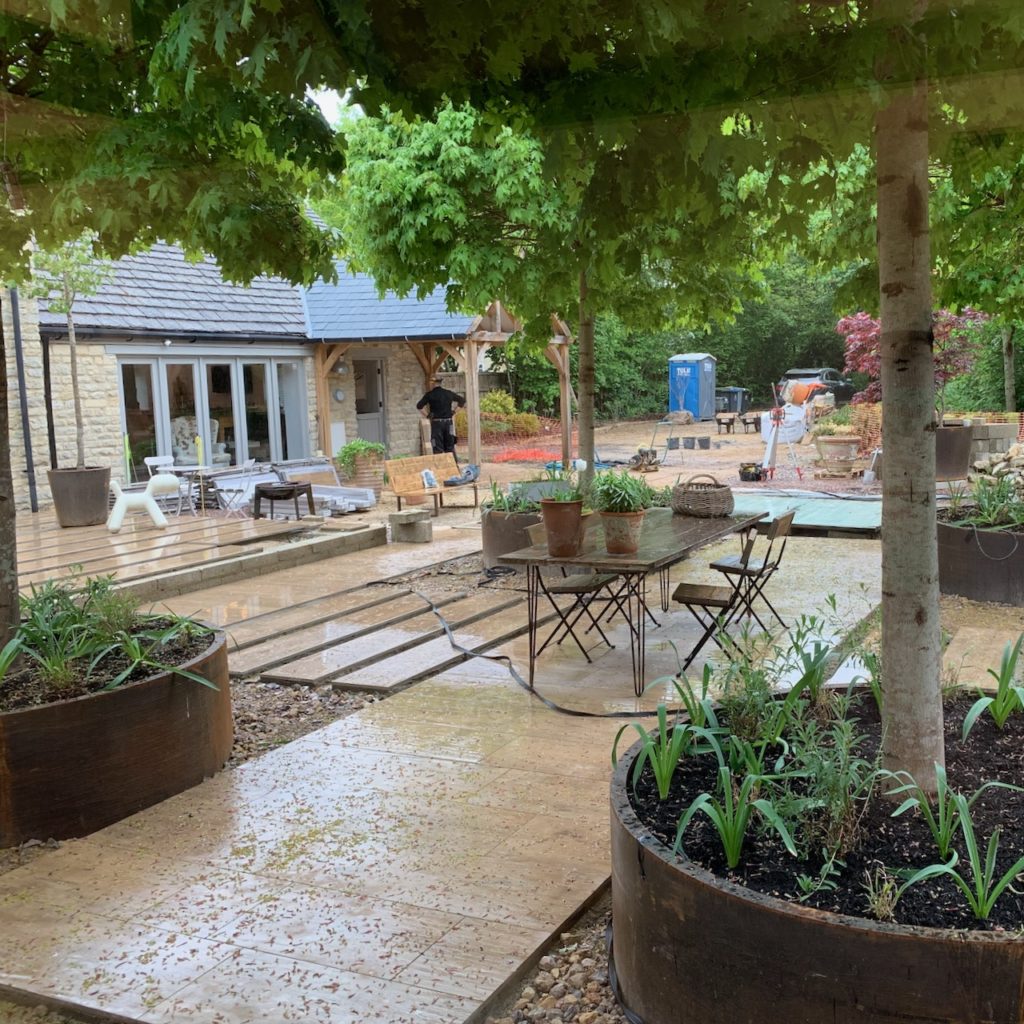 I just took this shot – It's rained a lot overnight & covered the new porcelain paving in tiny flowers. Luckily my husband enjoys sweeping! What you can see between the paving is hardcore. This will be covered with smart 10mm gravel very soon.
Inside the large two metre wide corten steel planters I have now planted masses of Alliums, Ammi major, Gaura lindheimerii 'Whirling butterflies', Hakonechloa macra & Cosmos so it will be a mass of frothy flowers over the whole summer – I will post pics!
Next will be the fence to separate the courtyard garden from the kitchen garden & working area & then the pool will be dug which will be very exciting! There will be a Cotswold stone wall with three lead spouts pouring water in & the whole thing will be lit. The electrician is coming on Saturday.
Beside this I am thankfully very busy working on lovely projects & my teams of contractors are at work building gardens for my clients. I am very lucky indeed that my industry can continue during this lockdown.
All for now – until next time