After two years of being here, we have completed the work on the house & finally work has started on the garden. As you can see above, the magnificent Acer globosums arrived on the lorry last week. We were very excited & half the village came out to see what was going on! This is my husband posing for a photo.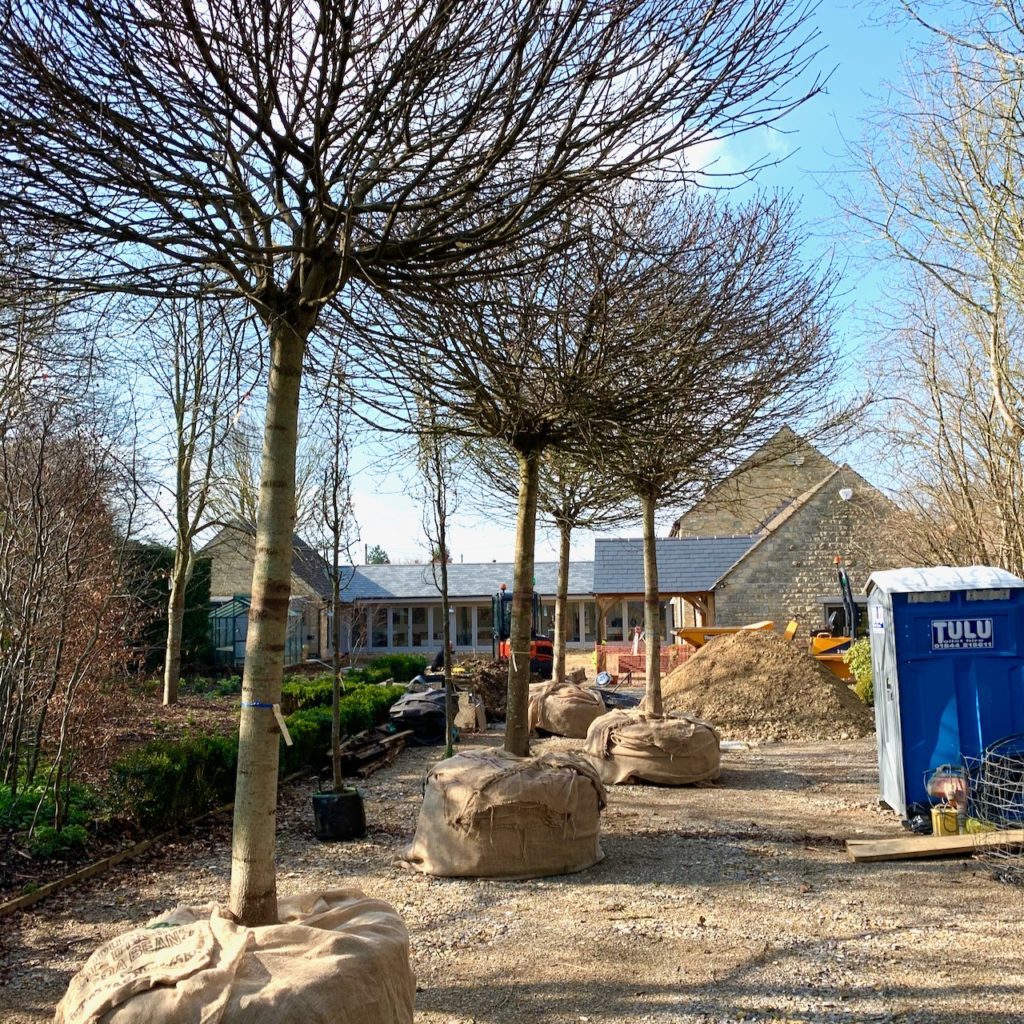 Here they are awaiting their new home. Aren't they magnificent? I have loved this variety of tree for many years after seeing them in France in village squares providing shade. I took this photo below in 2014 in Provence – these have much shorter trunks than ours. They are a very hardy tree so are happy in the UK. Ours were grown in Hampshire by Hilliers & are around 25 years old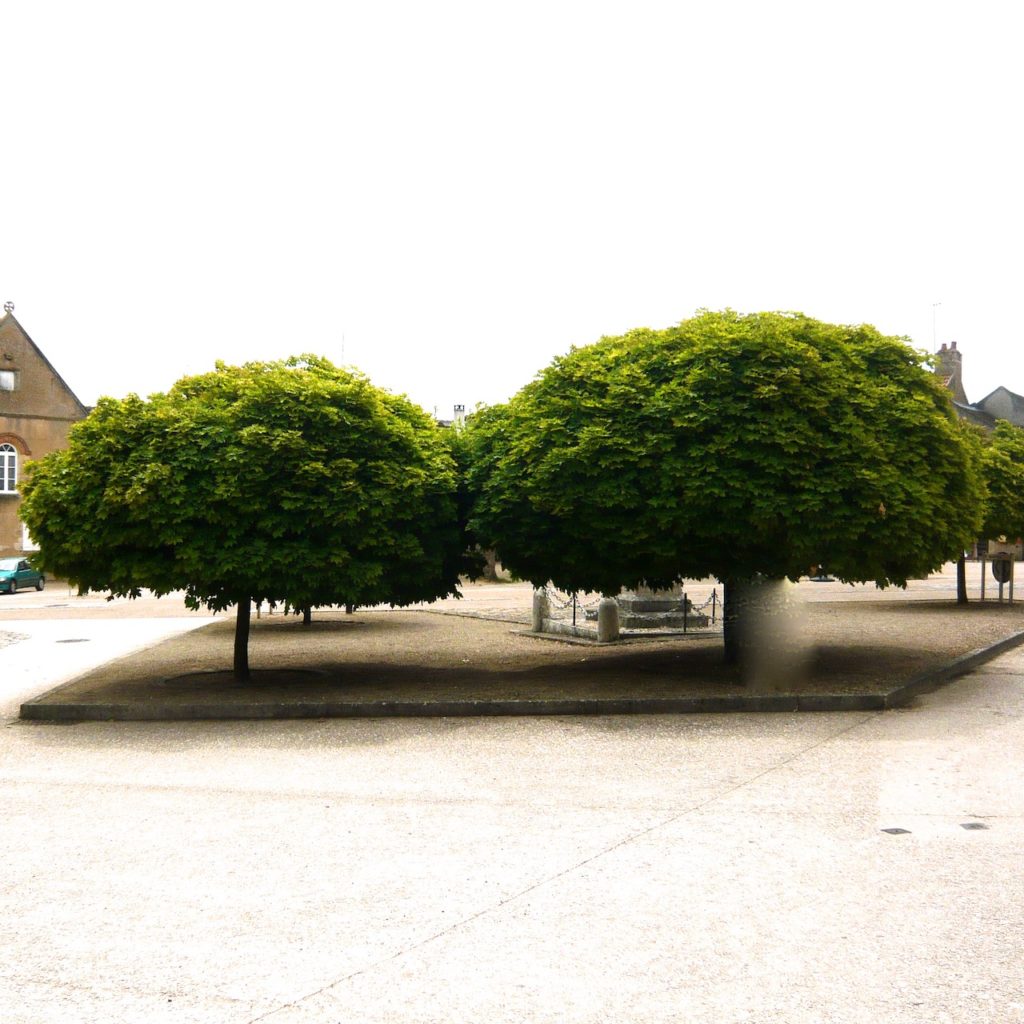 I drew our garden design a couple of years ago but it has been revised many times for various reasons. Initially I was honing the scheme to get costs down but as work has started we encountered issues that necessitated change…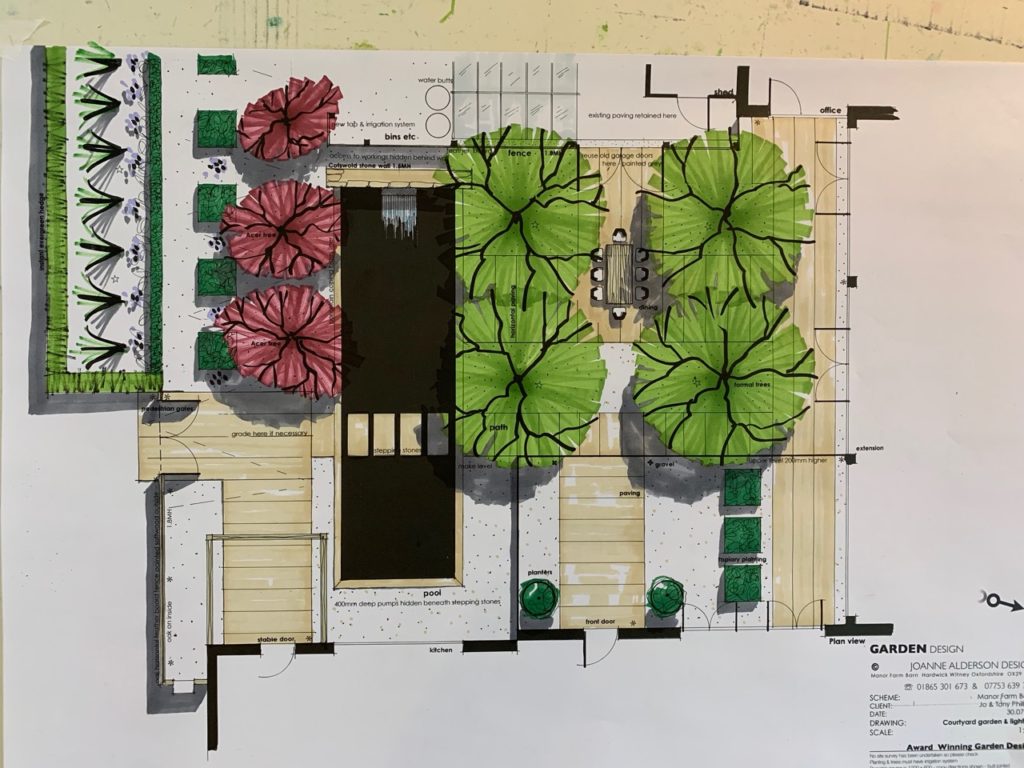 As a garden designer looking out at the ugly mess you can see above for two years was not only depressing but quite embarrassing too! However the team made swift work of clearance & I have lost count of the grab loaders we have had to take all the rubbish away. Unfortunately when digging the planting pits for the acers, the team hit the water table which we discovered is just 30cm below ground. Planting the trees was therefore not an option as there is nowhere for the water to be drained to & they would sadly drown. It's unfortunate but not insurmountable so I decided to source very large planters.
Adezz are one of my favourite suppliers. I love their contemporary designs & their Corten steel range seemed ideal as they are so strong & the colour would work well with our Cotswold stone barns. They do a circular pot with a two metre diameter so I ordered four of those together with smaller (but still big!) tapered versions for our other trees that also could not be planted as planned…
The planters arrived from the Netherlands in their raw state so now I'll be watching keenly & waiting for them to change to the brilliant orange they are known for. Watch this space as it may take a while! We have placed them on gravel 300mm below ground for less impact & to ensure the roots are not wet. The team have cut big holes in the bases for the roots to forage below if they wish. The rootballs are 1.4 metres wide at present so they have quite a lot of planter to explore before they need to do that. The rootballs will be anchored using Platipus tensile steel system so they won't tip.
I have ordered other plants to go in these exceptionally large planters too. Hakonechloa macra, Allium Christophii & Gaura lindheimerii 'Whirling butterflies' will look amazing & add a dimension I wasn't planning so that will be interesting too. Uplit of course – I do like a bit of lighting in a garden – particularly in the winter when it starts to go dark after three. I have low level waymarkers for the paths, uplighters for the trees & underwater lighters for the pool to light the water as it gushes from bespoke lead spouts.
I actually prefer the Pyrus Chanticleer trees here outside our front door rather that in the drive where they were originally destined. They should be happy for a few years with an irrigation system & feed
We are having very beautiful 1.2 metre porcelain tiles. They are textured & look like wood which I think will work well with the stone. All very natural looking when complete.
So that's where we are at so far. There's another couple of months yet before we are finished. Two more trees to go in, paving completed then the pool will be dug. I will keep you posted but with the Coronavirus spoiling everything who knows
Stay safe everyone!
All for now