2020 has been a great year so far. Firstly I'm very pleased to have been invited to be on The List by House & Garden. It's a prestigious place to be & I am in impressive company so thank you very much House & Garden!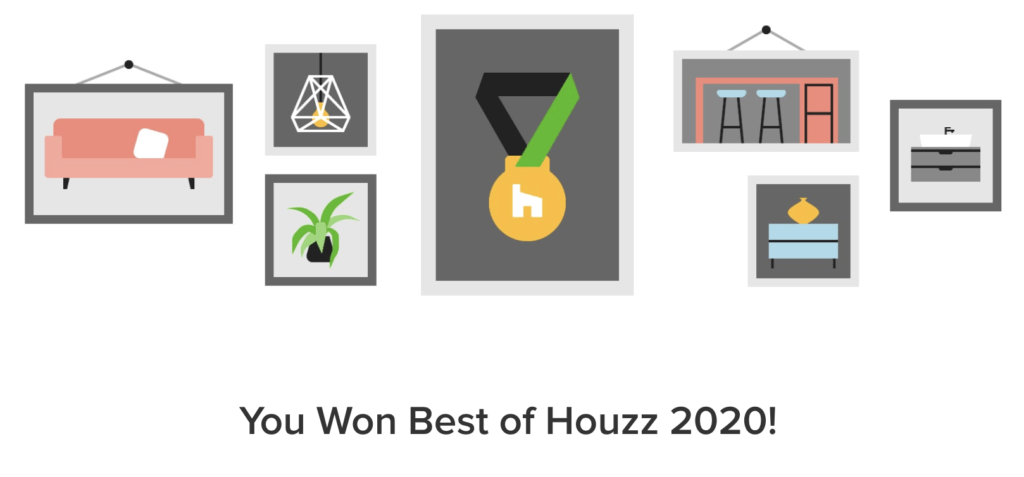 I am also delighted to say I won the annual Houzz Best designer award 2020. It's wonderful to open an email with exciting news so thank you to everyone at Houzz & all the people who follow my work there.
Exciting news on the home front too – After two years of builders knocking our Cotswold barn conversion about & extending it to incorporate my new studio, we are ready to start work on the garden – hooray! The design has been tweaked & refined over that time & as a result we think the better for it.
As a garden designer I have been both embarrassed (mortified actually!) & depressed when looking at the disgraceful state of our outside space. As most of my clients do; I have very much looked forward to seeing my drawing come to life…
Well, last week I was at Hilliers tree nursery selecting & tagging the four mature Acer globosum trees that will create architectural structure in our new courtyard & as we are south facing, will provide much needed shade. Here are some growing in the field. This is James Hillier kindly standing there to show scale
We also looked at potted versions the same age and size. These are the lucky four we'll be having…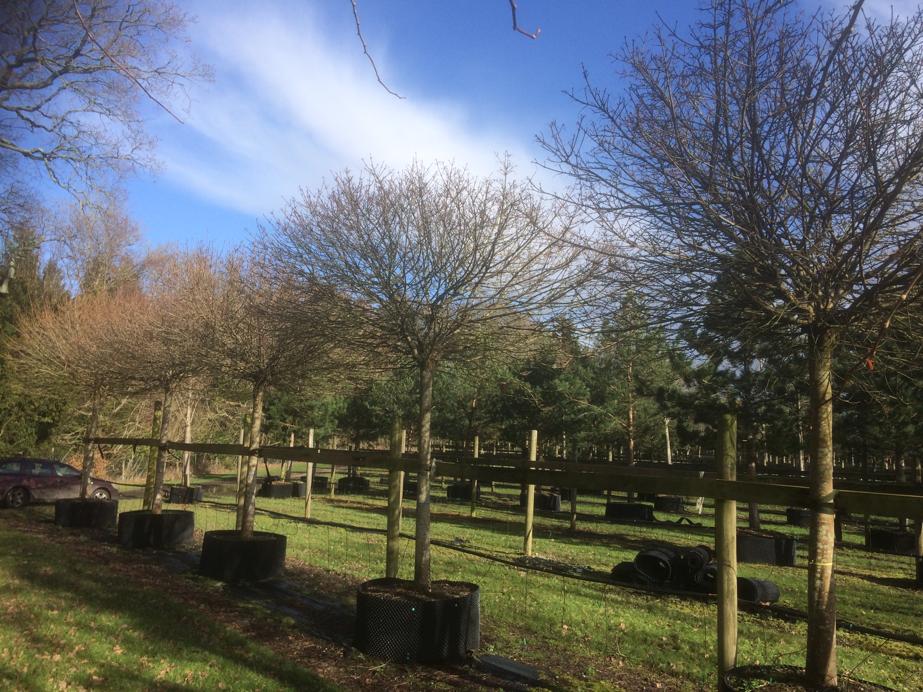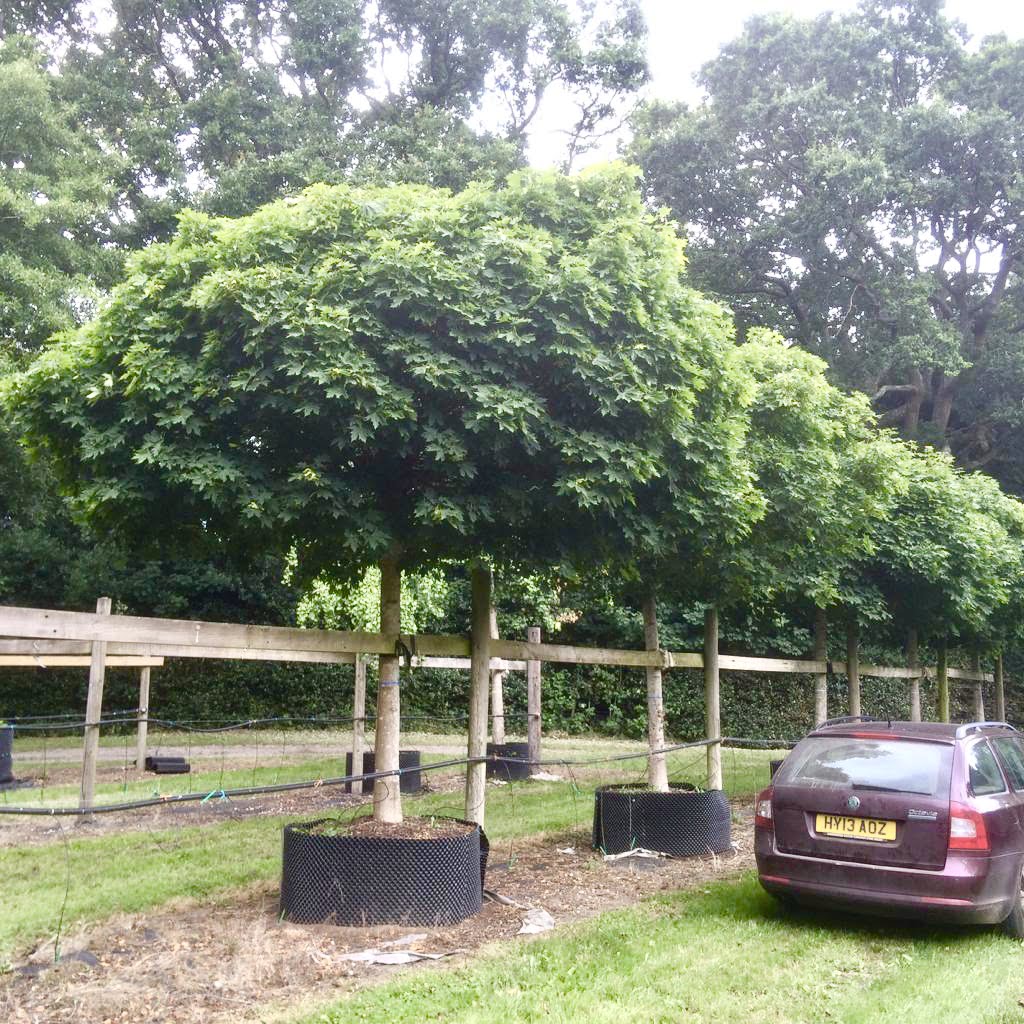 Here they are in their summer plumage looking fantastic!
Being established in these airpots, they will settle quicker & generate full sized leaves in their first summer in their new home. Rootballed trees generally have smaller leaves whilst they establish in new ground. These airpots create a very healthy, dense outward facing, fibrous root system. This ensures the trees establish quicker when planted & these fine roots can dive straight out into the surrounding earth. The circular whirls of pale roots one sees in some plastic plant pots often continue in the same direction which is not the best new start. I am very excited & as you can see they are quite sizeable. They arrive here next week which will be a great day for me!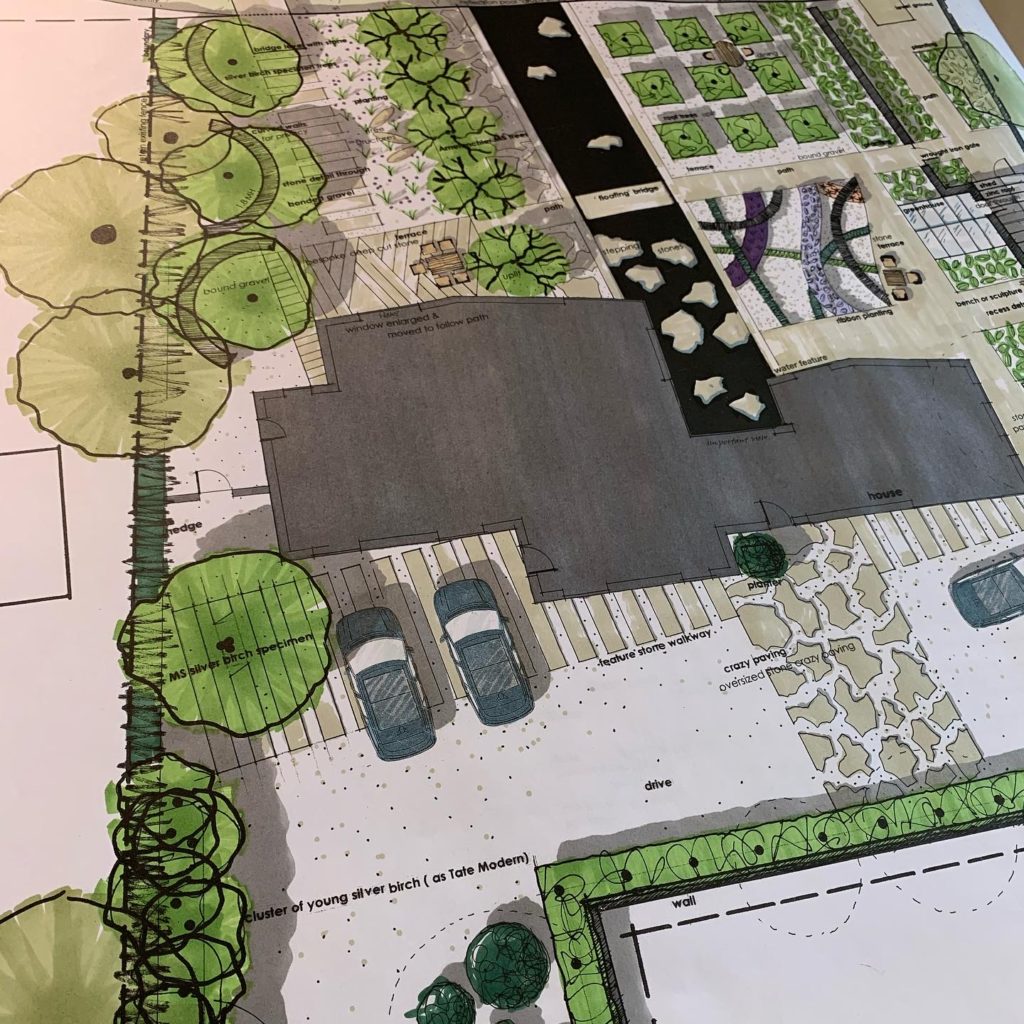 In other news I am awash with work & booked up for quite some time into 2020 with really interesting projects. I am so lucky to be working on four beautiful Georgian properties, a very contemporary new house, our barn conversion & a mixture of other architectural styles – all completely different. Above is part of my design for the contemporary house. We're all quite excited about this one at the moment as it has just been given the green light for planning.
In addition to their houses, I am working with a whole array of really interesting people. Currently I am working with a lord, a major, a prime ministers' sister & my own sister too (quite a compliment!). The suppliers I use are so helpful & keen & recently I have been working with some architects who have such enthusiasm & ideas it's quite infectious.
Next we are planning on a return trip to Belgium to buy some trees & mature topiary which will be fabulous as ever – Hello Annick if you're reading this at Solitair
How lucky am !? 🙂
All for now – must get on!