I spend my life designing gardens for my clients but always design my own too. It's something I love to do & learn from as an added bonus. I've had quite a selection over the years; a shoebox with my first little house, a large & casual Cotswold garden, a contemporary courtyard in Henley on Thames, a large & very formal garden to suit my fairly large Victorian house in Berkshire that we sold recently & now this. See blog posts regarding both of these last two gardens. Now I have redesigned what was a pretty confused garden that is currently attached to our new rather lovely Cotswold stone barn here in Oxfordshire. Here it is last Summer when we first visited & this morning.
We moved in just before Christmas in the snow which actually wasn't much fun but I set about drawing as soon as I could. The barn was converted twenty years ago & needs updating, but the garden – what a mess! There were trees & hedges dotted willy nilly & the space itself seemed really small & disorganised. The current driveway & garage ensure cars are parked directly in front of the large living room windows creating a not too attractive view. I thought this was madness so have redesigned the plot into three main areas – a private & attractive courtyard garden with pools & boardwalk (no vehicles allowed), the drive with oak framed garage & a simple lawned garden with specimen trees. See below.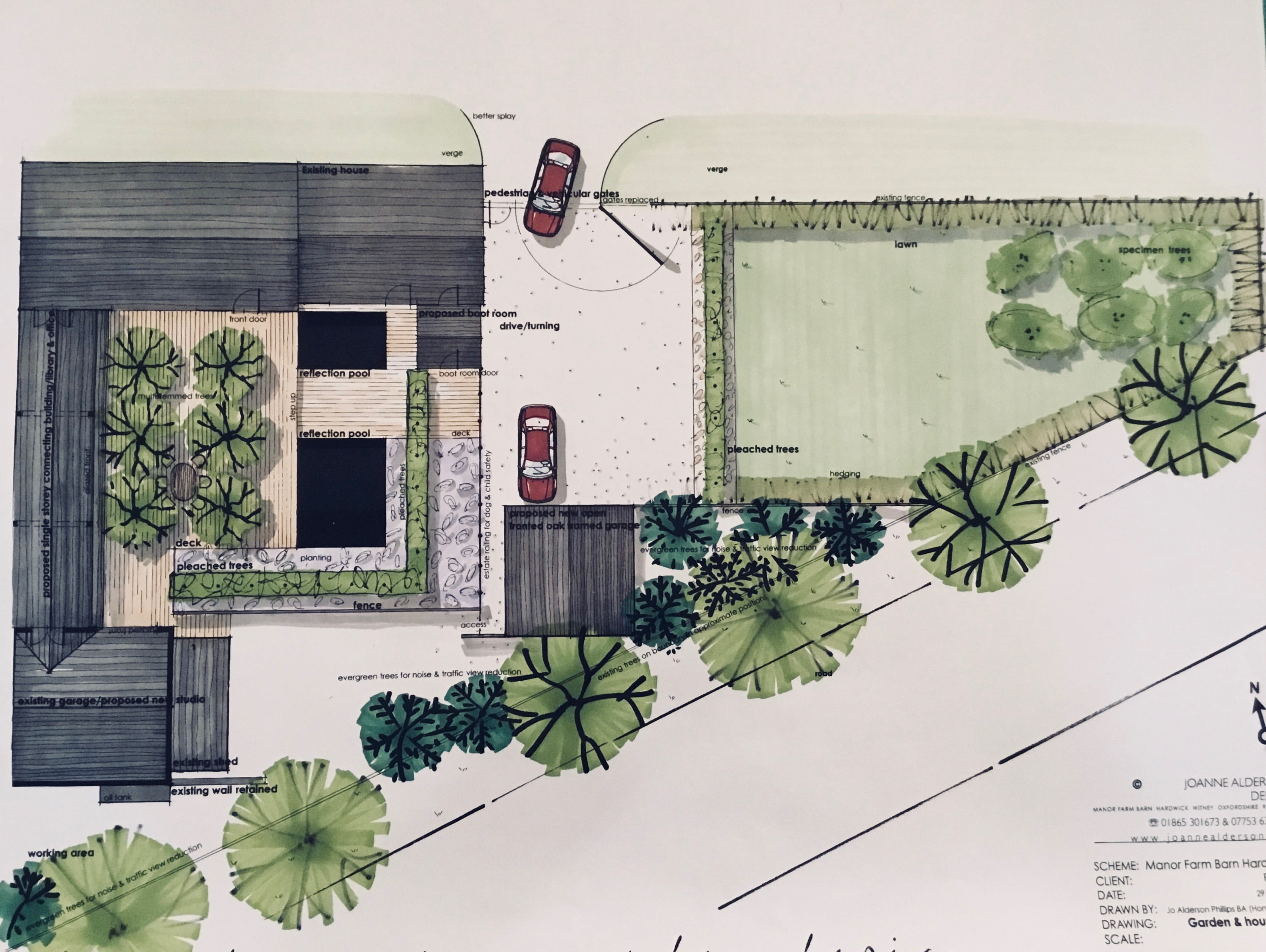 I've also added a couple of extensions. The original garage will become a lovely new studio for me with large full height windows, this will connect to the house with a 14 metre long x 3.5 metre wide gallery space with exposed oak framed roof joists. There will also be a boot room & larder that connects to the kitchen.
By creating a semi enclosed courtyard we will gain further privacy from the village & the driveway. There will be estate railing to ensure our dog is always safe should someone open the main gates & drive in. The multistemmed Amelanchier trees will create structure within the courtyard, evening interest when uplit & provide dappled shade for this south facing aspect. The pleached trees & evergreen copse beyond will ensure further screening & sound reduction of road noise beyond. Work started today so we're really excited!
This is just the start of exciting things to come. We now have big bright space compared to a dark & frankly daft series of hedges & small spaces. Watch this space for further news – I intend to follow it all the way through so you can see that I am on the receiving end as well as designing & creating gardens for others – my husband & I are living it too!
Meanwhile I'm back sat my drawing board working on a project in Winchcombe – I haven't forgotten you Norman & Zoe!
Update – June 29th 2018 – Main barn nearly completely refurbished & work has started on the extension leading to my new studio- hooray!