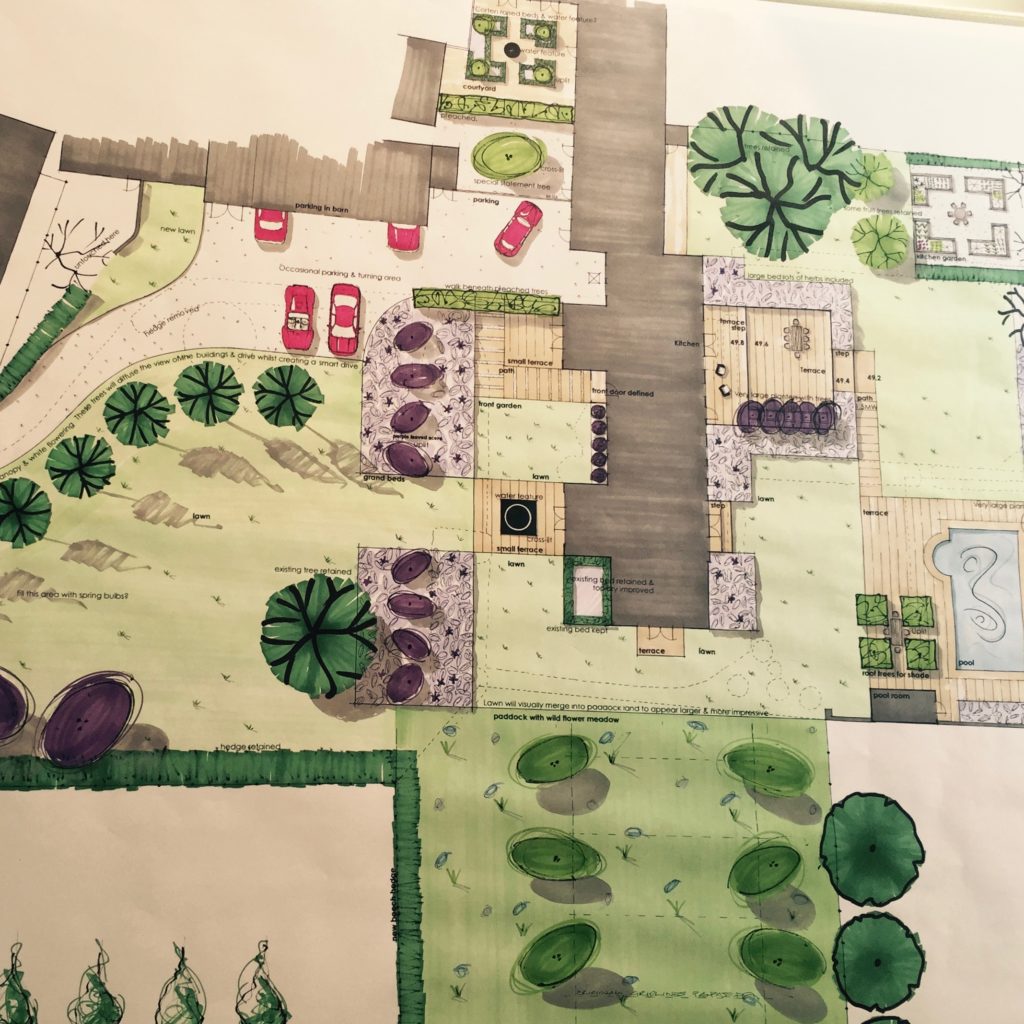 I have a great deal of work on at the moment – all of the gardens are really interesting & quite diverse too which is great. Obviously each design has to suit the clients requirements & wishes as well as suiting the environment. I love that challenge although sometimes this means going through a pain barrier to get the creative juices flowing!
This project came about quite unexpectedly – I met my clients well over two years ago. They wrote to tell me they would wait a while as the timing wasn't right; I thought it was just a polite way of saying no, then lo! I got a call saying they would like to proceed & was I still interested? It's one I really wanted as I knew the change would be immense & it would be a seriously enjoyable one for me to design. It is several acres of both garden & paddock that is currently divided into separate areas that don't really do the building or the landscape justice. My clients both had separate but not too radically different ideas so my job was to unite these needs in one harmonious scheme.. A simple relatively contemporary look is one they both wanted that took in the views of the landscape beyond, shielded unattractive parts & generally made the whole garden harmonious.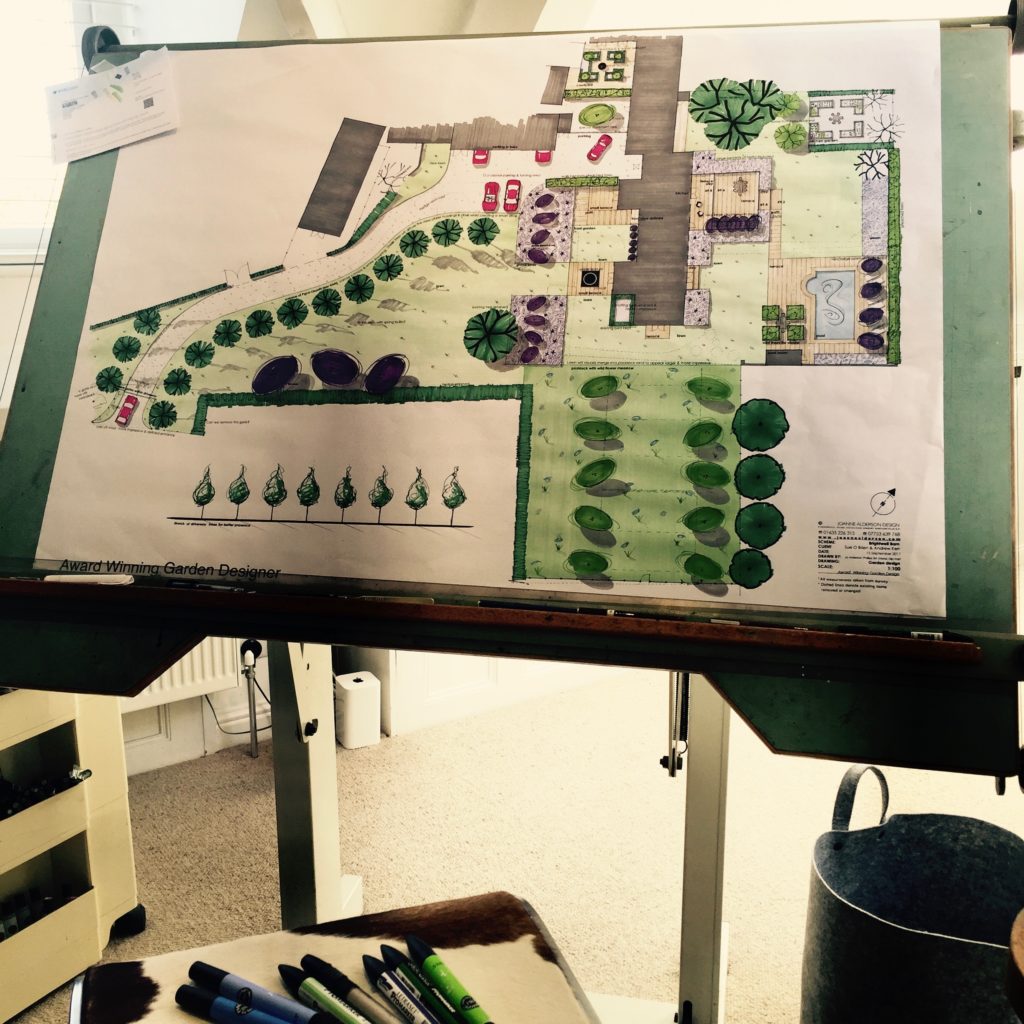 Here it is on my drawing board. I hand draw my schemes onto tracing paper (very large in the case – I buy it on the roll) then I get it printed & render it. That means colour it in although I like to think it's a bit more than just colouring in 🙂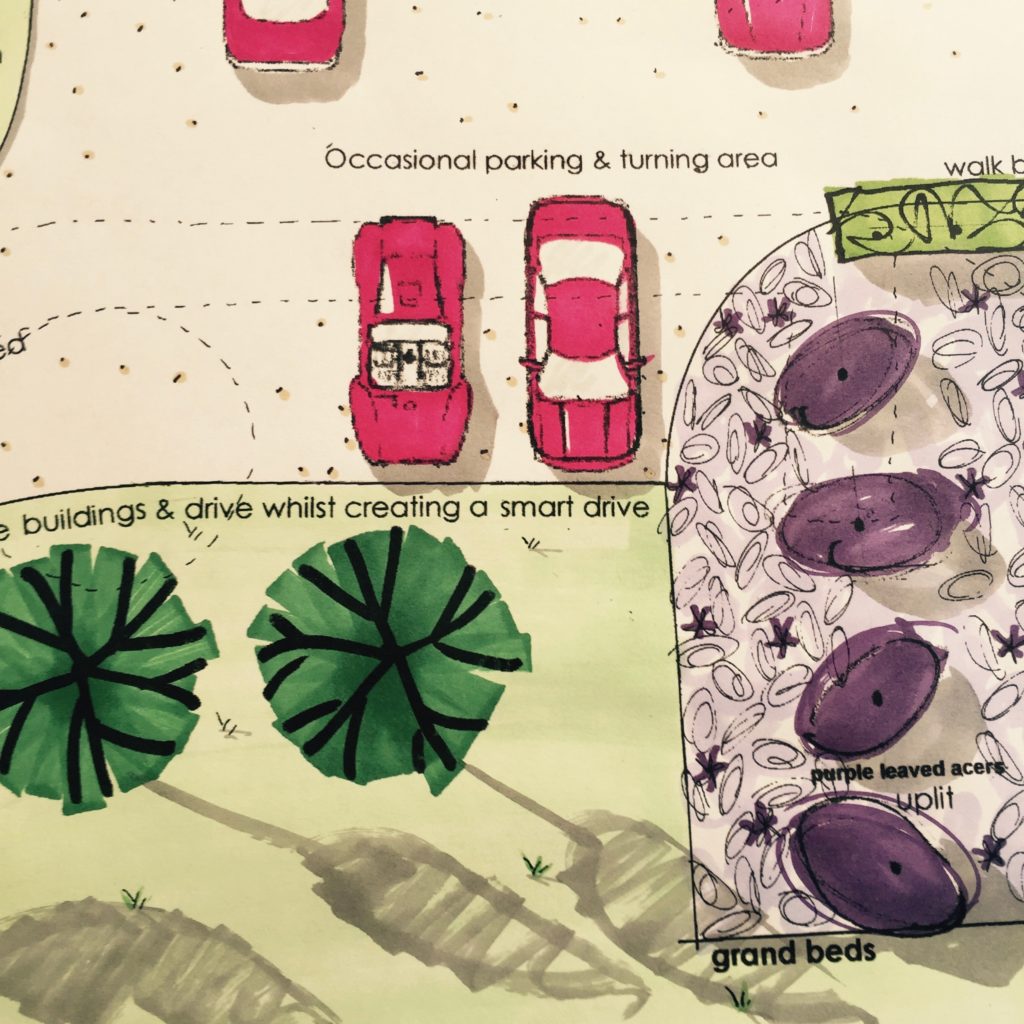 I always make cars bright pink so they stand out clearly to represent scale.
I felt the barn needed more presence so gave the drive more interest by flanking it with Pyrus chanticleer trees. These are great trees as they are not too large, are well behaved in that they grow to a uniform size & shape, have bountiful white flowers in Spring, excellent Autumn colour & hold their leaves longer than most deciduous trees. These would create that much needed 'wow factor' ( sorry but I can't think of a better term). I've created a large parking & practical turning area, formal courtyards & more intimate 'rooms' whilst creating a sense of space where needed. It's minimal in styling & only uses a small palette of colour, materials & shapes. This creates a harmonious uncluttered scheme but with good structure & planting to enjoy it through the seasons. I really believe in that old adage – Less is more.
As you can see there are large terraces for practical purpose, trees for shade, native multistem trees through the paddock above a pretty wild flower meadow partially screened kitchen garden.
I always worry a little when I'm presenting a scheme, I think I wouldn't be human if I didn't. I always listen very carefully however when taking a brief & outline my ideas during our meetings so there are no nasty surprises for anyone. I back up my drawings too with a bound A3 brochure full of glossy photo's & sketches to show how it might /should! look.
My clients were delighted & I just received an email saying this " We have concluded that your plans are flawless! Thank you so much." Blimey! (blushes) how lovely is that?
Next stage is to write my notes/specifications together with planting plans so my contractor can price it up & we can start the ball rolling Will keep you posted.
Am dashing off to the Cotswolds now to see another client with a Tudor cottage & lots of land near Winchcombe. I'll tell you about that one another time. 'Til then.