There is the most fantastic nursery in Antwerp in Belgium where we occasionally take clients to buy really special mature trees & topiary. This week was one of those lucky weeks where we flew out for the day to see what we could find. I went with Tom Seward of TS Landscapes who build many of my gardens & collected him at 4am to travel to Heathrow. We met our clients there & the nursery collected us at the other end in Belgium. We chatted all the way & as always we were blown away by everything we saw on arrival.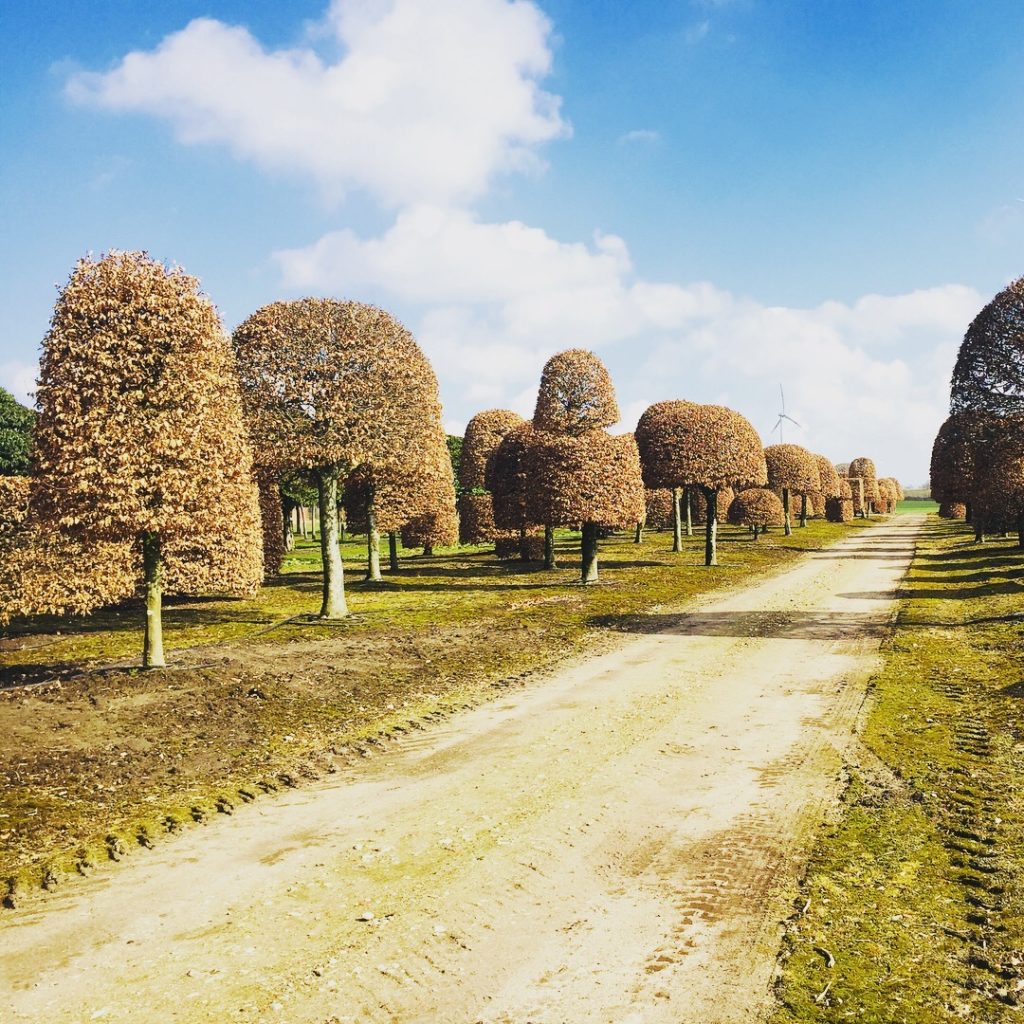 There are over 100 hectares of fields where they grow a variety of trees & topiary specimens. They stand in vast rows making the most incredible spectacle.
These here are a mixture of giant topiary shapes that reminded our clients of a scene from Alice in Wonderland.
The sun shone & we walked & drove around selecting specimens that might be right for their gardens. As a designer going to places such as this is perfect for inspiration. There are trees I might not have previously considered; for example we saw these beautiful Cornus Mas multi-stems with their pretty yellow flowers.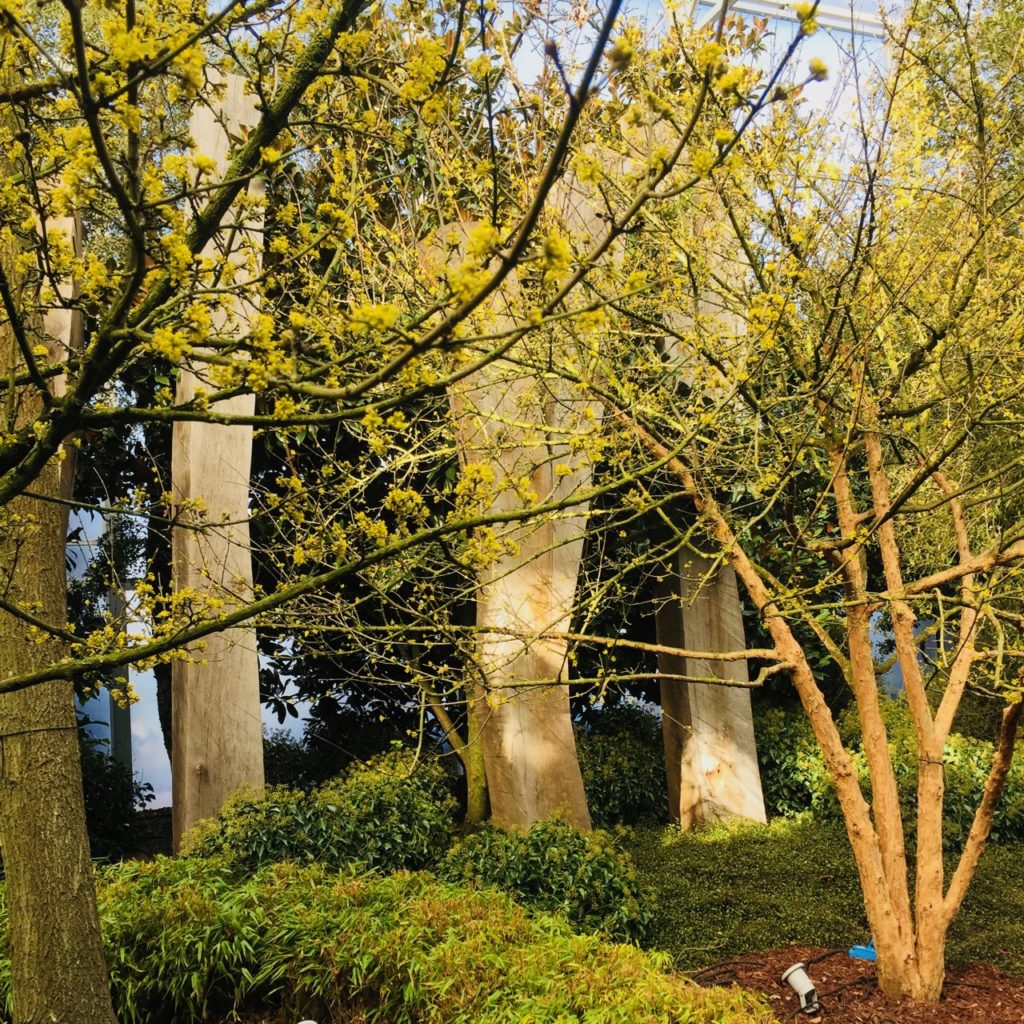 I'm not normally a fan of yellow but these were so delicate & the network of branches so interesting it made a beautiful combination. The nursery had washed & cleared the stems of moss (that likes to grow on them) & they looked fantastic. Cross lit they would look wonderful at night too. So lovely were they we ordered one for my clients.
These Cornus were in a vast show garden where the nursery take clients & designers such as myself for inspiration. They incorporate sculptures & unique pieces of green oak furniture to create beautiful settings clients can relate to & want to buy! These sculptures are just fabulous when nestled amongst the trees & plants here – they reminded us of Treebeard from the Lord Of The Rings trilogy. We're awaiting a price & hopefully some of these will end up in a beautiful Berkshire garden. Watch this space!
My clients garden is several acres & there is a great space for a specimen tree. We were looking at pines & we found this – isn't it beautiful. We may need another crane to plant it though 🙂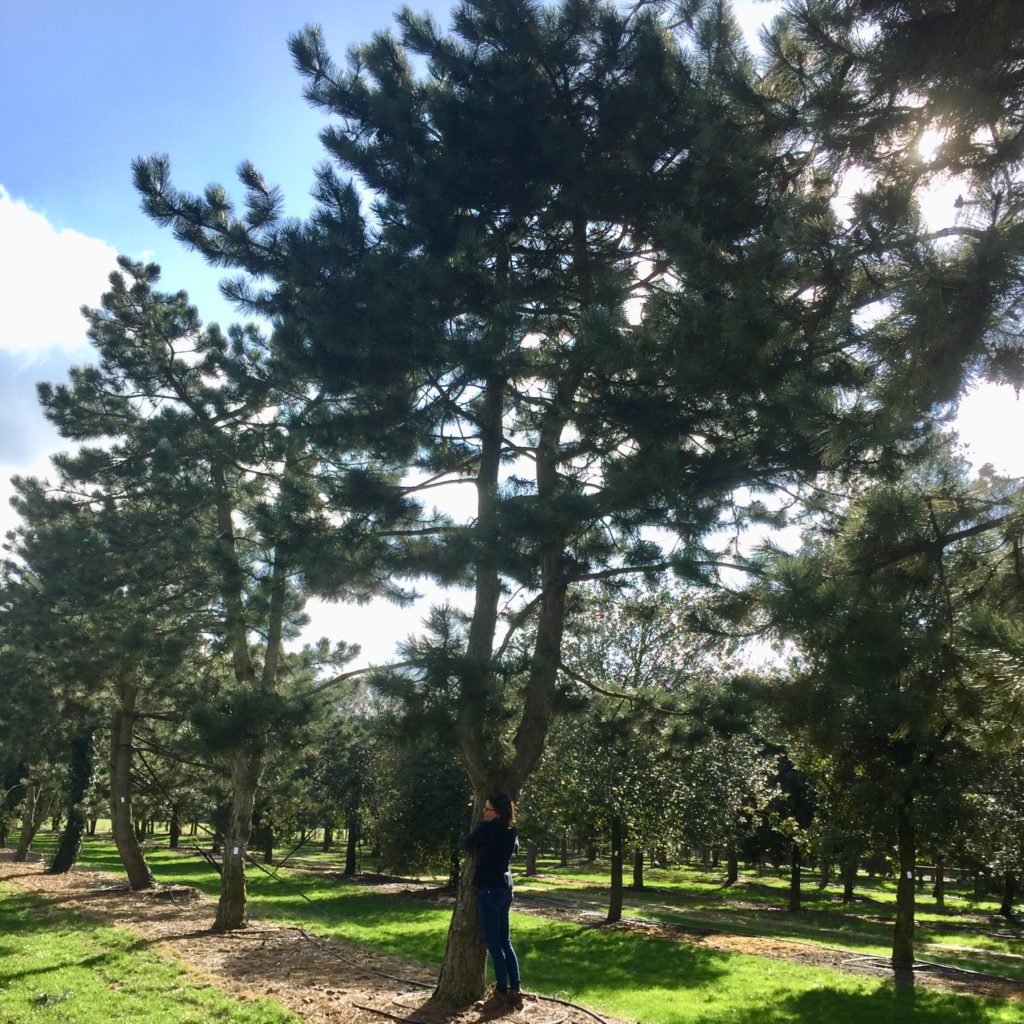 I look at ideas for other clients too whilst out & about on these trips. I have 14 projects on at the moment so I am always scouting for ideas for somewhere – something special that will look perfect in the right new home. I use multistems a lot & these are just perfect. You don't often see Prunus lusitanica like this – it's normally a hedge & doesn't look fantastic?
Until next time