We bought the place three years ago with lapsed planning permission for a conservatory leading from the kitchen. We loved the architectural detail of the house – all it's panelling & large rooms etc. but the chance to make our mark too was perfect! I do love a project!!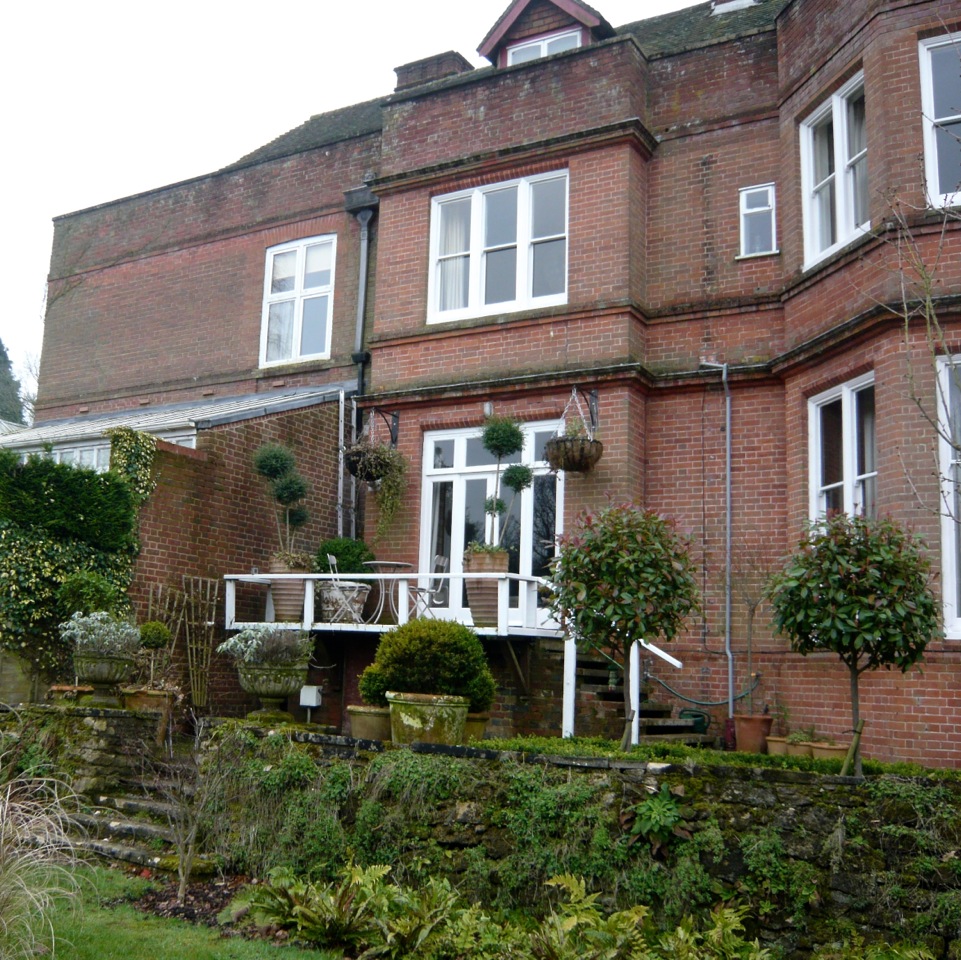 This is how it was – what a mess! The only access to the garden was via this dreadfully ugly (& unsafe) deck built by a previous DIY enthusiast. It was not what we wanted at all & really let the house down. The plan was to extend the kitchen out & allow more light & importantly – the garden in. We are North facing & as you can see, the view to our garden was significantly blocked by next door's wall. Odd – but that's what happens when you divide a large house up.
A client of mine, Jane Livesey (see Estate) mentioned a company called The Igloo, run by Paul Thompson. He designs & makes glass box extensions with green oak frames. I loved the idea & having seen one in the flesh – thanks to another client Rosie Miller, thought it would work here at our place. What I didn't want was to inadvertently add a carbuncle onto our lovely house & spoil it.
As Paul's buildings allow you to look straight through all the glass to the original house, there wasn't that feel of 'bolt on' that worried me. Also the chunky green oak would suit the scale & masculinity of the house. Paul & I started swapping sketches – his posh CAD ones & mine; very very sketchy scribbles from my note book. Don't laugh but these were my doodles of what I thought we should have. I wanted to feel we were part of the garden & I wanted the floor level to continue through from the kitchen. Paul is the calmest chap I've ever met & didn't mind me sending loads of requests for alterations & suggestions at all.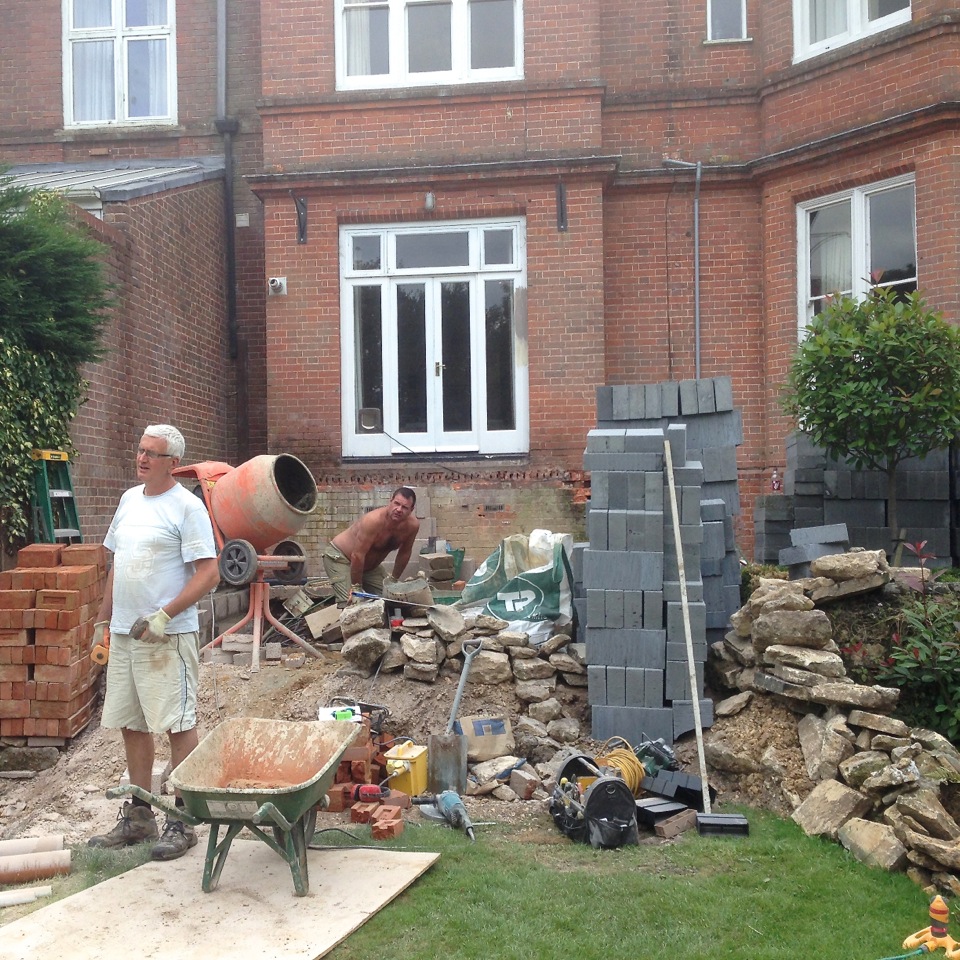 Blimey – No going back!! Work started on August 19th & Paul & Terry worked their socks off. Our only dilemma was getting access for our dog Charlie & the two cats as we don't have a back door. Slight problem but they were mostly happy to 'walk the plank' Paul & Terry rigged up.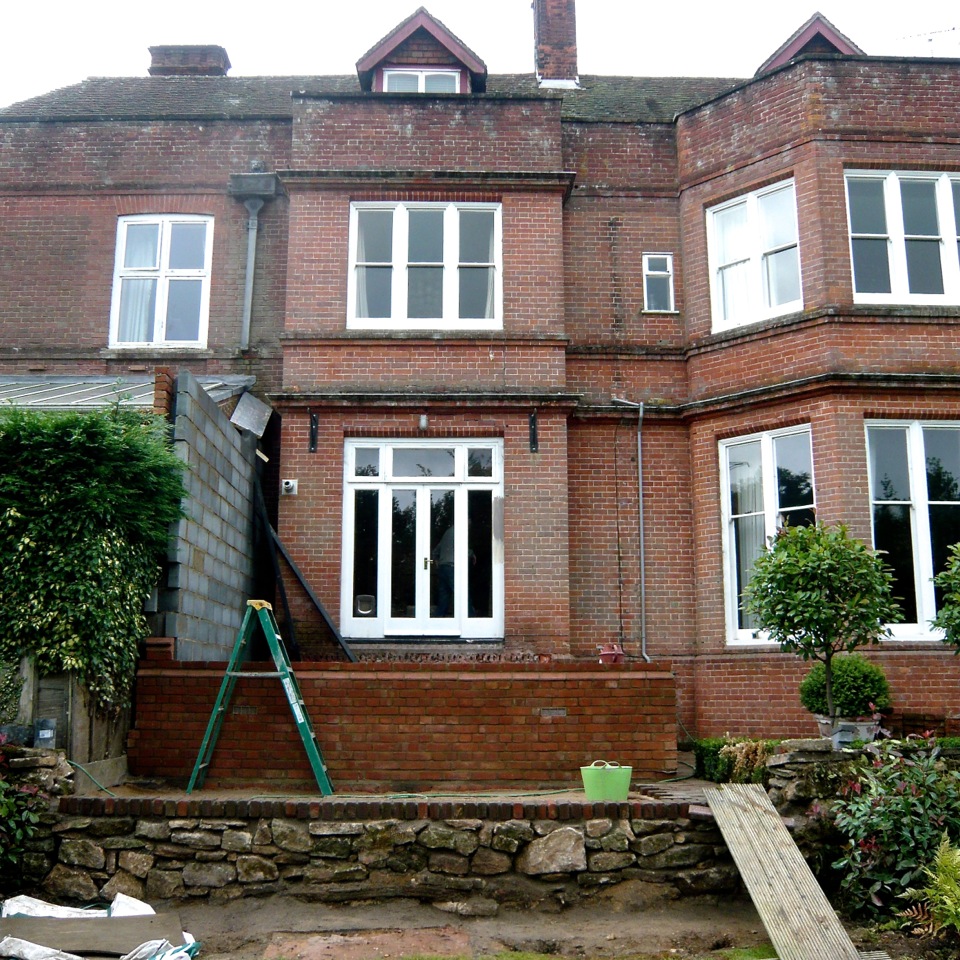 Once the base was in, it all started to make sense. Paul matched up the old bricks with new hand made ones & used cant (cut off at angle) bricks too to tie in with the original detailing. Looking good!
I love the green oak frame! It was such a big job getting it all together & so exciting for us to see, we hardly got any work done ourselves & just spent hours looking out of the bedroom windows in awe!!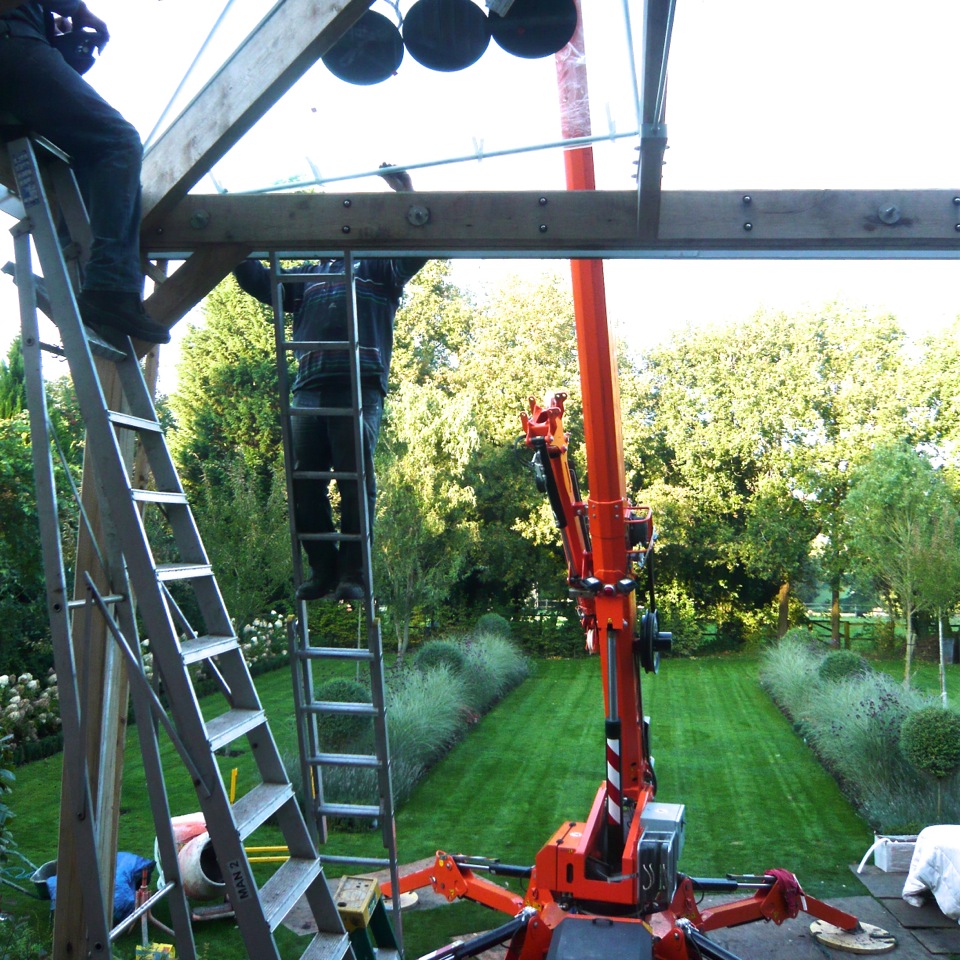 This was scary!! We had the crane here for a couple of weeks in the end as one piece of glass sadly broke. Quite a shock for all as it shattered into a million pieces. This delayed things but only by a few days. Everyone was marvellous & we just felt sorry for Paul. Note – they haven't trashed my garden! They took great care.
This is inside looking out & in December 2013 this is outside looking in…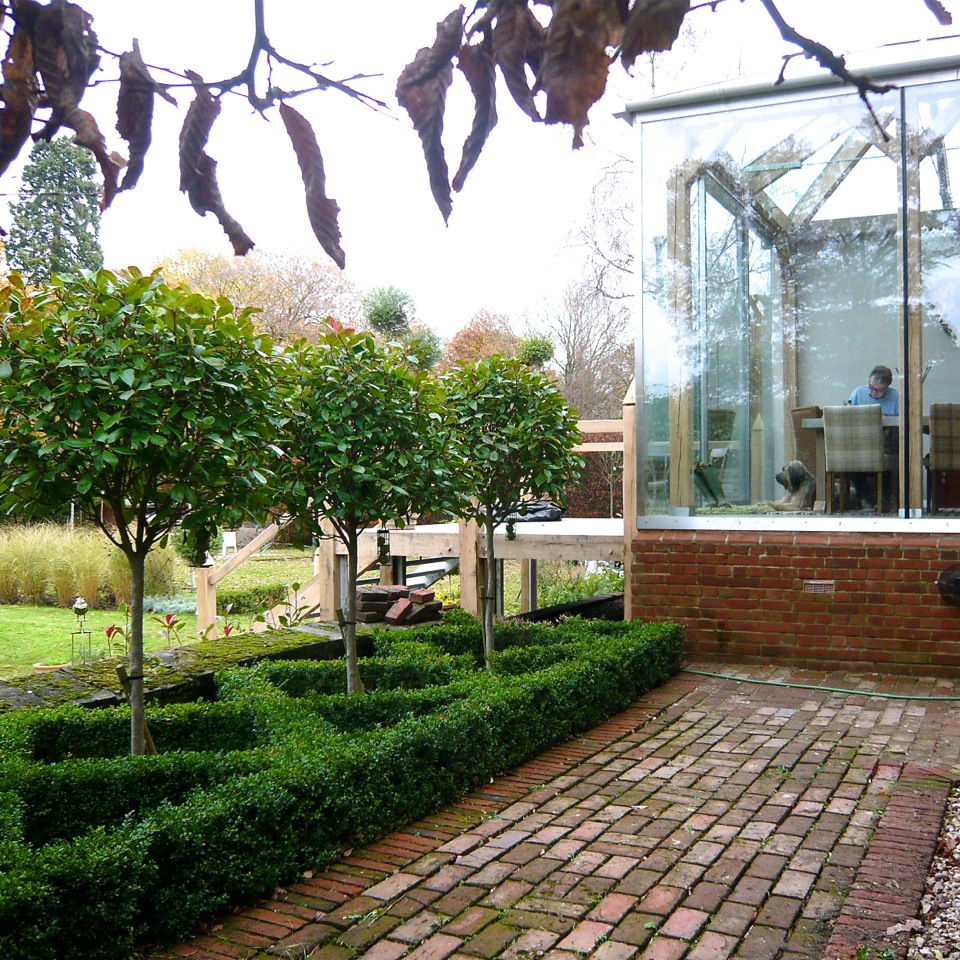 A real room in the garden – we're delighted! It's also the warmest room in the house – even better. I took the opportunity to get rid of old pots & declutter. They all got new homes so all was well.
Madly busy now as I have several schemes on the go but I'll be back on Monday to talk about the raised terrace Paul built that adjoins the glass room then I'll introduce you to Charlie, Dillon & Lottie. See you then!