Amazing what you hear on Womans Hour
I always listen to radio 4. It has been my informative friend for over 20 years. I remember many years ago sitting at a dinner party beside a scientist who was studying the ability of an unborn baby to repair itself if damaged. She was most impressed I was able to talk a little about this with her & wondered how I knew. I told I'd heard all about it on Womans hour! Anyway – this morning was about a forthcoming exhibition at The Garden Museum in London. I heard "embroidery of the earth" (knot gardens) & my ears pricked up. It's an exhibition curated by Alexandra Shulman of British Vogue celebrating the influence of gardens on designers. As a garden designer who was originally trained a a textile designer I felt it might be right up my street. Fashion and gardens are an irresistible mix. So many designers have been inspired by gardens through the centuries and this exhibition is a fascinating illustration of how nature has influenced both how our clothes have looked and how they have been worn over the years." – Alexandra Shulman, Editor, British Vogue Funnily enough I've been working on a knot garden recently as this week the team are building one of my schemes within a beautiful walled garden near Henley. Here's the design –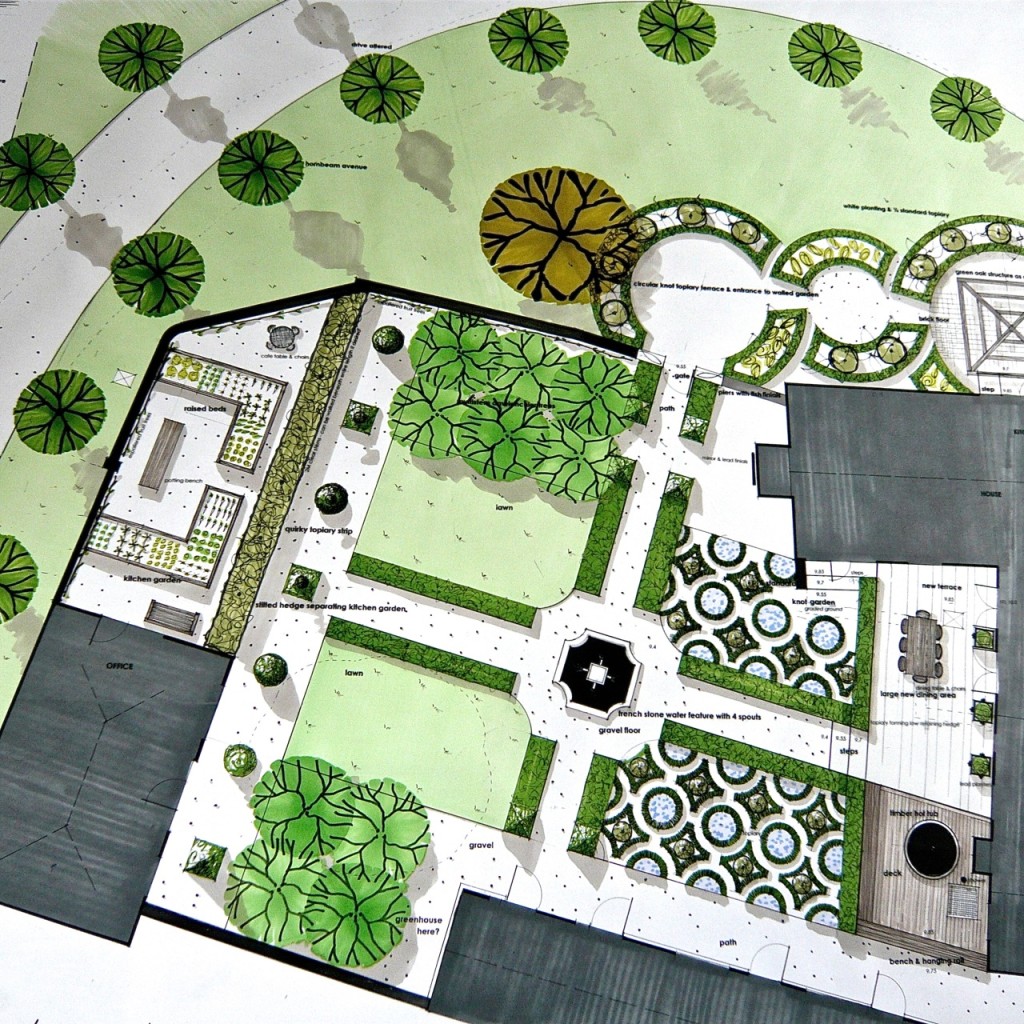 As it's such a large walled garden I was able to incorporate quite a lot including a knot garden, great terrace with deck & sunken hot tub, a French fountain, interesting walkways & places to sit, formal lawns & a kitchen garden with raised beds separated by elegant pleached hornbeams.
Here it is before & during. The walls have all been built in brick & flint & the reclaimed fountain has been brought over from France together with the stone piers & copings. My focus last week was to get a setting out drawing done for Rob & his team in readiness for Monday. It's a drawing that has dimensions on it from lots of locations so the team can plot the design on the ground accurately.
Here's part of the setting out drawing so you get the idea & beside it is a sketch of how it should be when complete. I'll post photos of to when its done which won't be too long. In the meantime here are a few other elements going into this lovely walled garden.. Aren't they great? I took these photos at Versailles & was determined to do something similar in one of my schemes as they just look terrific & such fun. Stuart & Rebecca really liked them so will be having a line of these 'chess pieces' as we've called them along a wide path. Sourcing them has been a bit of a nightmare for poor Rob & Emma but wait & see what they found. Coming soon!
All for now. Next time – Ask an expert…