I love doing small gardens as they are very satisfying. They are relatively quick to build (I often design very large estates which are implemented over several years in some cases) & the before & after shots are always amazing. With small gardens everything counts & the whole scheme must work throughout the seasons, day & night, back to front & so on. This counts for all gardens of course but more so here as nothing is hidden; I don't do mini wild flower meadows for example as I don't believe a small garden can afford such temporary beauty. I always tell my clients that winter lasts a very long time & there's nothing worse than a bare patch for months on end! My schemes are simple, well structured, well lit, contain lots of evergreen & architectural planting, scent if possible, sound if possible & a variety of heights. They have to be practical too of course & this set of ingredients work well for me & my clients alike. By keeping things simple & avoiding fuss the gardens are so much more successful.
This barn conversion was no exception. The top header image is my axonometric sketch for the scheme I created for my super clients John & Ally. Below is actually the same view!
The original garden had a sad lawn, a few random structures & no focal point. It was triangular too which is always a tricky shape. Part of the garden to one side of the barn was separated by paving & the arch you see above but with access to nowhere in particular lacked purpose. I wanted to use the whole garden that was a great space to socialise & seem bright & welcoming throughout the year. I convinced John & Ally that the lawn had to go & a new contemporary courtyard would be far better for their plot. They put their faith in me & phew! they love the finished result.
Originally the garden had small & uncomfortable steps leading down from the barn to the not very attractive paved terrace below. I felt these were if not dangerous certainly not user friendly. John & Ally are very sociable folks so I envisaged a garden that friends could spill out into & not worry about falling off a small step. I used Millboard decking to create a raised terrace to avoid this issue. Millboard is a faux deck in lots of amazing finishes & I've used a bleached oak look. It contrasts beautifully with the black timbers of the barn & has great qualities including shrugging off dirt & algae, being non slip, UV stable, non splintering amongst others. I've used it on several schemes now & love it. You step down onto a very large decked terrace that wraps around the rear of the barn & utilises what was lost space. The deck then becomes a boardwalk that takes you off to a large steel water wall.
This above is a great before & after sequence. The fence has been clad with these beautiful cedar strips that complete the contemporary look & give added privacy from their neighbour. It's simple & smart & continues around the rear of the garden too. In large basket planters I've used large Amelanchier trees which are brilliant value; they give height & presence, architectural structure & flower for ages. One of my absolute favourites that I can't see I'll ever tire of. My friend Marnie whom I've mentioned lots of times before made the fab table & benches. Ally gave her some personal wording that continues around the top. These pieces will fade to silver with age so tie in beautifully with pale grey of the deck.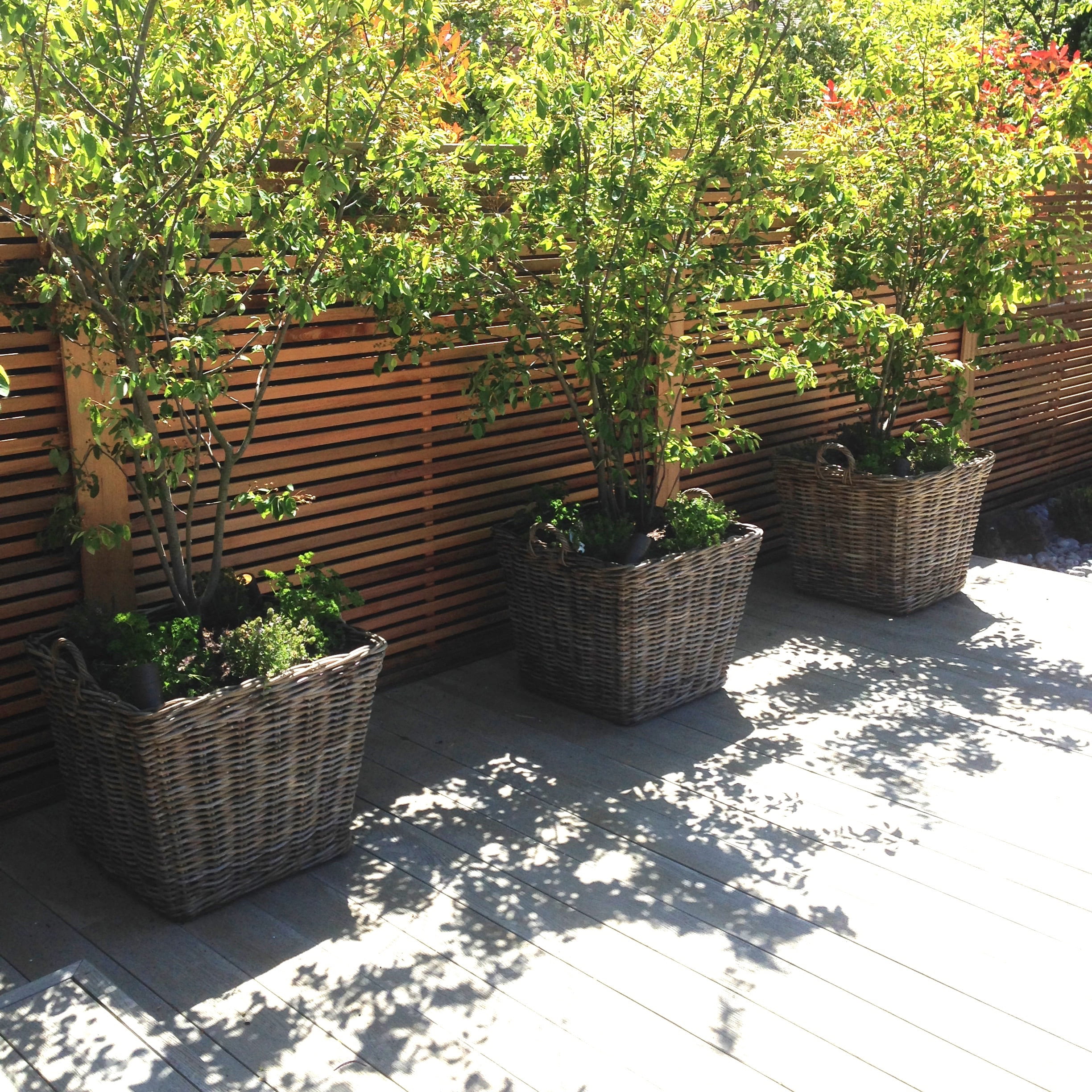 These are the gorgeous amelanchiers in their sturdy baskets. The herbs below are scented, useful for cooking (& sharing I hear!) & provide a great frothy base. The trees are uplit as are other elements in the garden. I've used simple pompom ligustrum topiary & ilex balls (avoiding buxus due to prevalence of blight at present) contrasting the delicate acers hovering over a sea of euphorbia Robbiae.
Thanks go to Tom of TS Landscapes & his great team
Until next time