I'm really not great at this blogging malarky so do apologise for their infrequency but I do hope when I do get around to them, they are worth the read? This week I have been given the go ahead for three new schemes, I presented another to Jane, my very loyal & lovely client from Buckinghamshire & am off to see three more jobs this week. Can't keep up but delighted to be so popular! Nearly forgot to say I visited "GROW" on Hampstead Heath too on Sunday. A lovely day out & good to see my friend Marnie Moyle of Green Oak Furniture & Bob of Muntons exhibiting.
My new schemes include a chapel in Hampshire, an estate near Henley on Thames & a London town house. Such diversity always keeps me interested & of course no two jobs are ever the same.
The scheme I presented yesterday was for the front garden of a barn conversion in Norfolk. I've already talked about the rear garden that I designed in a coastal style for this weekend retreat & I've finally found the time to focus on the front. Both the front & rear are having glass box extensions by Paul Thompson of The Igloo who did ours here in Berkshire but we are still awaiting planning. No hurry then which is why Jane didn't mind me taking an age to fit her in! Here it is as it stands now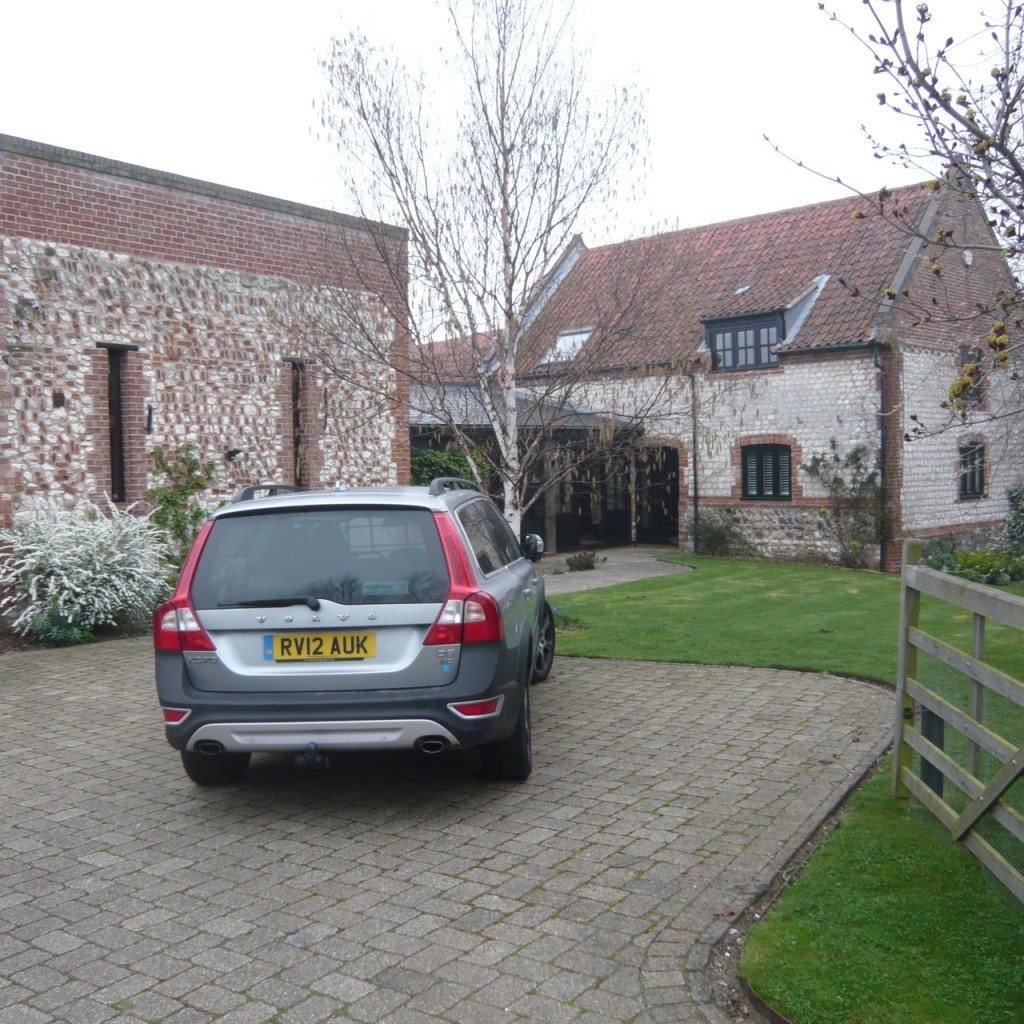 and here are my drawings for it…
A busy week & its only Wednesday
The shapes conflict so creating something that ties them all together was quite tricky. Circles are always brilliant for this role & this large circle really works well here to unify the whole thing, inject a sense of style & will actually enhance the lovely barns. I'm using a muted palette to reflect those in the brick & flint buildings with huge naturally smooth boulders as punctuation marks. The silver birch is to be retained & given centre stage whilst the new multistem trees are Rhus typhina which will be sculptural, low maintenance & provide fantastic Autumn colour. There is very deliberately, little planting as we are looking for low maintenance here. The theme is coastal & that means stone & minimal planting too. Just because it is a garden, it does not mean it needs to be filled with plants. I love the old adage "less is more". That certainly applies here & these precious few plants & trees we are using will sing out sufficiently. Jane was really pleased & is looking forward to cracking on with it. As are Rob, Paul & I to be honest!
All for now I'm afraid. I'll let you know how the next meetings go & update you on designs now being built.
Enjoy the sunshine!