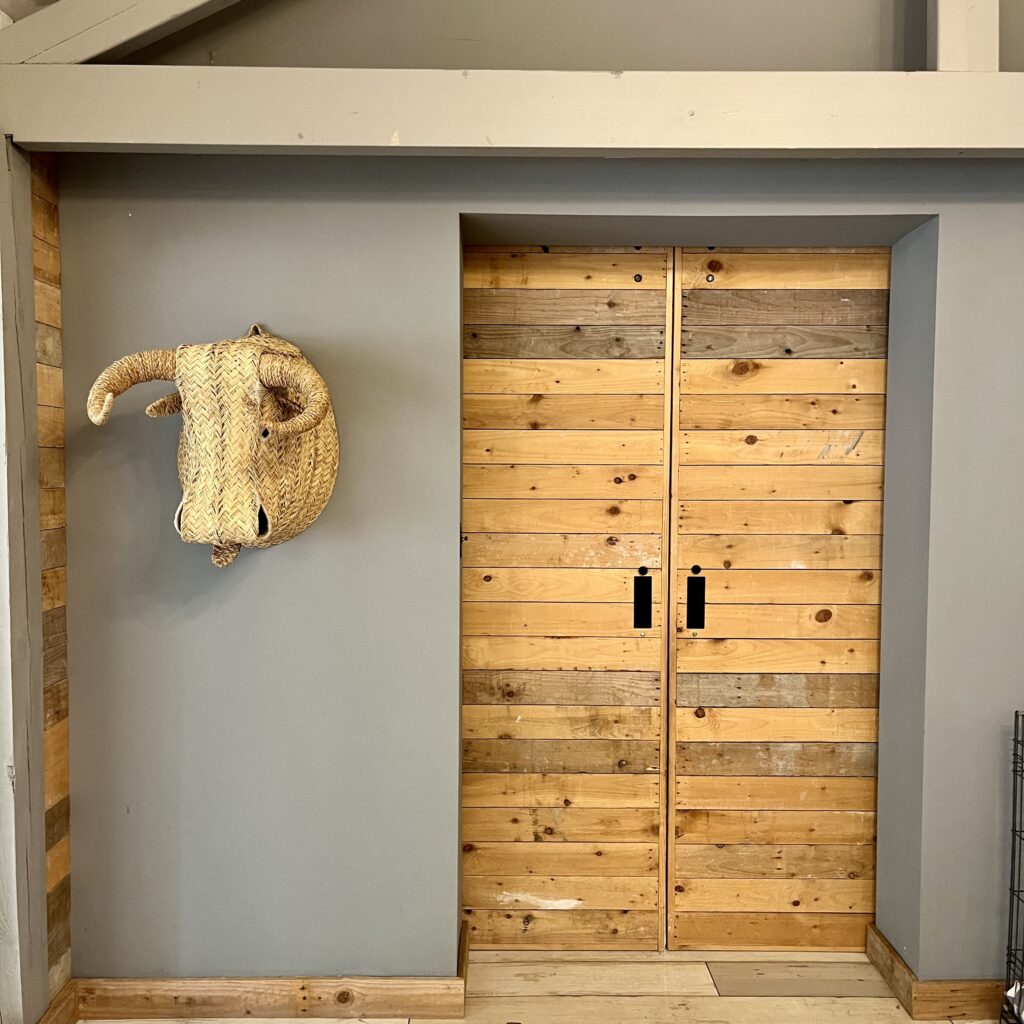 I work from home here in the Cotswolds & have been lucky enough to build my own studio ( correction! I actually used professional builders!!). We live in a barn conversion & my studio building was originally a Cotswold stone animal shelter when this was all part of the main farm back in the 1800s. It was converted to a double garage 20 years ago but that meant cars had to drive through our courtyard to get there. That was stupid, so we reconfigured it all & connected it via a link extension to the house. We now park cars out of the way!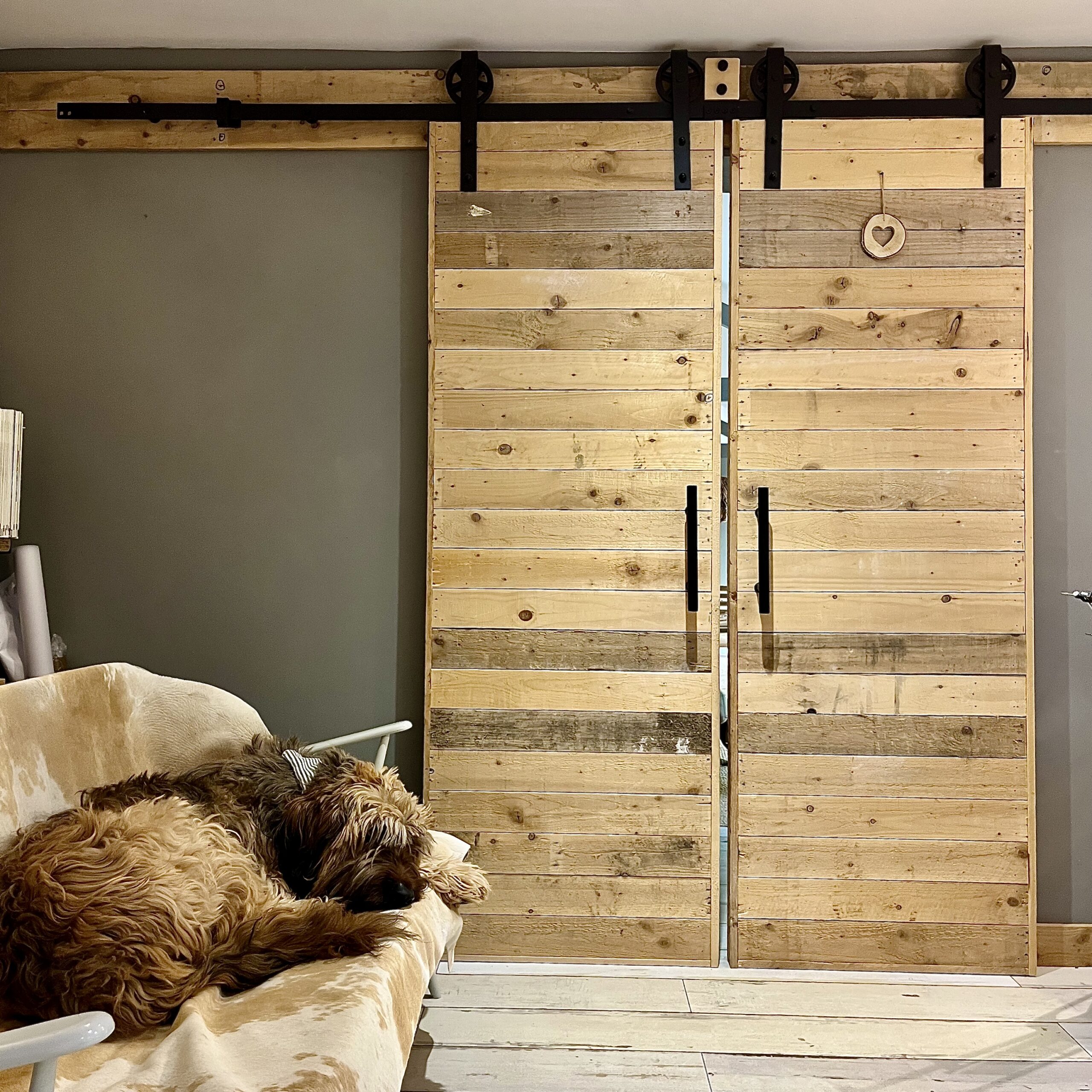 Here's the other side of those doors & most importantly – Bruno! He is always here with me when I'm working & likes to sleep either on my feet, on the rug or on this settee. Yes he is spoiled! As this is a barn conversion I wanted to maintain that vintage rustic feel with plenty of character so the barn style sliding doors are made from old pallet wood & the shelves are reclaimed scaffolding boards. I'm delighted with it & think it fits with the Cotswold stone really well.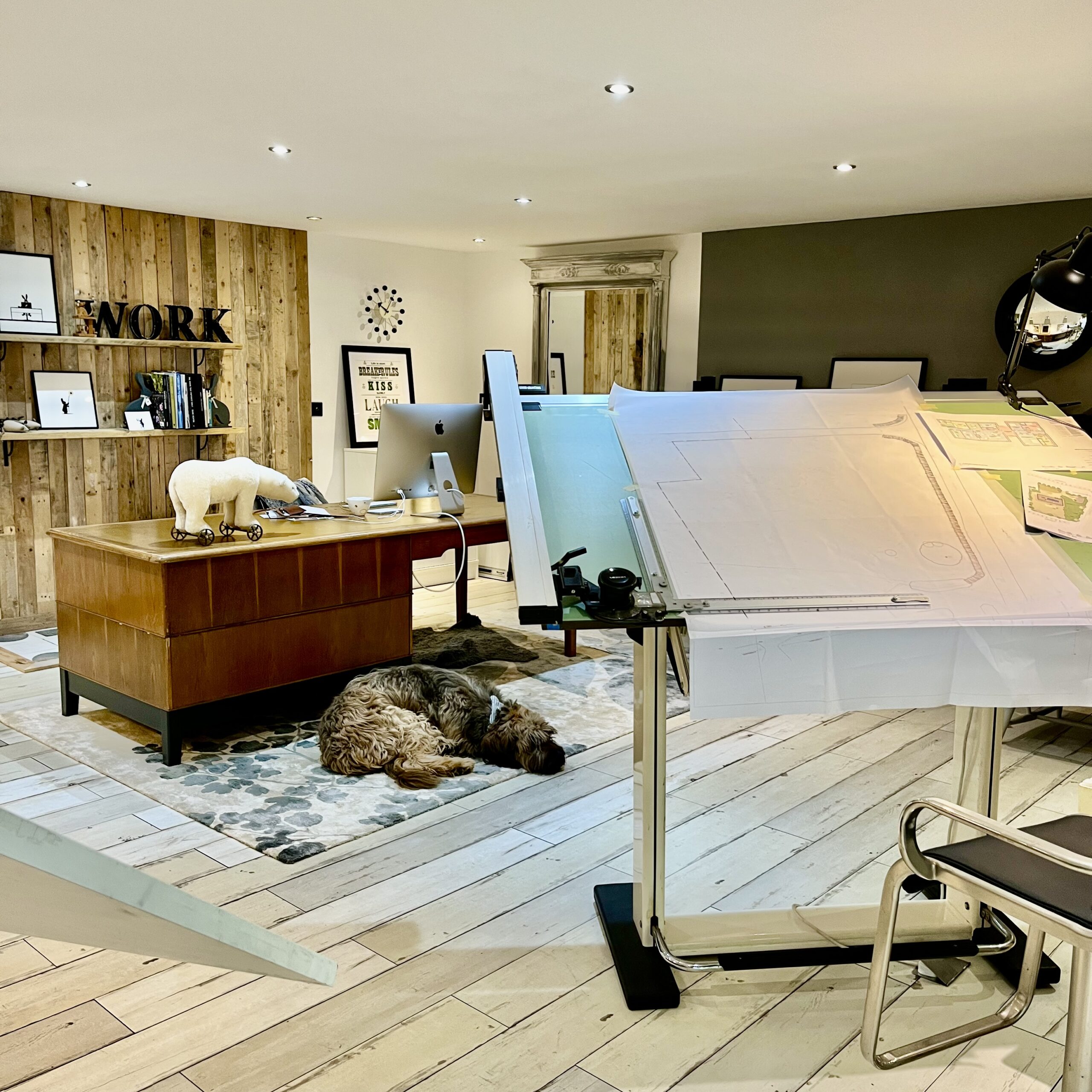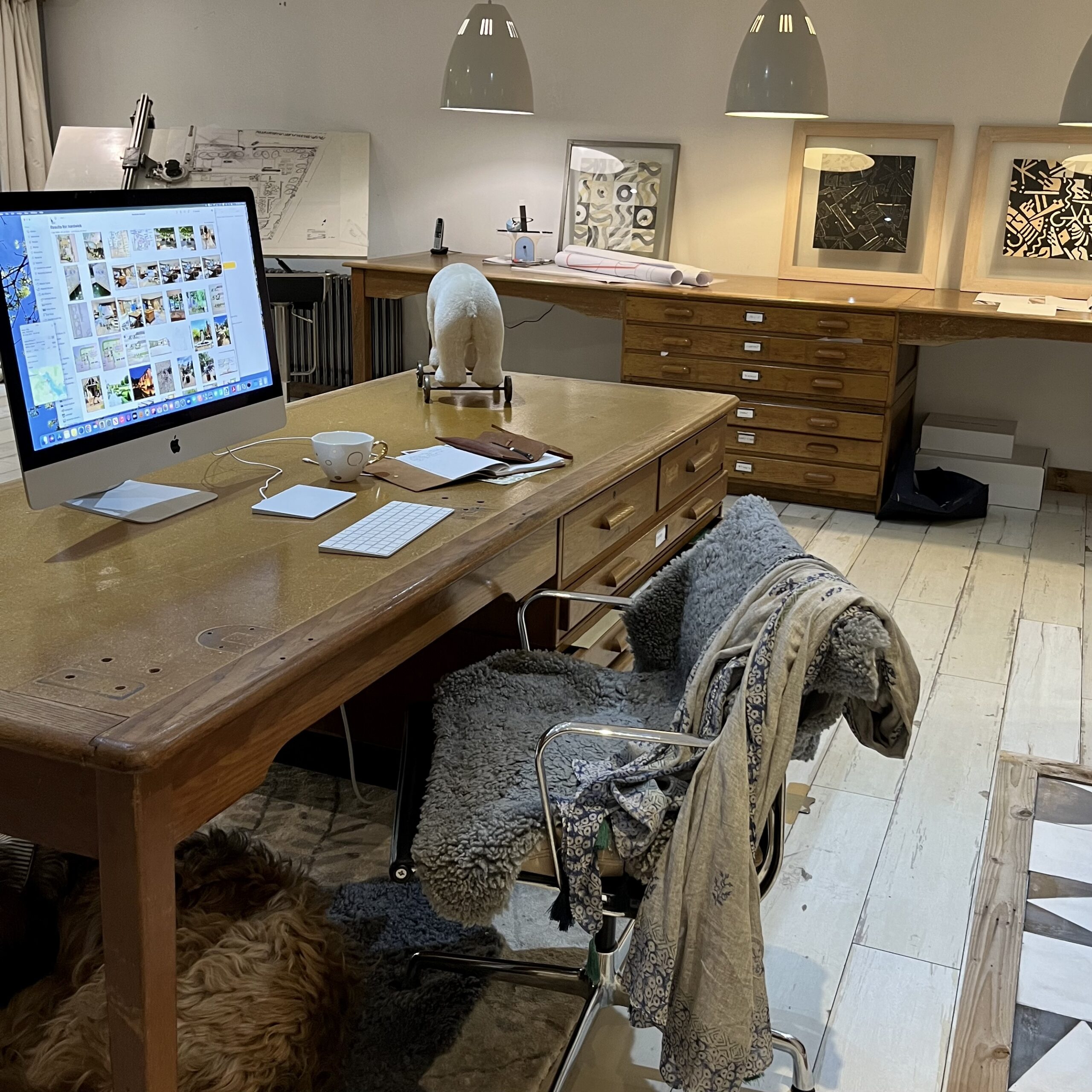 My desk & plan chest are all from the 50's & have been collected over time. The large plan chest & fantastic worktop were actually found by Peter, a client who saw it in an antique & vintage store in Cornwall & sent me a photo. It is perfect so I'll be eternally grateful to him & his wife Rachael for thinking of me. It had belonged to an architect previously who was retiring so he was happy it was going to another designers studio & be used. My desk is fantastic as it is a great size & has so much storage. I found that on Vinterior which is a great online resource.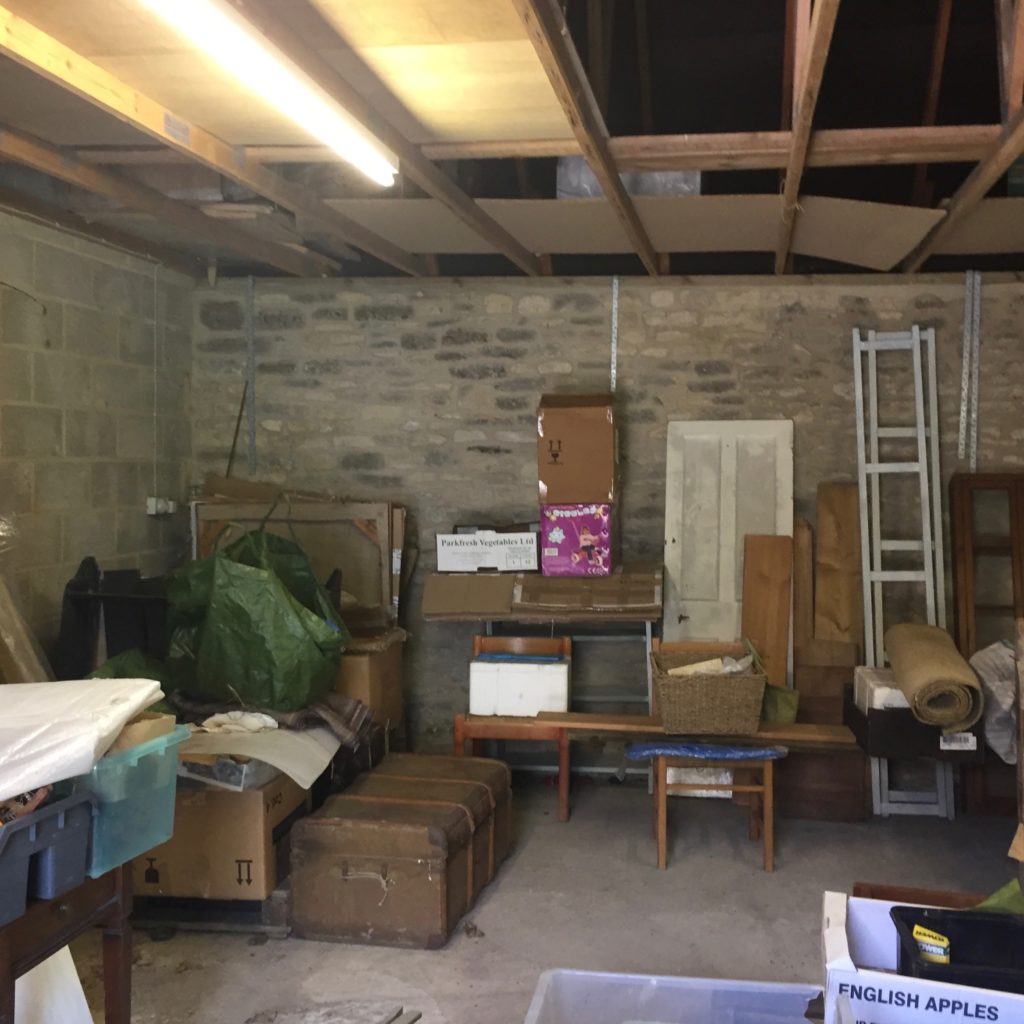 Bit of a shock to see the 'Before' shot! I'd forgotten how far we've come! Well – this is what we found when we came to view – a dumping ground but I knew it had so much potential. Unfortunately we couldn't leave the stone walls exposed as it had to pass building control regulations & there was no insulation. Shame but I'd rather not freeze!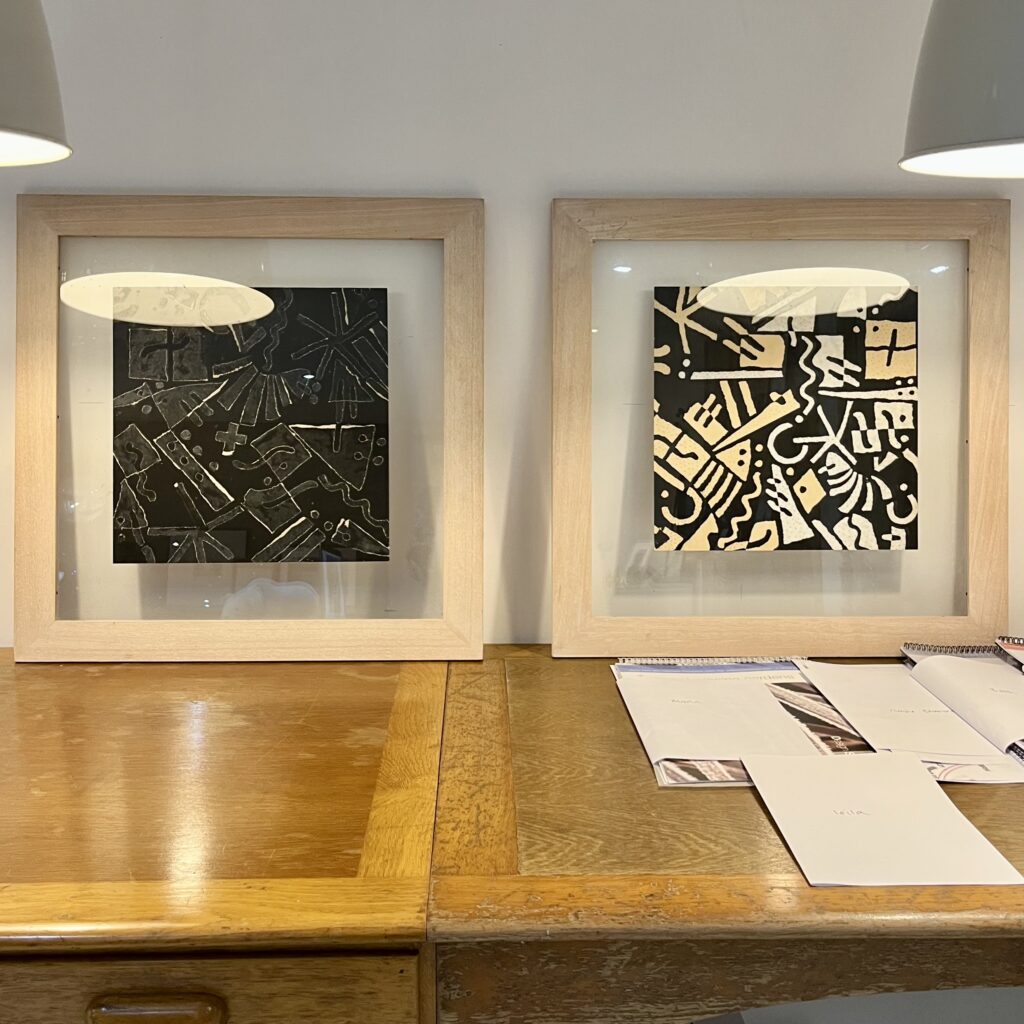 I dot pictures about amongst other things I've collected such as my automata. You can see one below if you look carefully!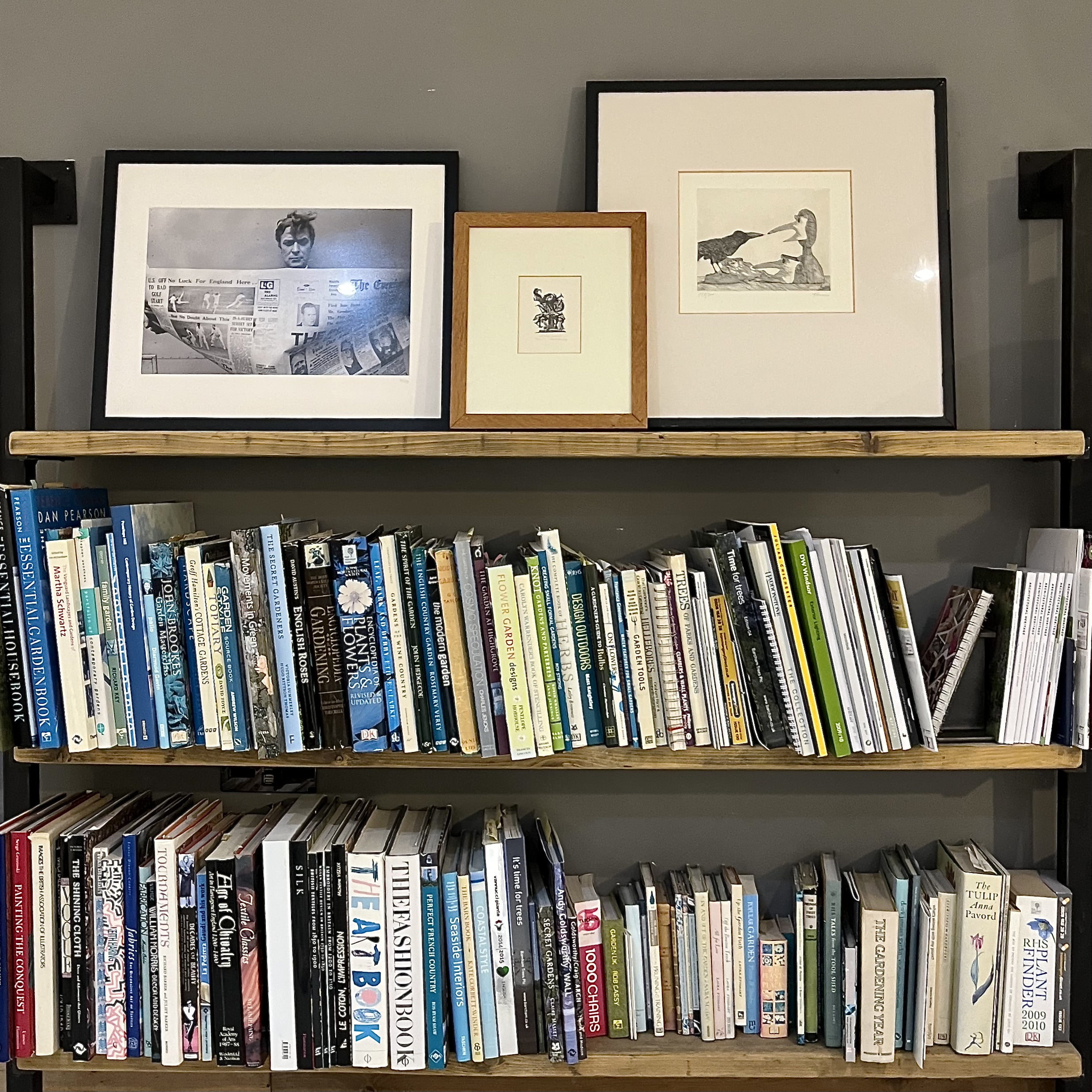 I also love books & have collected quite a lot of beautiful design books over the years. I have them here & in my French studio too for inspiration or just pure enjoyment. I hadn't realised I had a thing about rabbits but it looks like I have with these prints from HAM & these bookends!
My studios both here & in France are lovely calm spaces. This one here is fantastic as there is such a lot of room – I feel very spoiled! The one in Loches at Le Bordage is quite tiny in comparison & very colourful in contrast. I wrote about it a few blogs back so go & have a peek if you are interested. Vive la difference!
What's on my drawing board this week?
These are a couple of my sketches for a new yoga studio & garden my client Maria is building. Hers is also a barn conversion but in timber with a terracotta tile roof. It's designed to be a serene space that will look good & function well year round. She loves sculptures so one will feature here sitting or standing on a plinth…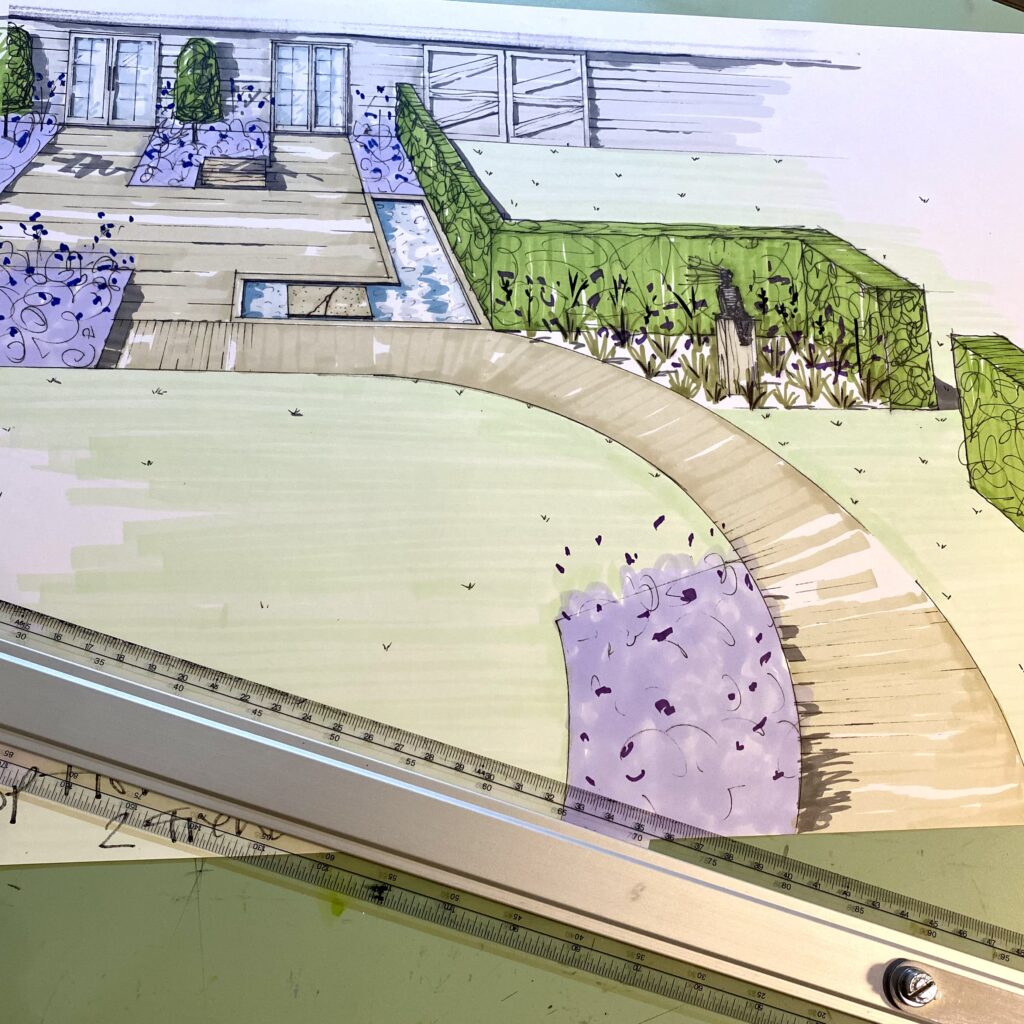 All for now – until next time