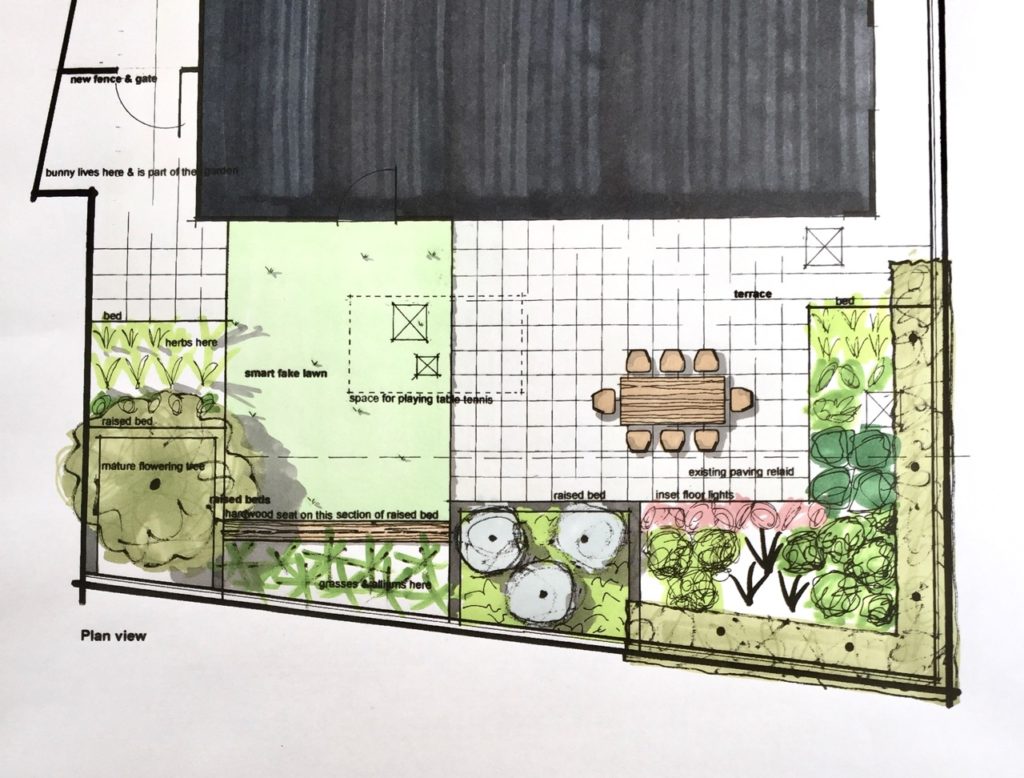 This is my initial plan for a small contemporary garden on an estate.
It's a great location – right in the heart of Newbury & within walking distance of all the amenities. The downside was the buildings around were quite imposing. The builders had left rubbish around & compacted the ground so much the lawn really struggled.
My scheme aimed to create an inward focused garden & provide privacy where needed too. The water feature provides a distraction to the bustle going on beyond the garden.
As you can see it was pretty boring when I first saw it & the shed was (as is often the way) the only feature. By doing away with the lawn & using a faux turf instead there was no need for the shed that really only housed the mower. This is Lazylawn https://www.lazylawn.co.uk which is one of the best I've found. Tom of TS landscapes who built this one has it in his own garden too. Over this last incredibly hot summer theirs were probably the only green lawns for miles around!
I changed the focus of the garden & by reconfiguring shapes gave it some depth too. Raised beds create interest & the deep hardwood bench adds human interest & really connects you to the plants in a friendly & relaxed way. It gives you a different perspective on the garden too. The original fence is still there but I find close boarded fences pretty unattractive so we use this technique quite a lot. We use blackout fabric over the existing fence then add these beautiful cedar strips in front which forms a great contemporary architectural look & also maintains privacy. There's lots of evergreen planting for year round interest & it's all uplit for night time interest. To keep costs down we've used young pleached trees but these beech trees will grow quickly & provide screening from the houses behind in no time. Their dog seems to like the faux lawn although they have a bunny too who really does not approve – You can't please everyone!
It's a really simple but effective scheme which shows what can be done in a very small & uninspiring (to some!) space.
All for now – until next time.