The main garden is approximately an acre & was pretty grotty when we bought the place. Our main outlook is from the kitchen & the outlook is really important to me – year round, so it needed to be sorted. The previous owner had a good idea of making it formal but the scale was all wrong as was the planting they used and the garden was filled with so much rubbish. What a mess!
We set about removing old sheds, a greenhouse under a tree, masses of weeds, sandpit, a pond/swamp & lots of dead plants! The terrace at the bottom of the garden was in completely the wrong place so that got moved too (see ' Terrace parterre' when I get round to writing about it…)
I loved the idea of formality but the scale had to be right. I got rid of all the shrubs on the left boundary & planted a hornbeam hedge to run along from where the pleached hornbeam hedge in the knot garden stopped. I added a huge bed along that border & planted Hydrangea 'limelight' (a membrane keeps them moist & happy) then an avenue of cherry trees – Prunus Pandora to frame the view. The original beds were turfed over & new longer leaner ones dug.
I planted the new beds formally with evergreen Ligustrum Jonandrum pompoms, Box, Lavender, Miscanthus 'Morning light', Verbena Bonariensis & Bidens. I kept the circular bed for 1 season as I'd filled it with Angelica & didn't want to lose them. I waited 'til they were over then dug them up & heeled them in for another day…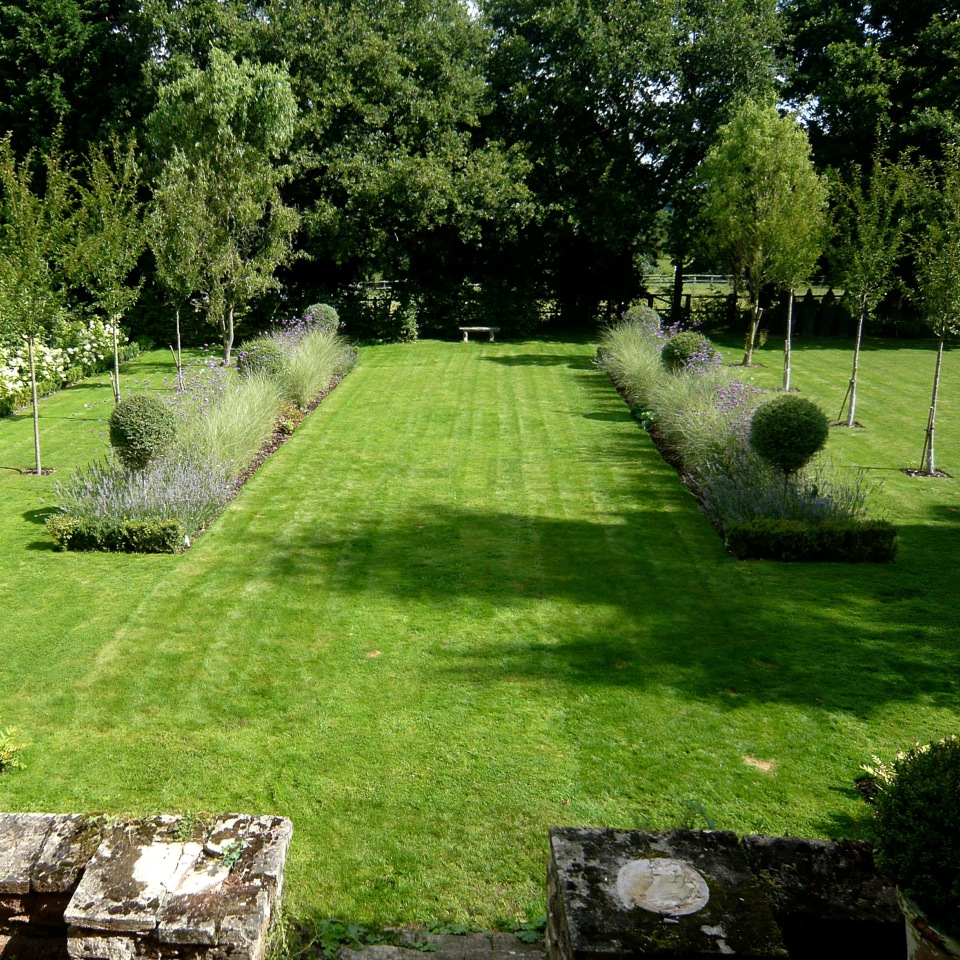 It's looking more like it here – same size plot but feels so much bigger & smarter. By using membrane & mulch it's actually far less maintenance too! I tend to use a limited palette as you can see here both of plants & colour, that way you achieve such drama. I planted a hornbeam hedge across the rear too to frame a seat we found under a bush. It also hides a working area in the 4 metre gap we created. (That will hide the shed when we move it) & compost bins. The views to the golf course beyond are to be opened up to the side from a new parterre & terrace in due course…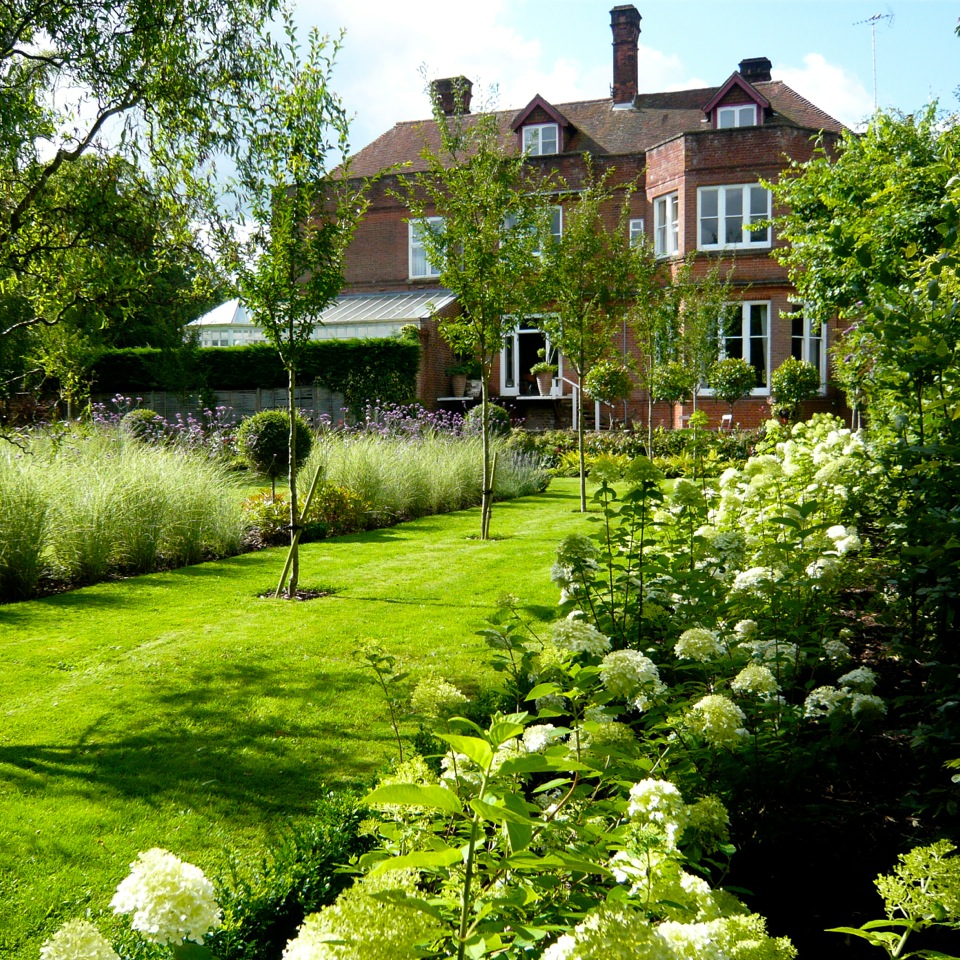 Looking much more lush. What's great about it too is it still looks good in Winter. I'm writing this in December 2013 & we still have some colour in the hydrangeas, Bidens & the grasses are yet to turn brown. We'll have a good structure to look at all Winter & only in the Spring when I cut the grasses down will it look bare – but only for a little while before they're off again. Next time it's about the extension we've had built over the Summer – work started the day I took this last photo – August 19th, my birthday – quite a present! See you then…
I hope you have enjoyed my first week of posts as much as I have enjoyed writing them! Come back next week and I will tell you all about planting trees in different seasons.