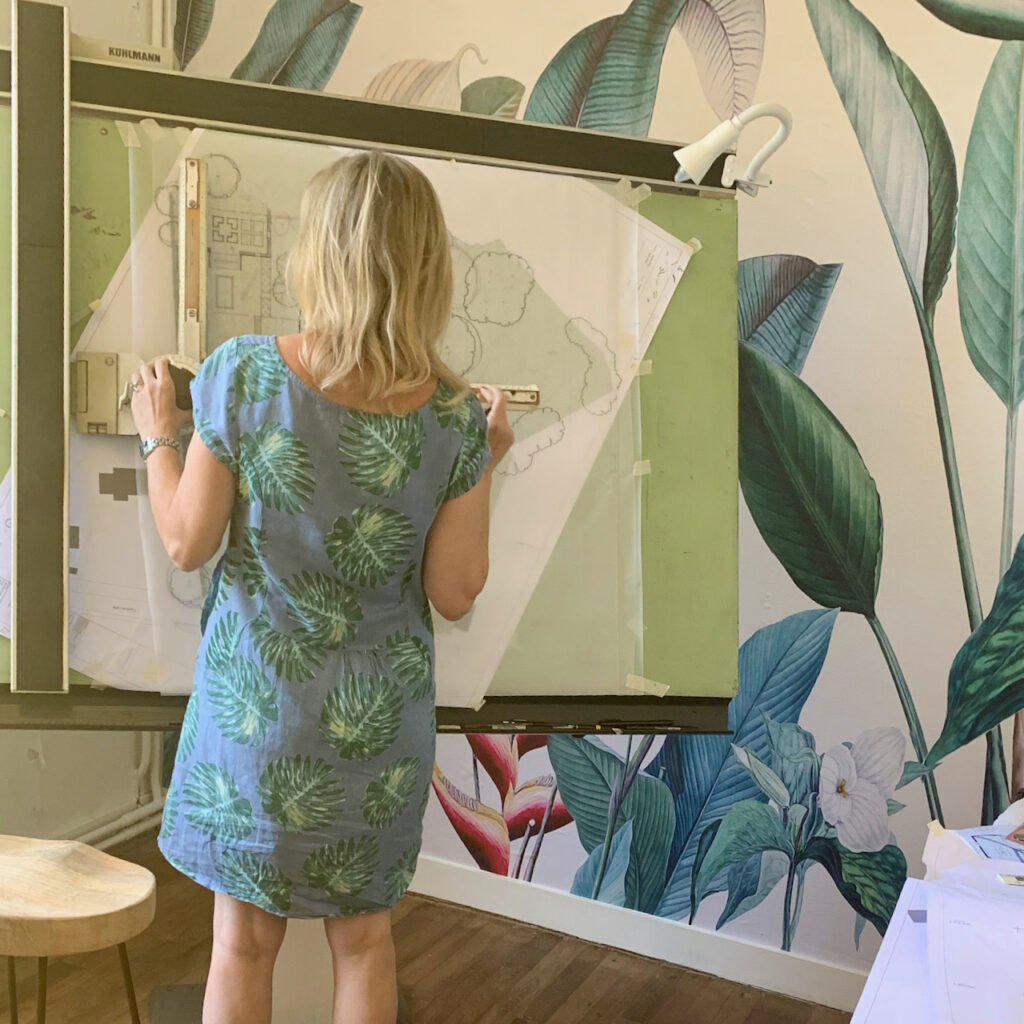 My studio in France is tiny. I've never minded as it has been fantastic having one here at all! I made it fun & used a tropical print for one wall which I've enjoyed looking at for 7 years now.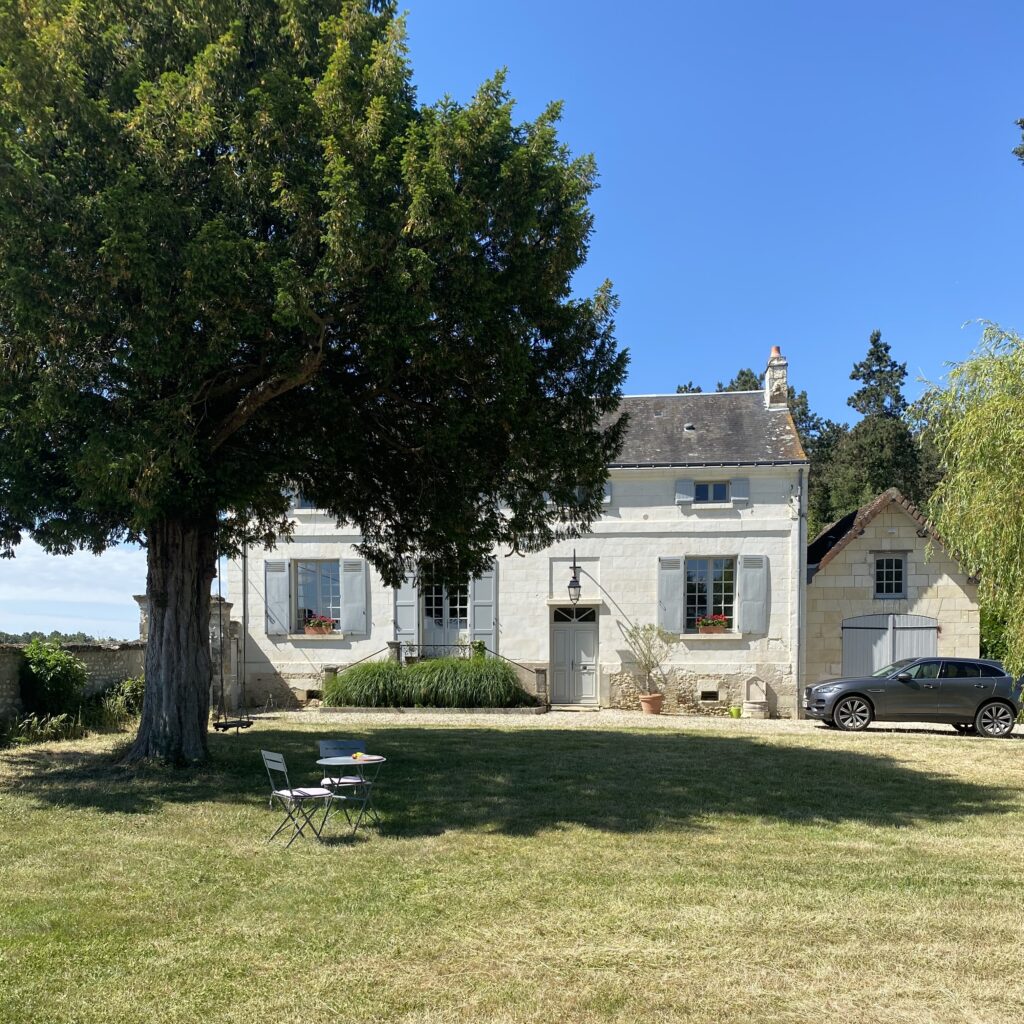 We've been doing up our lovely French house with brocante finds since we signed the ownership papers. I really wanted authentic old French furniture & mirrors & a shabby chic kind of vibe – no Ikea for me thanks. As you can see above it's a beautiful old house built of local tuffeau stone. It was originally built for the vineyard manager (we're surrounded by fields here in Loches but no vines any more sadly) & I wanted the look within to be very French.
A slight exception however – the previous owner was a Parisian & had added a lime green modern kitchen. It's not really my taste but it's quite fun so until we find a large pot of dosh, it's here to stay. My funky little studio is next door to the kitchen so the wallpaper (& parrot!) looked OK. I've added a lovely old oak desk we bought in a junk shop for less than €80 euros & a fairly sad but stylish old leather chair from a brocante in Tours.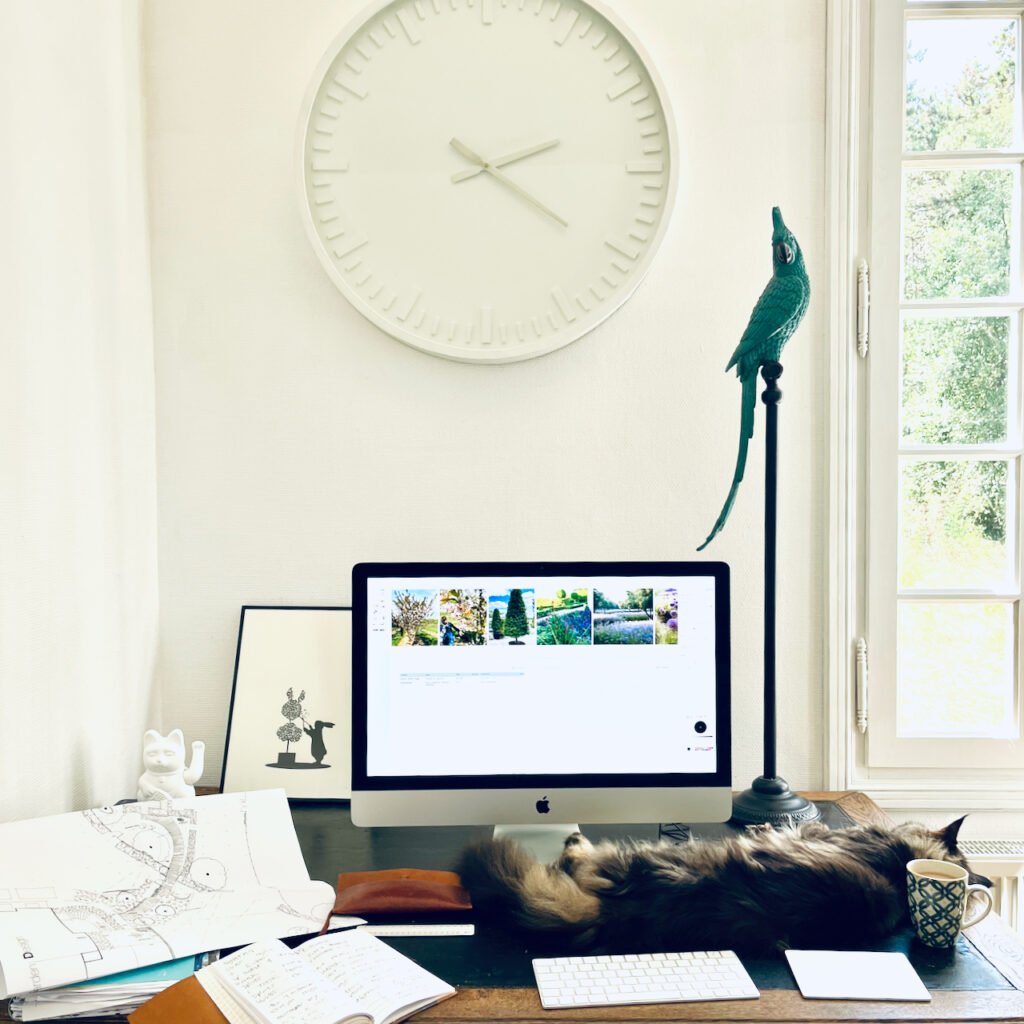 Here's my desk with Dillon our cat taking as much space as he can!
Anyway!
I saw on Instagram a chatelaine was adding some wonderful fabric to their French chateau walls that emulated ancient tapestries. I absolutely fell in love with it & ordered a sample. The Company is called Zardi & Zardi & they are English.
After a bit of a gulp at the quote as it is printed to order, I decided my bijoux studio really needed to grow up! Two rolls of fabulous printed linen arrived tied up with the prettiest orange ribbon. I was slightly in awe!
After some time with my sewing machine I can say my studio definitely looks more elegant. It now fits beautifully with this lovely old stone house. Needless to say I LOVE it!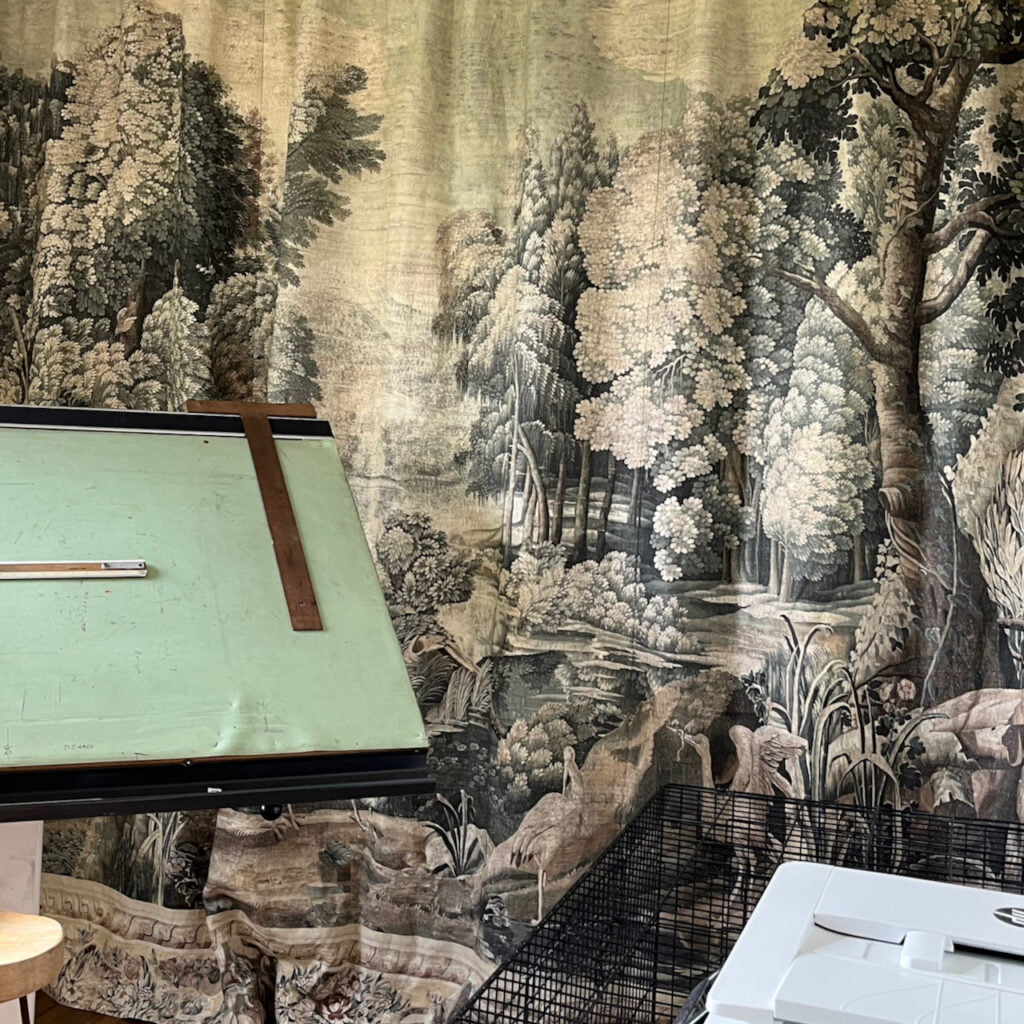 …It's not yet finished so this is a sneak peek! There will be a fabulous curtain too. The rug looks like a Missoni but it's not. We bought it many years ago & after various house moves it had become homeless, so I'm delighted it fits in so well with this new sophisticated vibe in my studio.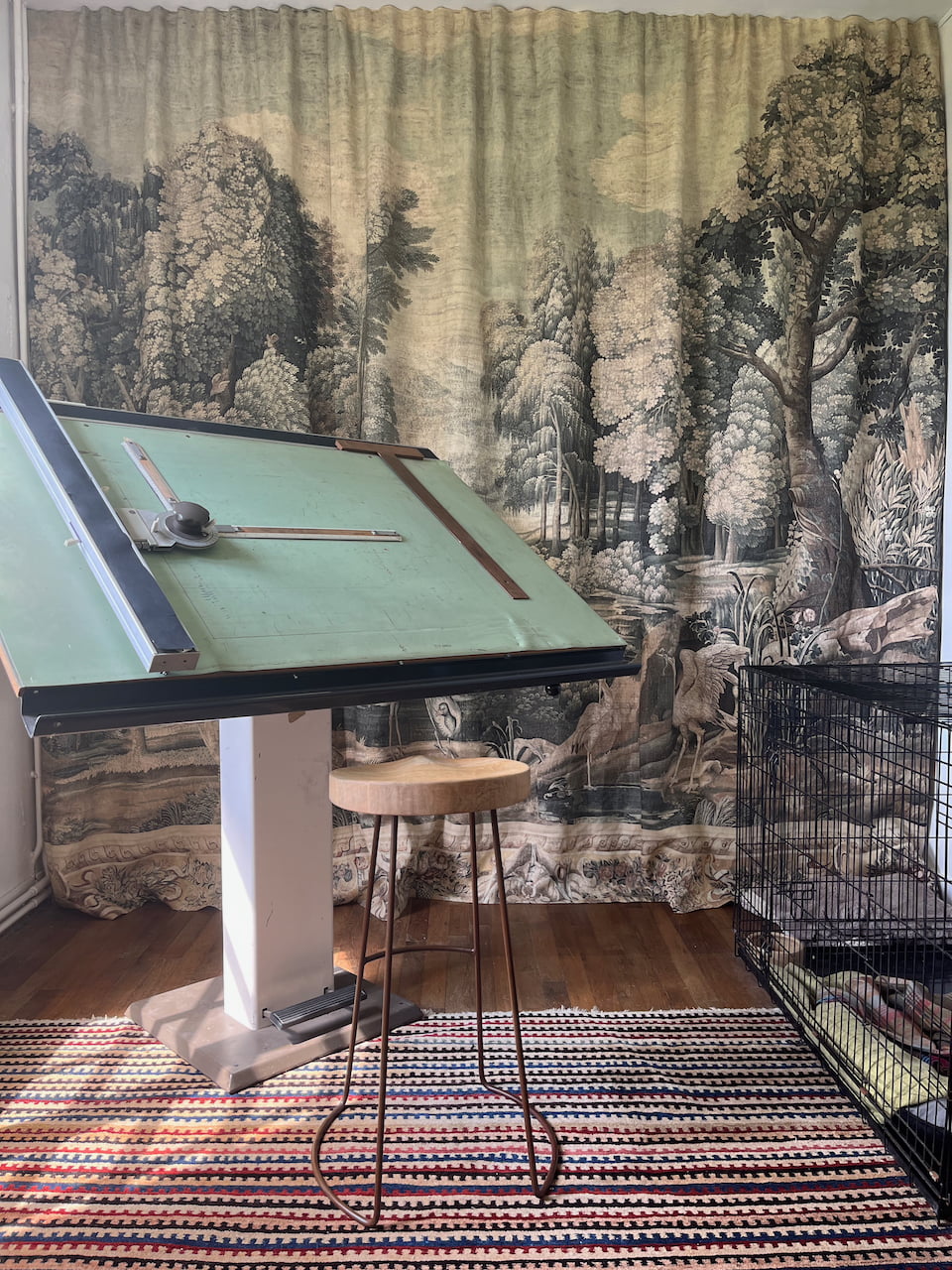 I'll update you once it's complete as I'm having new lights too. Sorry about the enormous dog cage but Bruno insists on still sleeping in his 'bedroom', so sadly I'm stuck with it for the foreseeable.
We back onto woodland here & this morning I saw a hoopoe sitting on the telephone wire outside our bedroom window. I've never seen one before but I can tell you if you haven't seen one, they are stunning birds! Here's my DREADFUL photo of it below left (look hard!) & beside it one by a proper photographer of what they actually look like.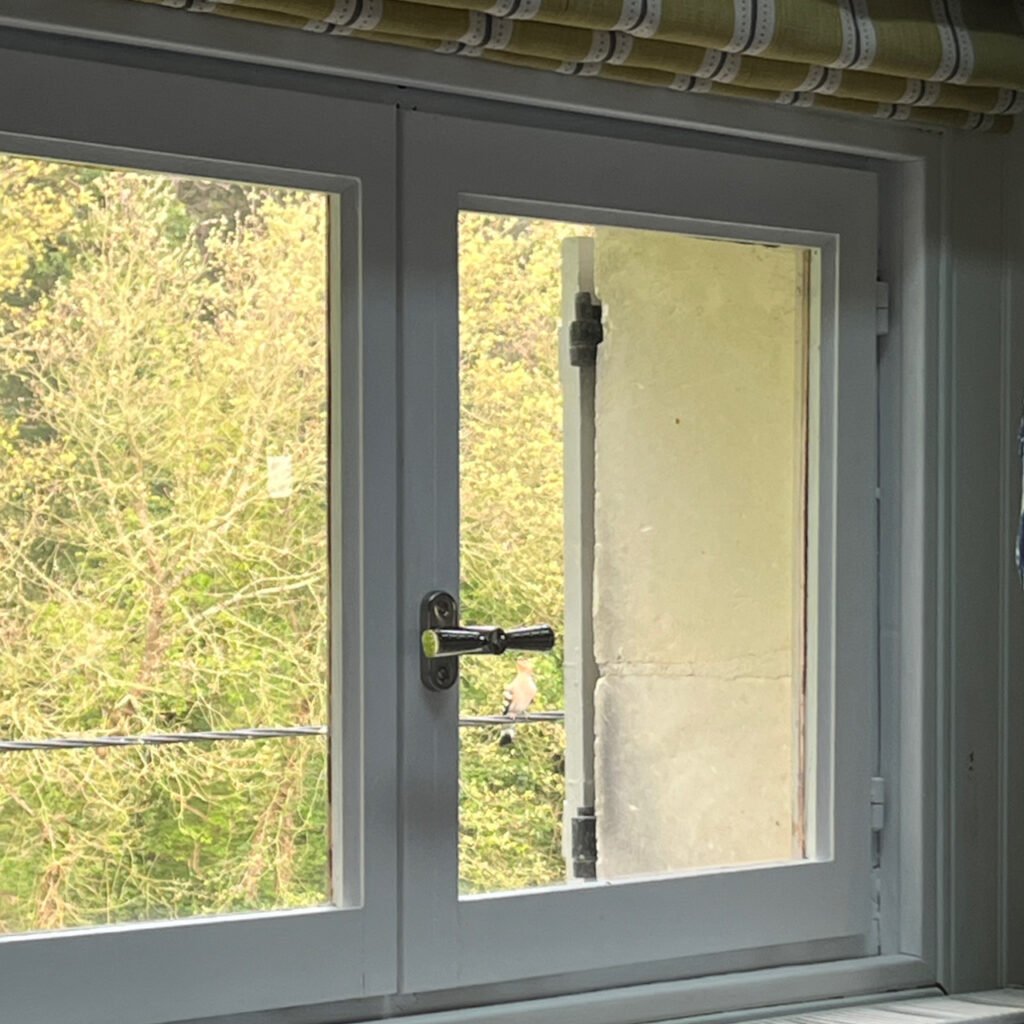 All for now Bon journee!
Enjoy Chelsea if you're going! I'll be here drawing