Latest News
I have been busy on so many projects I've not had time to update my behind the scenes section so here's a brief update of what I've been doing… I am part way through a design for a very large (100 acre) estate in the Cotswolds. My client won't be moving in for a couple of years & it is currently a building site but forward thinking such as this means we can design & get the landscape establishing first. There's a lake (see above plan) for example which will have a couple of islands & maybe some aquatic birdlife will choose to make it their home in the meantime – let's hope! The lake will have a boardwalk to one of the islands & across to the other side. Huge Cotswold stepping stones will take you across to the other island.
My client wanted the whole scheme to look natural so I've included lots of multistem trees which will work perfectly. Here's my sketch of bands of Acer Ginnala with ornamental grasses between. Should look fab!
Around the house will mostly be natural too – more later but here's a sketch of the front which is more of a traditional Cotswold garden to suit the very traditional farmhouse. The kitchen garden leads off it. I've used a hornbeam hedge to divide the space & an arch leading in which is much more inviting than a closed gate…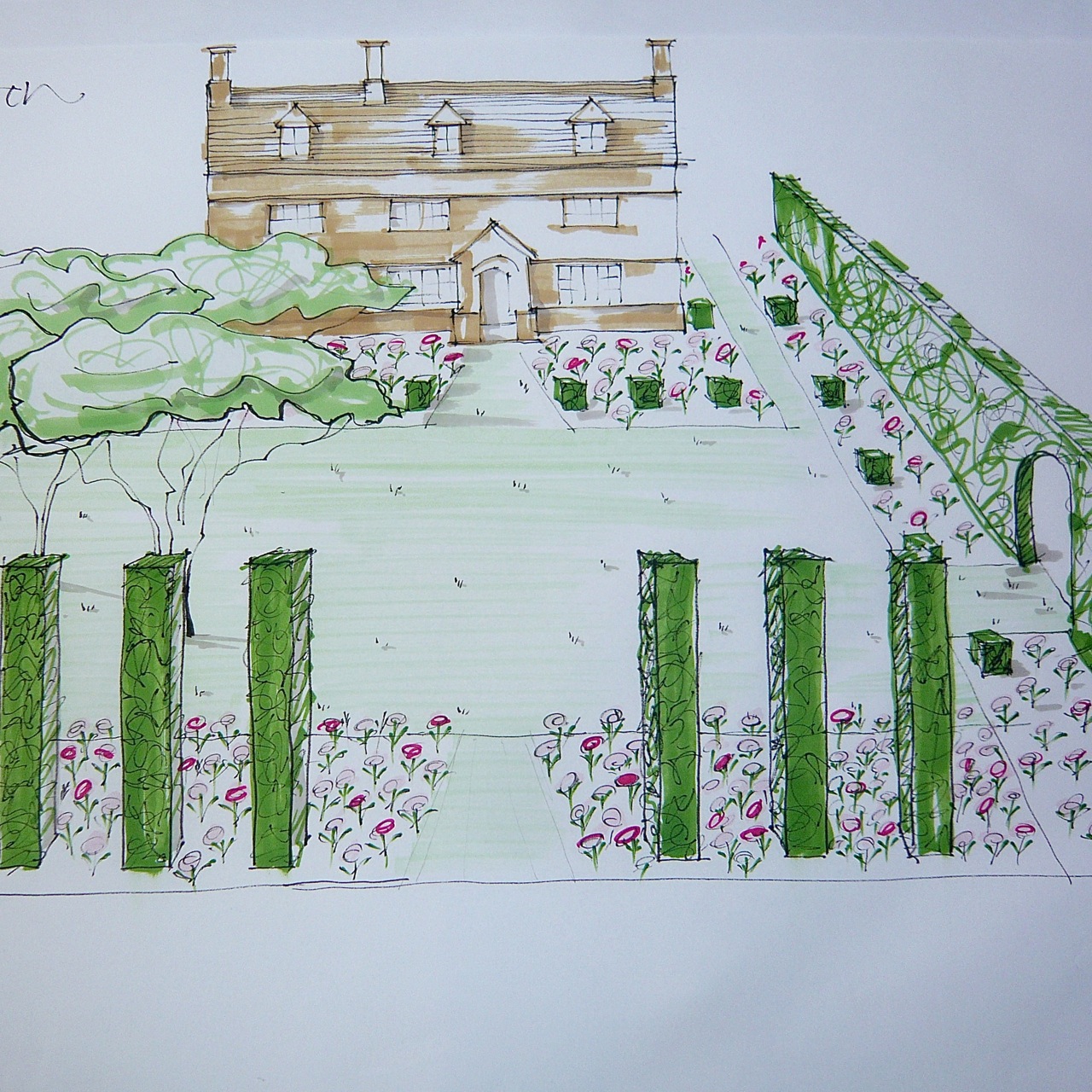 There's lots more to it so here's a taste of it for now until I can reveal more…
Other than that, I have designed an Acer glade for my client Jane to lift & improve her woodland area. I've had to do a lot of research to ensure we create a harmonious set of trees throughout the year & not a ghastly traffic light effect in Autumn!! They will start with Acer Rubrum 'Armstrong' by the entrance which will be tall & beautiful sentinels to lead the way toward the rest. These lead on to Acer Japonicum 'Aconitum', Acer Palmatum dissectum group, Acer 'Butterfly', Acer 'Kagiri Nishiki', Acer 'Shigtatsu sawa', Acer 'Kogane Nishiki' & finishing with Acer 'Sangu kaku'. They go from orange red to crimson to orange & amber & will look wonderful next Autumn. Pics will be posted. Rob, my contractor & I have been sourcing specimens for a pretty instant effect – here's one we found earlier!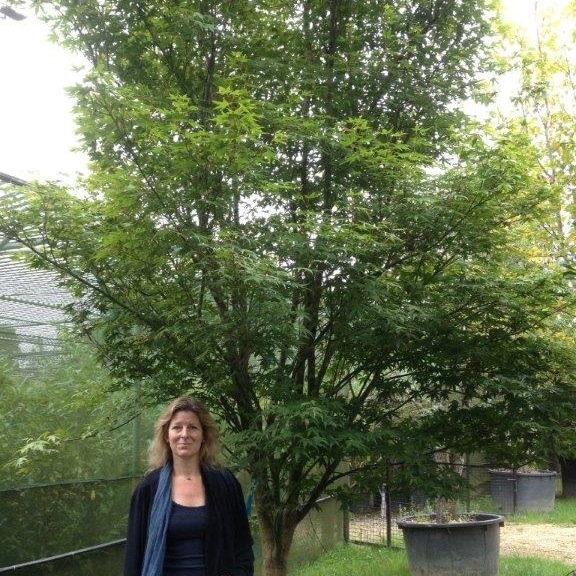 I've been redesigning the borders of a large Manor house near Denham which will look terrific very soon – I'll post pics when they are complete. Rob & his team are very busy indeed!
Another scheme has started the build process this week & that's the chapel in Hampshire which I'm really excited about. My delightful clients are away for the duration so will get a big surprise when they return in a month. I'm dashing over there shortly to see Tom of TC Landscapes, my other contractor & his team. More later…
Another project I'm really excited about is a really super one near Henley. It's a very large garden of several acres & I've designed about half of it. My client Gill's builder is creating it for her & then specialists will be arriving to plant it all up. Here's a pic for now. It shows part of the swirly tree walk I've designed. There's lots more to it but this is a taste. I'll post more when it's done & looking fab!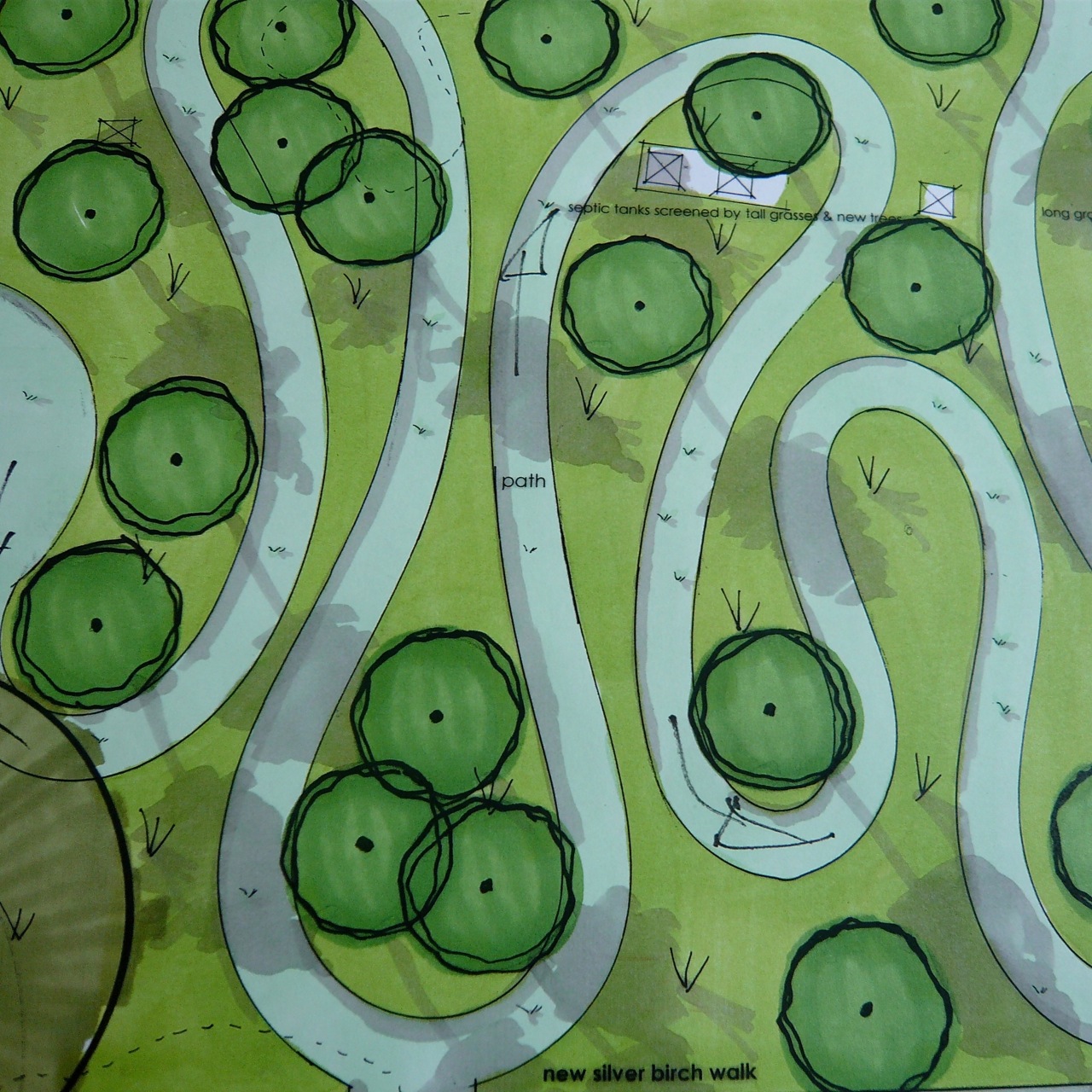 OK so there's a little update & it's all I have time for now.
Bye for now!