I do love a project! We have moved house several times over the years where we have gutted & redesigned the house & the garden too. It's fun to design it all but I also really like to put my stamp on a place. Everyone has their own distinctive taste & style & I'm no exception. I thought I'd show you a few of my own gardens I've designed & built over the years…
Henley on Thames
We bought a townhouse right in the centre of Henley as we wanted to be able to walk everywhere & enjoy all that Henley had to offer. If you look at the before photo below you can imagine how desperate I was to sort out the garden! There was no access other than through the house which was a trial to say the least – both for us & the team that built it.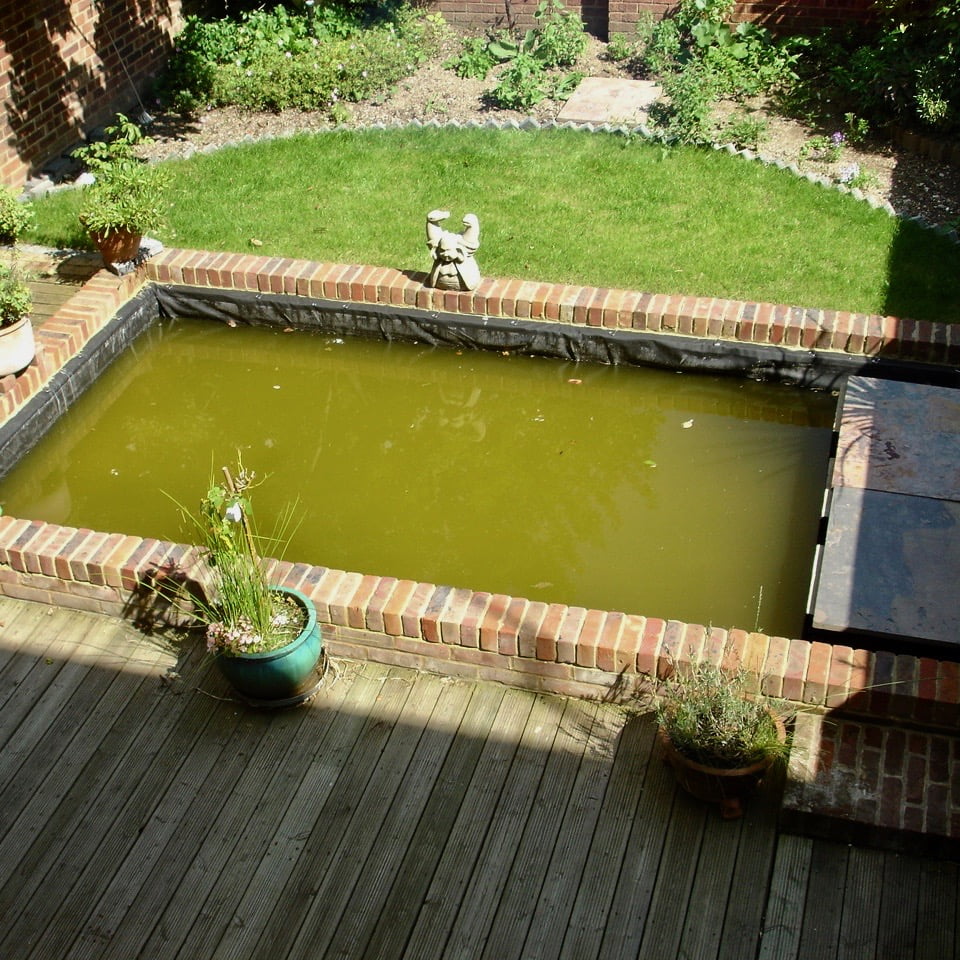 The house was very modern being 4 storeys of glass the previous owner had converted but she died before it was finished. Awful for her of course but it meant we could complete the work how we wanted. As it was a tall townhouse it was important it looked good from above too so one of the images above shows how it looked from my studio on the top floor…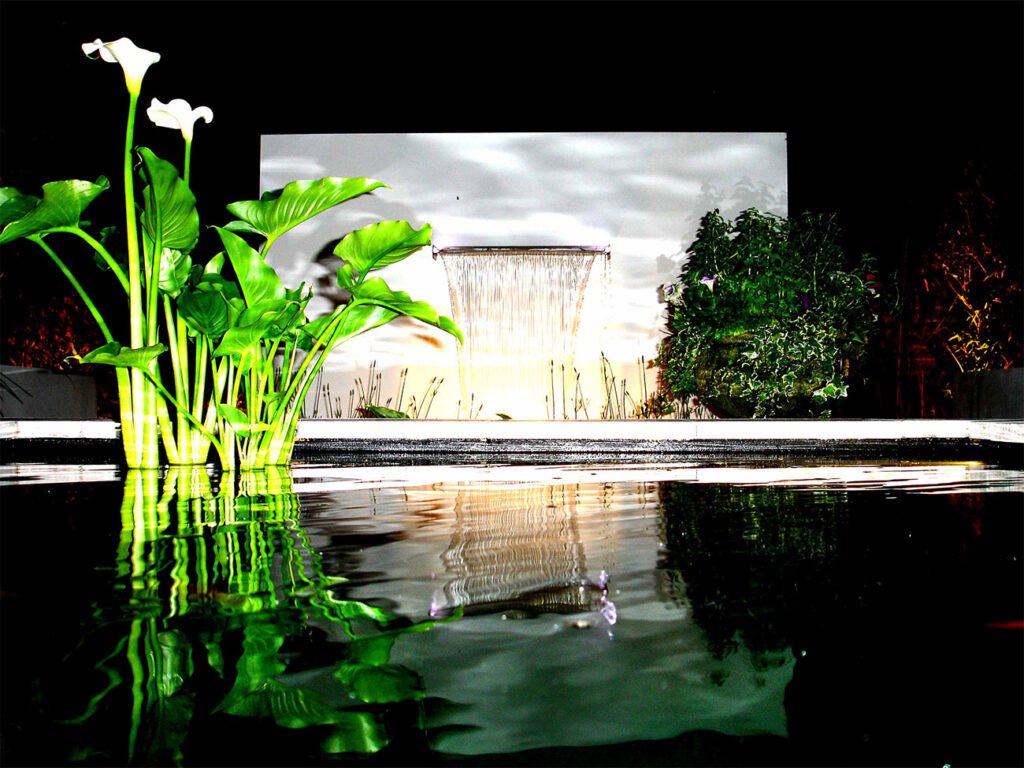 You may recognise this photo as Adezz use it for their publicity shots. It's the water wall at night which looked fabulous. The modern garden was just a small courtyard with rendered walls & raised beds but by finishing the floor in the same travertine & using lighting, it was very much part of our kitchen dining room. The labrador is Barley, he was my husband's dog when we met. Sadly he died a few years later & we bought a new briard puppy as I can't bear being without a dog.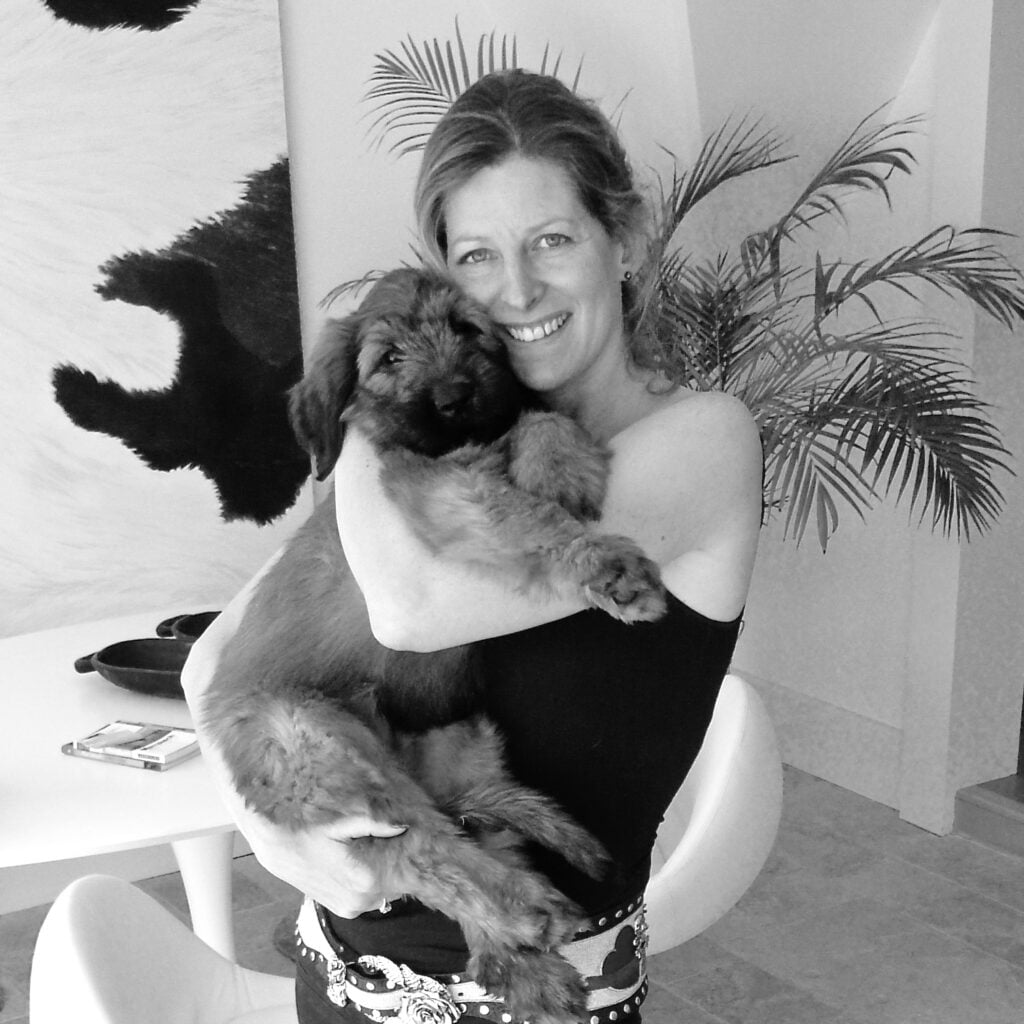 This is me with Charlie the briard puppy the week we bought her home to our house in Henley.
STOCKCROSS
Being a briard Charlie became pretty huge & by then we really wanted to be back in the country, so we moved to a large Victorian place in the village of Stockcross in Berkshire…
The 'before' picture is below, back in 2011. It was pretty awful but being a blank canvas gave me a brilliant opportunity to design it. Being a fairly grand Victorian house I wanted the garden to reflect that so the style is classical.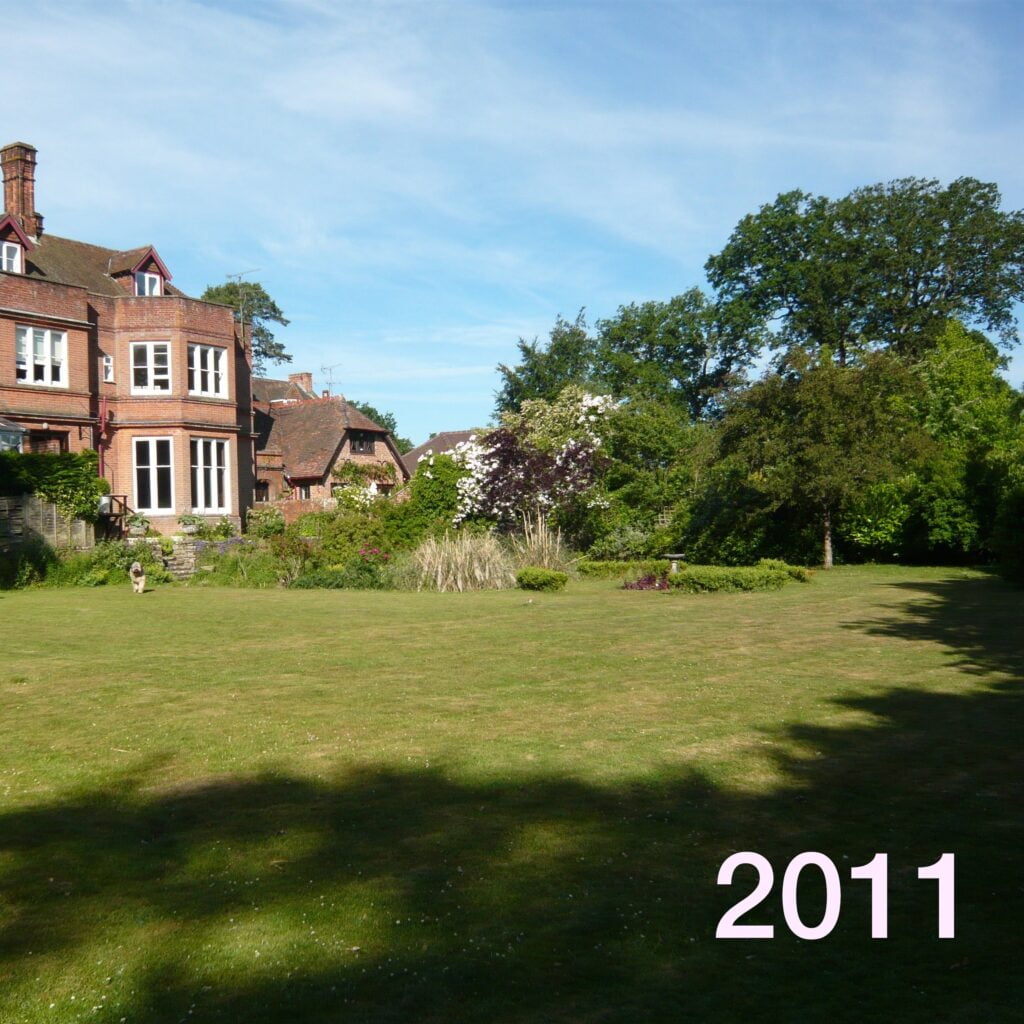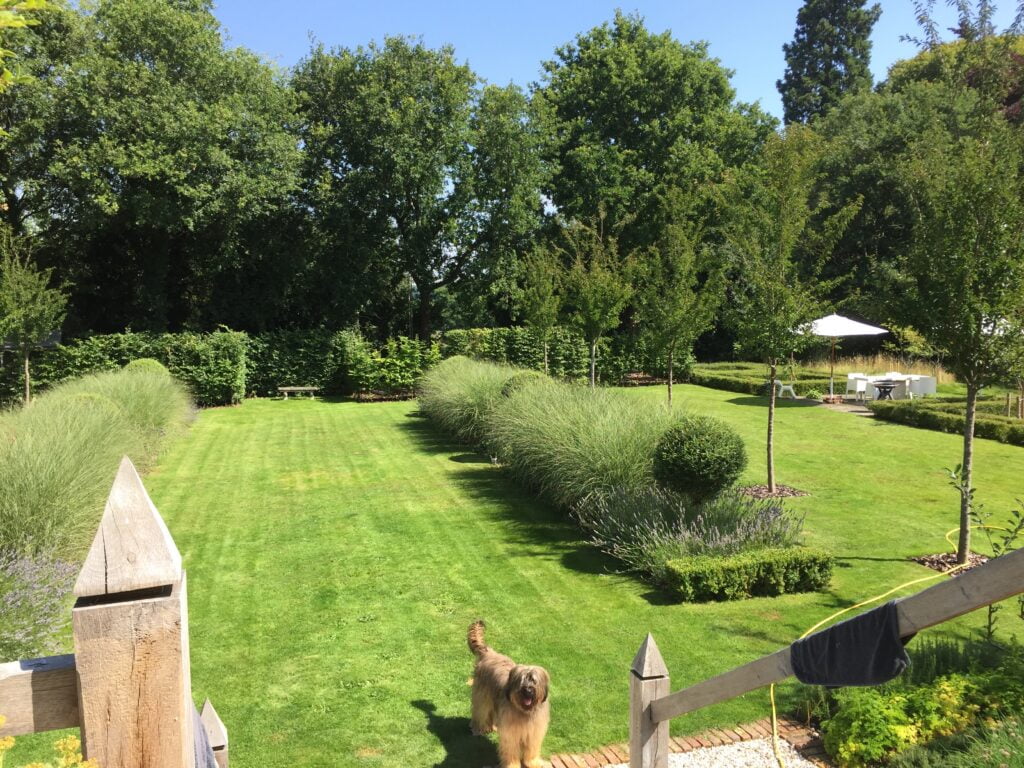 Here's Charlie all grown up & enjoying lots of space to hurtle about. She & her visiting doggy friends used to chase each other around the 20+ metre long flower beds. Excellent exercise! You can see the parterre to the right of the image above with a dining terrace within featuring a fire pit for evening & winter entertaining. I also created a smart little knot garden with a water feature & pleached trees to be viewed from our dining room extension – pictured above.
HARDWICK
You are probably familiar with our current garden here in the Cotswold hamlet of Hardwick as it features regularly on my instagram page. It's taken a while to create but we both absolutely love it. It's a really simple design to be viewed from the stone barns we converted that surround it. The water is just fantastic & is the main view from the kitchen diner.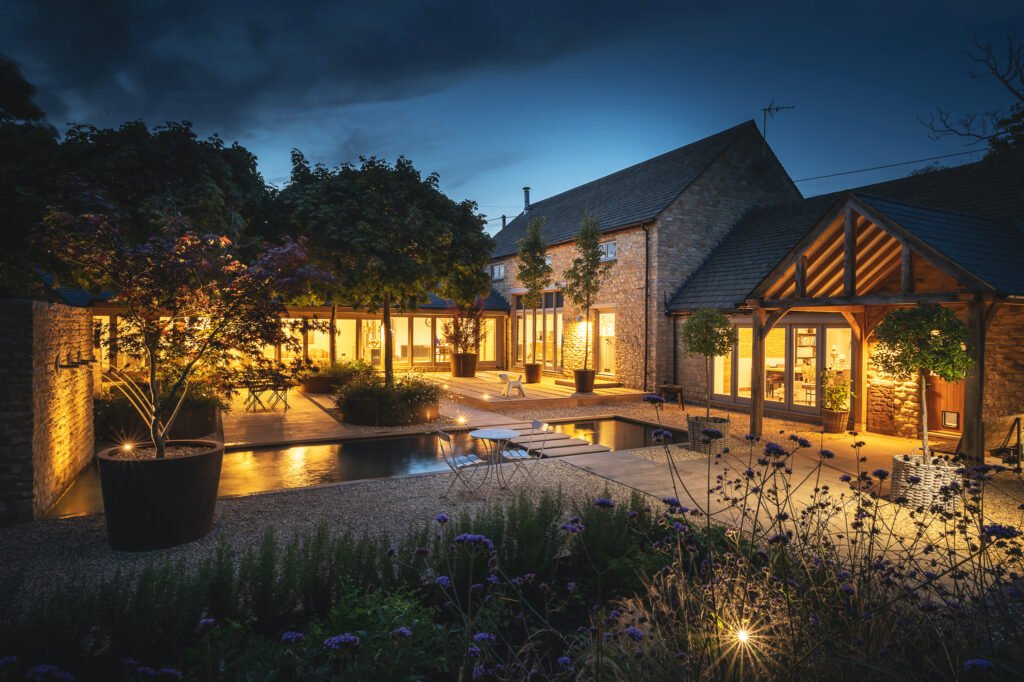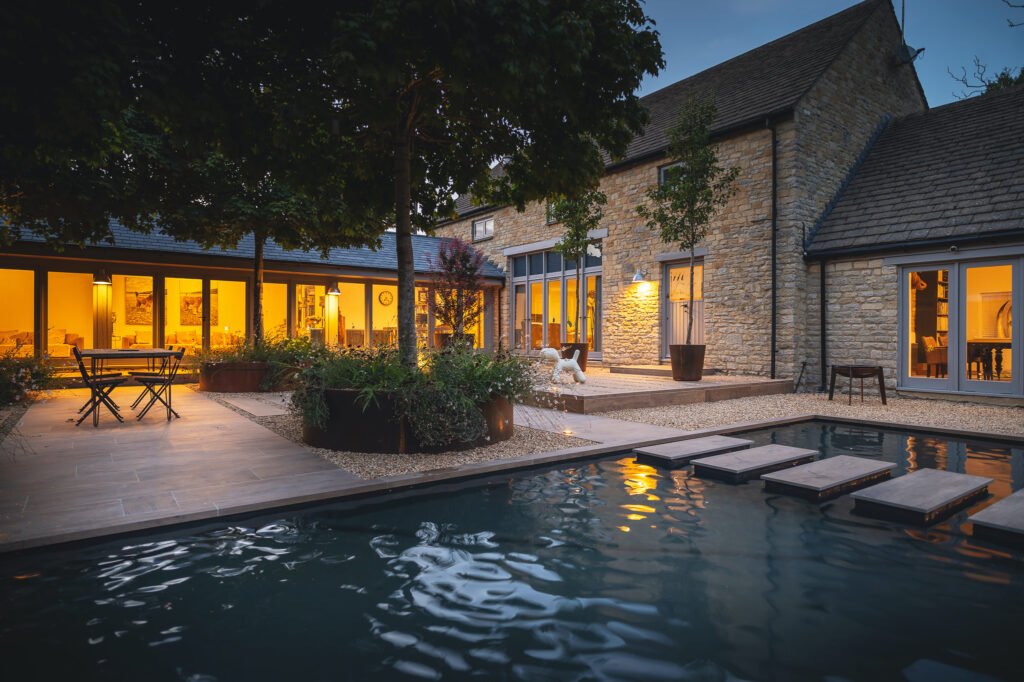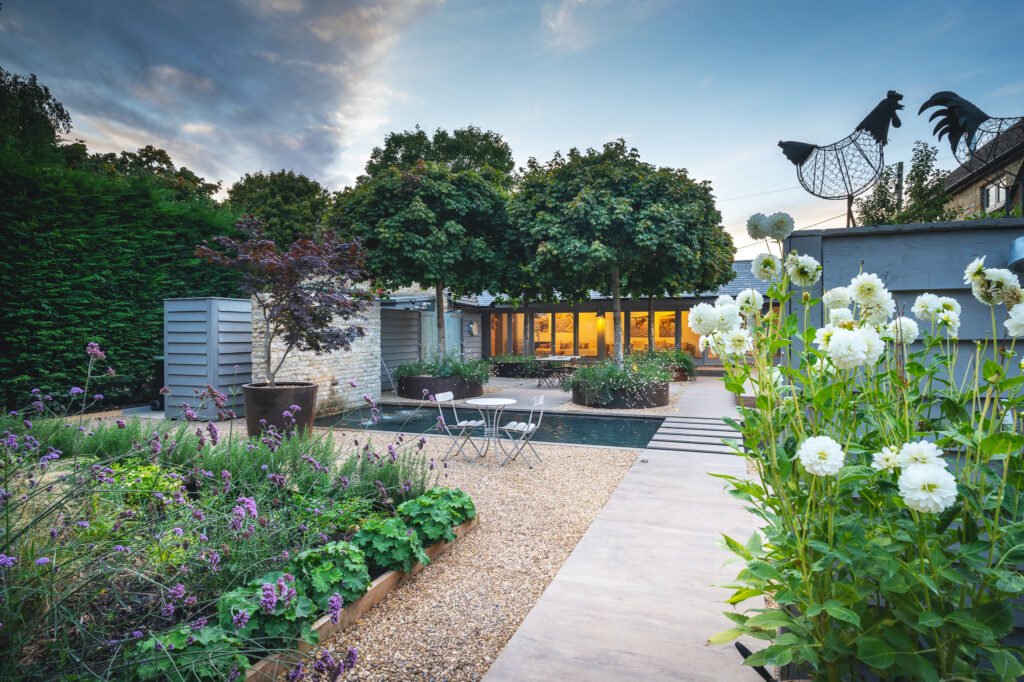 So as you can see I very much practice what I preach as a garden designer. I create & live with my own designs & learn so much from doing that. I understand how the seasons affect all gardens & the effect lighting has in all types of gardens. I've lived with gardens both large & small. Sound is important too! I do love water in the garden. Having had them built by teams of contractors means I very much understand what it is to be a client & how costly they can be. I therefore try very much to work to client budgets & understand exactly where they are coming from.
Next time I'll have some new drawings to show & some photos of site visits
Until then
A bientot